Welcome to the geekiest guide to San Francisco that you'll ever find on the internet! Get ready to unleash your inner nerd and embark on an epic quest through the City by the Bay.
I've scoured every nook and cranny to bring you 48 surprisingly nerdy things to do in San Francisco – from board game cafes to vintage arcades and maybe even a Jedi sighting!
Whether you're a comic book aficionado, a gaming guru, or just someone with a soft spot for all things nerdy, I've got you covered.
So grab your lightsabers, don your wizard robes, and prepare for a nerdtastic adventure like no other in the Bay Area's ultimate geek haven!
Let the nerdiness begin!
All activities are within two hours from the city proper:
Interest-Based Nerdy Travel Experiences
Standard Travel Needs – Nerdy Style
About The Author
Hi, I'm Kate.
I started planning unique travel experiences way back in 2008.
And I quickly realized that quirky, nerdy experiences were going to be a big part of my travel planning success.
So I set out to explore as much as I could.
And thanks to years of reading and experimenting, I've had a ton of success with travel planning…
…including the top 3 performing nerdy guides on this site:
Nerdy Experiences in Washington DC
Check out these ideas in San Francisco and you could have an awesome trip planned within the next 20 minutes.
What are the Top Nerdy Experiences Unique to San Francisco?
Get ready to enjoy San Francisco's top board game haven: Dogpatch Games. With store events every night of the week, recreational & competitive board game leagues, LGBTQ+ events, and designated kid-focused fun, Dogpatch has something for every level of board game aficionado.
Whether you want to soak up the sunshine while you engage in epic battles or stay cozy inside the building, Dogpatch Games offers both indoor and outdoor seating (complete with cozy heating lamps to keep you warm and toasty). And let's not forget the delectable selection of cold drinks and snacks that will keep your energy levels soaring. All at affordable prices.
But it's not just the games and goodies that make Dogpatch Games special. It's the incredible community of like-minded individuals, where camaraderie and friendship blossom.
And parking? No problem at all! It might be only place in San Francisco where finding a spot for your trusty steed is a breeze.
Nerd Night in San Francisco is an incredibly awesome way to find your "people"! It's a gathering where brilliant minds and passion collide in a supernova of nerdy goodness.
This fantastic monthly event brings together like-minded individuals to hear from specialists, experts, and academics on a variety of topics. From Start Trek Law and Math in the Card Game SET to Godzilla: History, Biology, and Behavior of Hyper-Evolved Theropod Kaiju Nerd Night in San Francisco is an absolute blast!
So, put on your nerdiest glasses, grab your favorite comic book, and prepare for a night of intellectual stimulation and unadulterated fun! May the nerdiness be with you!
3. Best Vintage Gaming Experience: Musee Mecanique
Visit a wonderland filled with an astonishing array of vintage mechanical wonders that are sure to ignite your inner geek and transport you back in time. The Musee Mecanique is a whimsical treasure trove, where nostalgia and curiosity collide in the most splendid manner.
From antique fortune teller machines that will predict your destiny (or so they claim!) to intricate mechanical dioramas which depict historical moments with astonishing accuracy, this captivating museum is a haven for nerds of all kinds.
So, pencil in a visit to the Musee Mecanique and let these marvels transport you to a world where gears, pulleys, and quirky contraptions reign supreme. After all, who says nerds can't have a fantastically fun time exploring the charming past?
If you're a big star wars fan, the Lucasfilm lobby is an absolute must-visit when you're at the Presidio.
When you enter, you'll find a bunch of awesome prop replicas that you can marvel at, snap some photos, and then move along on your next epic adventure.
Just one thing to keep in mind – public use of the lobby is a courtesy of the Lucasfilm foundation and can only be accessed during office hours. For easy access, you can ask the parking security team to give you a 20 minute parking pass.
May the fun be with you!
Visiting the Cartoon Art Museum is an absolute blast! From the moment you walk through the front doors, you are greeted by a kaleidoscope of laughter, creativity, and sheer joy.
The museum walls are adorned with larger-than-life comic strips and vibrant illustrations, each one telling its own unique tale. It's not just a museum, it's a playground for your imagination.
The sheer diversity of artists and art styles on display is simply mind-boggling – from the classic golden age comics to the modern masterpieces of manga and graphic novels. There's something for everyone here, whether you're a die-hard fan of the classics or a newbie to the world of cartoons.
Get ready to be immersed in a world of fantasy and wonder – the Cartoon Art Museum is waiting to take you on a magical journey like no other!
6. Best Themed Mini Golf: Urban Putt
Urban Putt in San Francisco is not your typical mini golf course. The holes not only involve golfing through downtown San Francisco and Nemo's Submarine but also feature a variety of innovative physics mechanics, elevators, and conveyer belts to enhance the visual appeal and enjoyment of the game.
Whether you're a seasoned putter or a complete beginner, Urban Putt offers a one-of-a-kind experience that will leave you laughing, cheering, and wanting to come back for more.
So grab your putter, put on your game face, and get ready to embark on a mini golf adventure like no other – it's guaranteed to be a hole-in-one experience!
Recommended: Where to Meet The Best Nerdy Guys Right Now
7. Best Creator Space: Noisebridge
Noise Bridge: the ultimate haven for tech enthusiasts and creative souls alike!
This physical space was designed to offer resources and opportunities for creators. The aim is to cater to makers with interests in programming, hardware, crafts, science, robotics, art, and technology. In this space, people come together to teach, learn, and share their knowledge and experiences.
Whether you're a code wizard or a DIY tinkerer, get ready to mingle with some of the brightest minds in the tech world, exchanging ideas and pushing the boundaries of what's possible. Depending on the day, you'll find yourself in a labyrinth of blinking LEDs or a symphony of 3D printers & keyboards humming in harmony.
If you're visiting for the first time, consider participating in a class or taking one of their maker classes. Or if you're looking for something more low key, you can take a little breather in the cozy reading nook.
The Gregangelo Museum is a whimsical San Francisco wonderland where reality is beautifully twisted and imagination takes flight!
The genesis of the Gregangelo Museum can be traced back to Gregangelo's deep-rooted passion for art and his desire to create a space where art, culture, and storytelling could converge. With a vision to inspire and delight visitors of all ages, he embarked on a journey to create a space that would transcend traditional museum experiences – all built in his person home residence!
One of the unique features of the Gregangelo Museum is its ever-evolving nature. It constantly adapts and transforms, offering visitors something new and exciting with each visit. The exhibits change regularly, showcasing the works of emerging artists alongside established masters. This dynamic approach ensures that the museum remains a vibrant and relevant cultural hub.
So come on in, let your imagination run wild, and embrace the unexpected at this magical place where art and playfulness collide!
9. Best Nerdy Way to See the City: Midnight Rollers
The midnight rollers roller blade and skate group in San Francisco is an absolutely awesome crew of adrenaline junkies who know how to have a blast on wheels!
With their sleek moves and stylish gear, these rollerbladers and skaters turn the city into their playground, weaving through traffic, popping tricks, and spreading good vibes wherever they go. And the good news is that you can join them!
Whether you're a seasoned pro or a newbie looking to catch the night ride thrill, the midnight rollers group is THE place to be for pure exhilaration and a whole lot of laughter.
So, check the facebook group page for updates, grab your skates, and join the coolest crew in San Francisco for a night you won't soon forget! Get ready to roll, baby!
Visiting The Zombie Village tiki bar in San Francisco is like stepping into an exotic adventure with mysterious elixirs.
The vibrant ambiance, adorned with intricate Polynesian decor and flickering torches, sets the stage for an unforgettable night of escapism.
The expert mixologists at The Zombie Village are true masters of their craft, conjuring up potions that not only taste divine but also tell a story in every glass. Sometimes they will perform little fire shows and spectacular tricks, captivating your attention and leaving you in awe.
So, if you're in San Francisco and seeking a truly unforgettable night out, Get ready to embark on an adventure that will leave you craving more of the undead-infused charm that only The Zombie Village can offer.
What are the Best Nerdy Local Cultural Experiences?
11. Essential San Francisco Museums
The Walt Disney Family Museum is a place where magic becomes tangible, dreams come to life, and creativity knows no bounds. Situated in the heart of San Francisco, this whimsical wonderland brings joy and laughter to Disney enthusiasts of all ages. With colorful exhibits, interactive displays, and enchanting artifacts, the museum takes you on a captivating journey through the extraordinary life of Walt Disney himself.
From the early sketches of Mickey Mouse to the captivating stories behind beloved classics like Snow White and Cinderella, every corner of this delightful museum tells a captivating tale. It's a place where you can let your imagination soar, surrounded by the incredible legacy of a man who dared to dream big and create an empire of magic.
The Big Bus Hop On Hop Off Tour of San Francisco is an absolute blast! Picture yourself cruising through the vibrant streets of the city, soaking in the iconic sights and sounds.
This fantastic tour lets you explore the marvelous attractions at your own pace, giving you the freedom to hop off and hop on whenever and wherever you please. Whether you want to wander around the whimsical streets of Chinatown, take a leisurely stroll along the picturesque Fisherman's Wharf, or marvel at the awe-inspiring Golden Gate Bridge, this tour has got you covered. With informative and entertaining commentary provided on board, you'll be engaged and entertained throughout the journey.
So, get ready for a memorable adventure, hop aboard the Big Bus, and let the fun-filled exploration of San Francisco begin!
The painted ladies in San Francisco can be found at house numbers 710 to 720 Steiner Street, San Francisco CA 94117.
Channel your inner Tanner family as you take a stroll down memory lane of the hit 90's show Full House. Visiting these vibrant victorian houses is the perfect fusion of nerdery, history, and pop culture, wrapped up in a delightful and whimsical package. It's a must-see for nerds of all shapes and sizes!
If you haven't visited the Golden Gate Fortune Cookie factory yet, you're missing out on one of the most quirky and delightful experiences San Francisco has to offer! Let me tell you why you absolutely should make your way there.
To reach the factory, you must walk up a narrow alley toward the small factory – the air is filled with the sweet aroma of freshly baked fortune cookies. As you enter, you'll be greeted by the sight of skilled artisans meticulously folding these little edible treasures and usually they will give you a free sample!
What are the Best Nerdy Theater, Film & Shows?
Audium takes sound to a whole new level, offering a one-of-a-kind sonic journey that will leave you speechless. Whether you're a music lover, a sound engineer, or simply someone who appreciates the symphony of life, Audium will transport you to another dimension of audio bliss.
The show is a sensory focused experience where you sit in a room devoid of almost all light and become enveloped in various sound compositions artistically crafted by the owners.
In a given show, you will hear unique blends of audio from train horns and footsteps to music and nature sounds. The show style might not be for everyone, but if you're into unique art, then you should definitely try it out.
Film enthusiasts should definitely visit the Balboa Theater in San Francisco! This awesome cinema offers an unforgettable experience that will make your movie-loving heart leap with joy.
From the moment you step inside, you'll be surrounded by the magical aura of the theater, with its charming décor and cozy atmosphere.
The Balboa Theater is a paradise for film buffs, with a carefully curated selection of movies that range from timeless classics to the latest blockbusters. The vibrant and diverse film schedule ensures that there's something for everyone, whether you're a fan of heartwarming rom-coms, gripping thrillers, or mind-bending sci-fi adventures.
But it's not just the movies that make the Balboa Theater a must-visit destination, the exciting events like themed screenings, film festivals, and Q&A sessions with directors and actors are also super cool. It's the perfect place to indulge in your love for the silver screen while connecting with fellow movie enthusiasts.
Proxy Walk-in Cinema is more than just your average neighborhood revitalization project – it's a jive-y, groovy place that brings the whole community together! Built out of shipping containers, used in various capacities, the center has everything!
You can find a fitness center to flex those muscles, an ice cream shop to treat your taste buds to chilly delights, a biergarten for some hoppy happiness, a coffee shop to get your caffeine fix, a juice shop to recharge with fruity goodness, AND an outdoor cinema to bring out your inner cinephile (primarily independent film). Its basically a jazzed up drive-in move theater where you walk instead of drive.
So, grab your popcorn, kick back, and prepare for a rip-roaring good time at Proxy Walk-in Cinema! Let the movies and the good vibes bring joy to your soul and unity to the neighborhood!
What are the Best Nerdy Books, Board Games & Comics?
Whether you're hunting for a nostalgic classic or a brand new obsession, this game shop has it all. Sorted meticulously in alphabetical order, the shop is like entering a magical library of endless entertainment.
Although space is limited, it is well-stocked with games that are perfect for experienced gamers looking to expand their collection or beginners just starting out.
Now, don't let the circumstantial secret nature of this place deter you, because half the fun is in the hunt! The shop is nestled away in a shopping mall, and can be difficult to find since there are no signs to mark it on the street. But follow your gaming instincts, and you'll be rewarded with a treasure trove of board games that will make your heart skip a beat.
Green Apple Books in San Francisco is a bibliophile's paradise, my friends! As soon as you step foot into this literary haven, you'll feel like you have been wrapped in a cozy blanket made of books.
The shelves are filled to the brim with an eclectic assortment of titles, carefully curated to cater to every reader's taste. From philosophy to science, cooking to fiction, non-fiction to history—whatever your literary craving, Green Apple Books has a treasure trove waiting for you!
Lawrence Ferlinghetti, a legendary figure in the world of literature, poetry, and counterculture was the founder of City Lights. Born on March 24, 1919, in Yonkers, New York, Ferlinghetti would go on to become a pivotal force in shaping the Beat Movement and leave an indelible mark on the literary landscape.
In the early 1950s, Ferlinghetti found himself drawn to San Francisco, a city that would become his creative home. In 1953, he co-founded City Lights Bookstore, a veritable mecca for literary enthusiasts. Located in the vibrant North Beach neighborhood, City Lights became a gathering place for intellectuals, poets, and bohemians who sought intellectual stimulation and a haven for countercultural ideas.
He was also a writer whose poetry was characterized by its accessible style, political engagement, and social commentary, reflecting the ethos of the emerging Beat Movement.
This movement started in the 1950s as a rebellious literary and cultural movement, challenging the conformity and materialism of post-World War II America. Ferlinghetti, along with luminaries like Allen Ginsberg, Jack Kerouac, and William S. Burroughs, played a crucial role in shaping this movement. The Beats rejected mainstream values, opting for a more spontaneous, unconventional, and individualistic approach to life and art.
At its core, the Beat Movement celebrated personal freedom, spiritual exploration, and the pursuit of authentic experiences. The Beats embraced jazz, Eastern philosophy, drugs, and spontaneous road trips, seeking to break free from societal constraints and explore the boundaries of consciousness.
Today City Lights Booksellers and Publishers is a physical tribute to the Beat Movement & Ferlinghetti's contribution. Plus it has a fantastic selection of modern progressive books that would make Ferlinghetti proud.
What are the Best Nerdy Nature Experiences?
Salesforce Park is a playful paradise nestled in the heart of the city, where geekiness meets nature. This remarkable park is not only a breath of fresh air, but also a hub of technological marvels that will make your inner techie leap for joy.
There is a marvelous mix of trees and plants from all around the world, creating a mini global paradise right in the heart of the park. Plus, plaques scattered around describe replicated habitats.
Salesforce Park is a beautiful place to enjoy nature at sunset or in the middle of the day right in the city!
23. Movie Filming Locations
San Francisco is home to the filming locations for a ton of amazing movies and TV shows. If you're a movie fan, then you'll definitely want to check out these awesome sites. From superhero blockbusters to heartwarming romantic comedies, there's something for every type of nerd on this list.
Pack your bags, grab your camera, and get ready to geek out in the city that works! Just don't forget to bring your superhero cape (you know, for extra authenticity).
What do you call a parrot that flew away? A polygon!
If you find yourself walking the city, you absolutely have to look out for the parrots – they're the real feathered rockstars of the city!
These colorful characters were actually brought here many years ago to be sold as pets in the exotic pet trade. Before the US banned exotic pet trade in 1992, the U.S. was the biggest bird importer on the planet!
There are many theories about how the bird population started in San Francisco, but the likely reason is that a few escaped over the years, started mating, and built a small colony.
Today these parrots still remain, soaring gracefully through the city's skies, spreading joy wherever they go. You can see them throughout the city, so be on the lookout – this is a wild adventure you won't want to miss!
What are the Best Nerdy Rides, Escape Rooms & Virtual Experiences?
San Francisco is home to some of the most creative, mind bending, and immersive escape rooms in the world! The Escape Game is one of the best in the area, and is known for quality environmental puzzles, interactive automation, immersive setups, and jaw-dropping production value. Plus they don't bother with useless red herrings to throw you off track.
The staff are amazing and will definitely give you a little nudge in the right direction if you need it.
Seven sensational rooms await, each with its own wild theme!
The Playground
The Heist
The Depths
Goldrush
Special Ops Mysterious Market
Timeliner: Train Through Time
Prison Break
So, fellow adventurers, gather your crew, put on your thinking caps, and prepare to be blown away by The Escape Game!
This place is the stuff that dreams, and some nightmares, are made of. Fair warning! Sandbox VR isn't your typical sit-back-and-chill VR experience, it's a full-on active adventure.
Once you step inside, it's like stepping into a whole new universe! The motion tracking technology is so seamless that you can move around freely to explore every nook and cranny of the virtual world. So, make sure to dress the part, because you'll be jumping, ducking, and dodging like a pro.
So, gather your crew, put on your VR goggles, and get ready for an unforgettable journey at Sandbox VR. Get ready to unleash your inner hero and conquer virtual worlds like never before!
Palace Games is no ordinary escape room joint – it's a whole new level of awesomeness! With four well-crafted rooms that combine technology and artistic finesse, you're in for an adventure like no other:
The Attraction
The Edison Escape Room
The Great Houdini Escape Room
The Roosevelt Escape Room
Although all the rooms are high quality, The Attraction room is a true show stopper. Some might say it is one of the best escape rooms in the world. The level of innovation is game-changing – it's the perfect fusion of hardware and software that'll leave you stunned and amazed.
So, what are you waiting for? Grab your friends, prepare for the ultimate escapade, and get ready to have your minds blown at Palace Games. It's a must-visit for all the puzzle aficionados out there!
What are the Best Festivals, Conventions, and Live Events in San Francisco?
Game Developer Conference (GDC) is the ultimate gathering of gaming geniuses: minds collide, sparks fly, and pixels come to life. For five action-packed days, the game development community unites to shape the future of the industry, exchanging ideas like Mario trading coins.
Talk about a dream team! From programmers and artists to game designers, audio pros, and business leaders, professionals from all parts of the industry are invited to participate. Attendees enjoy quality lectures, panels, and roundtable discussions that'll make your head spin faster than Sonic.
But wait, there's more! The GDC Expo is a playground of gaming delights, showcasing the latest and greatest from tech giants like Amazon, Epic, Google, Intel, Nvidia, Oculus, and Sony. Test out the latest tech before it hits retail store shelves!
So, fellow gamers, suit up in your favorite gaming gear, grab your trusty controller, and get ready for an adventure like no other. GDC is the place where passion, innovation, and fun collide, and the gaming industry's future is written in pixels! Game on!
Established in 2001, SF Sketchfest was conceived as a platform to showcase the comedic brilliance of six local noteworthy Bay Area sketch groups. Since its debut, the festival has skyrocketed into a nationally acclaimed comedy extravaganza, offering a delightful mix of renowned headliners, local gems, and rising stars from all over North America.
Lasting a month, the event boasts an array of sketch, improv, stand-up, and alternative comedy performances, earning adoration from both audiences and critics. With a reputation for presenting top-notch comedic showcases, tributes, and panel discussions, SF Sketchfest has flourished into an eagerly awaited artistic spectacle.
Comedians from beloved TV hits like "Saturday Night Live" and "Arrested Development" to "The Kids in the Hall," "VEEP," and "The Upright Citizens Brigade," have all performed at the festival.
If you love comedy, make sure to snag some tickets this January & February!
Outside Lands is an annual music and arts festival in San Francisco's Golden Gate Park featuring a diverse lineup of music artists from various genres, including rock, pop, hip-hop, electronic, and more.
The festival also incorporates art installations, comedy performances, food and beverage vendors, and interactive activities, making it a multi-faceted experience for attendees.
If you like to legally enjoy cannabis with your music, Outside Lands is the place for you! As the first large concert festival to legally serve cannabis, there is plenty to go around. Rumor has it that over $1M worth of cannabis is sold each year.
What are the Best Nerdy Tours & Classes?
There's no better way to uncover the hidden mysteries and eerie tales of San Francisco than by embarking on a thrilling ghost-hunting tour.
This unique, local-led experience will take you on a journey through the city's dark side, where you'll not only learn about stories of chilling paranormal activity and Gold Rush cemeteries, but also be armed with your very own personal EMF detector. This device will be very helpful in detecting any spine-tingling paranormal activity that may be present during your tour.
Whether you're a believer in the supernatural or simply curious about the darker side of San Francisco, this ghost-hunting tour promises an unforgettable evening of excitement and intrigue.
Recommended: 7 Killer Airbnb Experiences in the San Francisco Bay Area
Settle into the retrofitted neon-blue seats of a vintage Volkswagen bus, crank up nostalgic 1960's beats, and feel the pulsating energy as you wind through the enchanting streets of San Francisco as you unravel the city's rich history and diverse neighborhoods on this 2 hour tour. From the bustling streets of Chinatown to the bohemian allure of North Beach, from the vibrant Castro district to the eclectic Mission neighborhood, you will experience the very essence of San Francisco the way it was meant to be experienced.
But this tour is not just about admiring landmarks and capturing Instagram-worthy snapshots. Immerse yourself in the captivating stories and fascinating history of San Francisco, as your knowledgeable guide shares entertaining anecdotes about the city's legendary residents. Get a glimpse into the lives, and residences of counterculture icons such as The Grateful Dead, Janis Joplin, and Jimi Hendrix, whose homes played pivotal roles in shaping the city's cultural fabric.
If you're looking to enhance your plant skills and add a touch of elegance to your indoor garden, look no further than the captivating world of kokedama. Through this fascinating Japanese fusion of art and horticulture, you can effortlessly elevate your plant collection and create a stunning hanging garden that will leave everyone in awe.
Throughout the class, your experienced instructor will share helpful tips on how to properly care for your kokedama creation and the rich history behind this beautiful and simplistic design.
No prior experience or green thumbs are necessary and you'll be provided with all the essential materials to make your project (physical plant, nutrient-rich soil, lush sheet moss, delicate Spanish moss, and twine).
So, unleash your inner gardener, embrace the elegance of this Japanese tradition, and discover the immense satisfaction that comes from crafting your own beautiful moss ball creation.
34. Food Tours!
If you're the type to fantasize about eating at places like Monk's Cafe and Good Burger, we recommend exploring San Francisco's delicious, vibrant, and innovative culinary scene on one (or both!) of two highly popular food tours:
In the Mission District of San Francisco, take a small-group food tour to experience the neighborhood's multicultural history and delicious local specialties. From Mission-style burritos to Italian sandwiches and San Francisco clam chowder, discover how different immigrant communities have influenced the area.
You can also upgrade to a private tour for a more personalized experience with your guide.
Take a flavorful trip through the streets of San Francisco's Little Italy on this belly-bursting food walking tour, my hungry amicos! Prepare to be served a generous helping of fascinating history and culture on the side.
An expert local guide will whisk you away to the best mouthwatering hotspots & hidden gems Little Italy has to offer – from heavenly bakeries and cozy delis to warm coffee shops and tantalizing gourmet chocolate boutiques.
Whether you're looking for a unique date idea or a sensational gift for your loved ones, this gastronomic adventure is guaranteed to dish up memories that are both delicious and unforgettable. So grab your appetite and let's go on a whirlwind tour of tasty delights – it's a feast for all the senses!
What are the Best Nerdy Places to Stay?
The Chateau Tivoli is a lavish Victorian mansion located in San Francisco's historic neighborhood. It offers ornate rooms with antique furniture and rich colors. This grand mansion, once frequented by famous personalities, has now opened its doors to guests. With its Victorian splendor, including hand-carved woodwork and crystal chandeliers, the Chateau Tivoli provides a glimpse into the 19th-century lifestyle. Guests can enjoy the inviting atmosphere of a private home, whether they're relaxing in the double parlor or dining in the ornate dining room.
Recommended: How to Decorate a Hotel Room for a Birthday
Monte Cristo stands proudly as a classic San Francisco Bed and Breakfast Hotel nestled in the exclusive and vibrant neighborhood of Pacific Heights. This charming establishment exudes timeless European style, ensuring guests an experience of utmost comfort and privacy.
With a fascinating history dating back to 1875, Monte Cristo holds the distinction of being one of the oldest original hospitality structures in the city. From its early days as a bordello and saloon to its role as a speakeasy during the roaring 1920s, this remarkable building has witnessed the ebbs and flows of San Francisco's colorful past. In fact, during the devastating aftermath of the 1906 earthquake and subsequent fire, Monte Cristo not only survived but also provided a haven for those displaced by the tragedy.
Today, Monte Cristo continues to shine as one of the most esteemed boutique hotels in San Francisco, welcoming discerning travelers from near and far.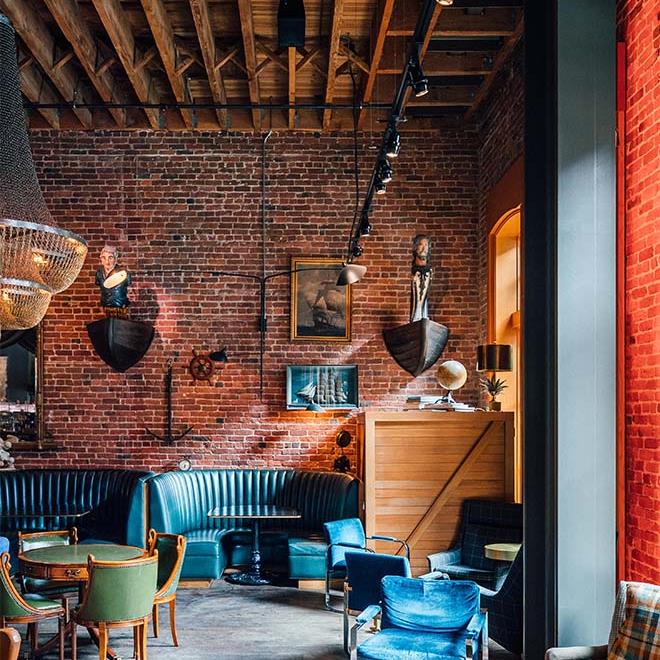 The Battery Hotel in San Francisco is a luxurious and exclusive hotel situated within a private members' club. Designed by renowned designer Ken Fulk, the hotel offers stylish interiors and world-class amenities.
The Battery is owned by Michael Birch and his wife, Xochi, who have a background in successful entrepreneurship. The club is located in a former candy factory in the Jackson Square neighborhood, with easy access to Chinatown, the Embarcadero, and other attractions.
The hotel features a unique San Francisco seafaring theme and showcases contemporary art. The Battery provides a phone-free environment in public areas but offers vintage-style phone boxes on each floor. Guests can enjoy breathtaking views of the city from the glass elevator.
What are the Best Nerdy Places to Eat in San Francisco?
Step into Outer Orbit, and you'll feel like you've entered a groovy time warp to a Hawaiian version of a 1950's pinball shop. This hip joint boasts a delightful mix of Island fare and comfort food that'll leave your taste buds doing the hula.
Enjoy classic games like Batman 66 and Willy Wonka that'll keep even the most hardcore pinball fans grinning from ear to ear. It's fun, it's chill, and it's unforgettable. So gather your gang, reserve a table, and let the good times roll!
Get ready for a taste of the Swiss Alps right in the heart of San Francisco at the Matterhorn Restaurant and Bakery! If the idea of stunning Swiss Alps, rich traditions, and pure magic – all packed into a cozy little dining room "chalet" lovingly crafted by a Swiss family sounds like a dinner dream come true, then this is the restaurant for you.
The flavors and inspiration come from Switzerland and its neighbors like France's Haute Savoie, Italy's Val d'Aosta, Austria, and Germany to serve you some seriously delightful dishes and baked goods. Everything is made from scratch using top-notch ingredients, just like a Swiss on-mountain dining experience!
Speaking of charm, the restaurant has a gondola with a cute table for two and a wooden dining area adorned with typical Swiss artifacts and wall decor.
So, leave the hustle and bustle of the city behind, and join us at the Matterhorn for a friendly, quality-filled, and adventurous culinary journey. It's like a mountain Stübli right in the middle of San Francisco!
Welcome to The Stinking Rose, where garlic rules the roost and your taste buds are in for a pungent adventure! Just follow the mouth-watering aroma to one of San Francisco's quirkiest and most entertaining dining spots.
Nestled in the heart of North Beach, the city's famed Little Italy, this garlic haven celebrates the absolute joy of garlic like no other. Prepare to be amazed by scrumptious, contemporary California-Italian dishes, all jazzed up and adorned with the aromatic magic of garlic!
Whether you're a fearless garlic warrior, a garlic newbie, or even a vampire (shh, we won't tell!), fear not, they've got something delightful for everyone. The menu boasts hearty options for the bold, milder choices for the curious, and even garlic-free dishes for the fanged creatures among us.
At The Stinking Rose, they live by their motto: "We season our garlic with food"® – and boy, do they mean it! So, garlic enthusiasts and curious foodies alike, get ready for a garlic-infused experience like no other. Your taste buds are in for a pungent treat!
What are the Best Nerdy Places to Drink in San Francisco?
Ahoy, rum enthusiasts and cocktail adventurers! Come aboard Smuggler's Cove, the ultimate rum haven that's been making waves since 2009! Get ready to set sail on an innovative journey through the world of rum and exotic cocktails.
Smuggler's Cove boast's the largest rum selection in the entire United States and the ambiance will transport you to a mesmerizing world of vintage tiki artifacts, nautical wonders, and rum-inspired decor. It's like stepping into a hidden treasure trove!
So come on down and discover why Smuggler's Cove is hailed as one of the top rum and cocktail spots in the whole wide world. Cheers, me hearties!
Hidden Experiences is an online marketplace filled with unique, in-person, mind-blowingly different events. They sponsor some of the coolest events in San Francisco, and they're on a mission to make your days exciting, your nights unforgettable, and your weekends epic!
Whether you're a LEGO foodie or a wizard at heart, they've got something special in store. Plus the event schedule is regularly updated with tons of new fun experiences to try. These are a few. of our favorites from the past:
Brick Burger pop-up (LEGO Themed Burger Place)
Wizards Brunch On-Tour (Immersive Harry Potter Themed Brunch)
Alice in Wonderland Cocktail Experience
Titanic Theatrical Dining Experience
So, grab your friends, put on your adventure hats, and let Hidden Experiences be your guide to the most exciting, fun, and new experiences around.
Calling all bookworms and cocktail connoisseurs, this is your sign to visit Novela – where literature meets libations in the most delightful way! This book-themed bar weaves classic literary charm with a dash of contemporary flair.
The house cocktails bear the names of beloved literary characters and the library of books is arranged in rainbow color order. Each cocktail is crafted with love and skill by the talented bar staff, and the menu is an ever-changing story with seasonally living concoctions and punches-on-tap inspired by history.
So, dear book lovers, unwind with a drink, and let the literary magic whisk you away. Cheers to original libations and a truly novel experience!
Recommended: Ultimate List of Harry Potter Travel Accessories
The Devil's Acre hails back to a time where history, alcohol, and medicine mingle in the most fascinating way. Step right into the Barbary Coast era (1850s to the early 1900s) the time when curing ills was the job of both the bartender and the apothecary.
During the California Gold Rush, the Barbary Coast was born, and it wasn't a place to lose your wits! It was wild, lawless, and filled with bordellos and gambling. As time went on, the city transformed the chaotic scene into a mature entertainment hub with dance halls and jazz clubs, which shaped American culture for years to come!
The Devil's Acre, pays homage to this incredible history and the apothecary, bar fusion that resulted. Today, you'll get to taste a variety of alcohol-based mixtures that were believed to "cure what ails you" from your pharmacist bartender all prescribed with a wink and a smile!
So, visit The Devil's Acre, where you can purchase the bottled up the spirit of the past. It's time to raise a glass to history, medicine, and good old-fashioned fun!
Last Rites Tiki Bar is a wild, savage, and utterly thrilling Polynesian Noir adventure! Get ready to embark on the most epic tropical cocktail journey of your life.
Picture this setting: you crash-land in a savage rainforest, and guess what? You stumble upon an airplane fuselage turned into a destination cocktail bar like no other. Grab a drink from a selection of over 150 rums and a treasure trove of signature twists on tropical cocktails.
With plenty of seating surrounded by enormous banyan tree roots, stacked stone booths, and the dense jungle canopy, your drink will serve as your own last rite before one the two 9-foot tall stone fire-breathing skull idols gets you!
It's a rum-soaked, jungle-filled, and fire-breathing experience you won't soon forget!
What are the Best Nerdy Places to Shop?
If you're on the hunt for a truly unique and enchanting fragrance experience, look no further than the Ministry of Scent! You can easily lose track of a few hours exploring the collection of unique, small batch, exclusive, and downright amazing scents. It's like a scent symphony curated just for you!
Their Fragrance Specialists on staff are personable and very knowledgable about what they do. They're dedicated, passionate, and ready to help you discover your very own "it" fragrance.
It's time to embark on a scent-sational journey at the Ministry of Scent! It's an olfactory paradise you won't want to miss. Come on over and let your nose lead the way to a world of delightful aromas!
Ahoy there, adventurers of all species and swashbucklers of the high seas! Welcome to the Pirate Supply Co., where even the toughest pirates, pufferfish, and woodland creatures get their splash of fun! This place is a treasure trove of unique pirate goodies and oddities that'll tickle your imagination like never before. The shop is full of visual jokes and curiosities that will keep you chuckling from bow to stern.
Looking to add some pirate flair to your personal stash? Grab a USB in a bottle, mermaid tail, or even a few leeches. And here's the best part: every piece of loot you take home helps fund writers workshops for kids! Aye, you'll be supporting young creatives on their own literary adventures. It's a win-win for everyone.
So, gather your crew and set sail for the Pirate Supply Co. It's a land of laughter, imagination, and philanthropy.
Sail on, mateys!
Misdirections Magic Shop is the ultimate wonderland for all aspiring and established magicians! From close-up tricks to stage illusions, and classic wonders to the latest mind-bending marvels, they've got a magical treasure trove that'll leave you spellbound.
And let's talk about the owner, Joe – a true wizard in his own right! He's not just a shop owner; he's a magical guide, taking the time to explain details of tricks and offering the best advice for your magical journey. He'll sprinkle you with the right tricks & illusions based on your age and experience level, so you'll be wowing crowds in no time!
So, grab your wand and cape, and get ready for a mystical adventure at Misdirections Magic Shop – where dreams of enchantment come to life!
Conclusion
Now you know – San Francisco isn't just for Victorian architecture enthusiasts and silicon-loving techies, although it isn't bad to enjoy those things either! San Francisco is a place for comedians, game lovers, and fans of all types.
Bring yourself and leave with a little more.