Welcome to the Mile High City, where the nerdy culture is thriving!
Denver is not only known for its beautiful mountains and outdoor adventures, but also for being a haven for all things geeky and nerdy. Whether you're a board game enthusiast, a comic book aficionado, a science fiction fanatic, or a tech geek, the city has something to offer.
In this article, we'll explore some of the best nerdy activities to do in Denver, from gaming cafes and comic book shops to horror bars and cosplay events. So, dust off your D20, grab your lightsaber, and let's dive into the nerdy side of Denver!
All activities are within two hours from the city proper:
Interest-Based Nerdy Travel Experiences
Standard Travel Needs – Nerdy Style
About The Author
Hi, I'm Kate.
I started planning unique travel experiences way back in 2008.
And I quickly realized that quirky, nerdy experiences were going to be a big part of my travel planning success.
So I set out to explore as much as I could.
And thanks to years of reading and experimenting, I've had a ton of success with travel planning…
…including the top 3 performing nerdy guides on this site:
Nerdy Experiences in Washington DC
Unique Experiences in San Diego
Check out these ideas in Denver and you could have an awesome trip planned within the next 20 minutes.
What do you like?
We want to know more about the types of nerdy activities you are most interested in. Please fill out the one question form below to help us improve our content. No personal information required – thanks in advance!
What are the Top Nerdy Experiences Unique to Denver?
This monthly event brings experts from all walks of life together to cover topics ranging from the US War on Drugs to Mating Strategies, and they do it all in bite-sized, 20-minute presentations that are as entertaining as they are enlightening.
And the best part? You can enjoy a drink or two while you're learning! Because let's face it, molecular biology is always more fun when you're sipping a cold brew with friends. So come join the knowledge-hungry and beer-thirsty crowd at The Bug Theatre once a month for Nerd Nite Denver.
Welcome to The Molecule Effect, where good vibes and great drinks collide! This Denver gem is a well-curated café bar with an aesthetic that blends metallic industrial with modern retro.
And if you really love the ambiance, take it home with you! All the art pieces are created by local artists and are available for purchase.
With calm music playing at the perfect sound level, the Molecule Effect is the perfect spot to fuel up while getting some remote work done. Or you can just sip on one of their famous espresso martinis, and let your worries melt away. If espresso martinis aren't really your thing, try one of their other popular drinks: an Autumn Rose Latte or Pistachio White Chocolate Mocha.
Recommended: Where to Meet The Best Nerdy Guys Right Now
Whether you're a seasoned pro with a massive board game collection or a newbie who's only played Monopoly, fear not! Denver Board Game Night loves welcoming new players and introducing them to the wonderful world of modern board games.
In fact, the more, the merrier!
The group is all about making new friends and playing awesome games. So, don't be shy, approach any game players, introduce yourself, and ask questions.
Whether your interests align with modern classics (Dominion and Power Grid), brand-new releases, European games, collectible card games, wargames, miniatures, or pretty much anything else – come out to play! Just roll some dice, draw some cards, and have a blast.
4. Best Eerie Place to Drink: Slashers Bar
Slasher's Bar is the best place in Denver for a frightfully good time! The decor is dreadfully amazing, with creepy yet captivating horror-themed elements that create an immersive atmosphere.
As you sip on expertly crafted cocktails that are carefully balanced and bursting with flavor, don't forget to catch a few minutes of the domestic and international horror movies playing on the TVs throughout the bar (with subtitles). The fluorescent wall art adds a cool and edgy vibe, and the expanded seating in the back with cozy sofas makes it a perfect spot to chill with friends.
And let's talk about the cocktails – they're not only delicious, but they also come with fun extras like fake eyeballs, blood bag drinks, and even tiki cups that you can take home as a memento of your thrilling night out. This is a haunt you won't want to miss!
With a huge selection of various collectibles, from sports cards to trading cards, comics to coins, and even signed athletic memorabilia, All C's Collectables is a haven for enthusiasts of all kinds. Magic the Gathering, Yu-Gi-Oh! and Pokemon collectors will be thrilled with the large selection of cards, and nightly gaming events with a friendly group of players who make it a welcoming experience.
The card inventory is always fresh, and they offer booster boxes, packs, and singles at fair prices. While the prices may be a bit higher than the ones you can find online, All C's Collectables often offers special deals (10% to 20% off) on their Facebook page so you can snag a great find without breaking the bank.
Looking for a frightfully fun night out? Look no further than Ghouls Night Out! These folks know their horror, and they've been hosting epic trivia nights since early 2020.
This ghastly group is the talk of Denver among horror genre devotees, and they've got a special night where friends and foes alike can battle it out to prove who knows the most about their favorite twisted tales. Held twice a month on the first and third Wednesdays at Electric Cure, you can join them to test your horror knowledge and compete for awesome prizes like bar tabs, free shots, swag from new scary movies, and the ultimate prize – horror trinkets!
From trivia about everything from Stephen King to Halloween, there's a theme for everyone. So gather your fellow horror aficionados, sharpen your horror trivia skills, and get ready for a spooktacular night of fun and competition at Ghouls Night Out!
7. Best Family Friendly Gaming Spot: Game Train USA
All aboard the Game Train USA in Denver – a one-of-a-kind gaming experience that's bound to delight gamers of all ages! With over 600 games to choose from, ranging from classic favorites to modern hits, there's something for everyone.
The atmosphere is truly top-notch. As soon as you enter the locomotive, you will feel like you're on an 1890's First Class Victorian dinner train. The special sound effects, motion effects, and window-shaped videos showing your railcar's journey through the countryside will transport you to an immersive steampunk gaming environment.
And let's not forget about the food and drinks! Game Train USA has a full menu including delicious mixed drinks, coffee and hot entrees. If you prefer themed activities, they also have tons of themed events such as wine tastings, murder mystery nights, holiday activities, bingo and more. This is truly a unique experience that you won't find anywhere else.
8. Best Nerdy Nightlife: Milk
Welcome to the magical world of Milk Bar – a wonderland experience like no other! With its many rooms, interesting staircases, and creative use of space, this gothic labyrinth is one of the best nightclubs of its kind in Denver, or even the nation!
As you navigate through the maze-like layout, you'll feel like you've stepped out of reality and into a surreal realm reminiscent of A Clockwork Orange. If you need a little break from dancing and drinking, check out the classic arcade games such as Joust, Mortal Kombat, and Pac-Man that will transport you back to your childhood.
Sure, the prices may be steep, but this place has character, and a reliable fortune teller, that is hard to find elsewhere. Milk Bar is a true gem in Denver's nightlife scene, where you can let your imagination run wild and dance the night away in a truly unique and unforgettable setting.
Welcome to Mutiny Information Cafe, where good vibes and geekdom collide in the best way possible! This place is a haven for every kind of nerd, with its oozing character, charm, unique offerings, and friendly feline that roams the store.
From comic books and pinball machines to records and VHS movies, you'll find yourself in nerd paradise. They host regular events like stand-up nights, open mics, and live poetry to keep the fun going. Plus they have a diverse selection of locally created literature and art.
And let's not forget about the coffee menu, serving up everything from drip to espresso to French press, with lattes, mochas, matcha, and a rich spicy chai from Boulder-based Sherpa Chai. Vegans and vegetarians will also find snack options, and there's a variety of bottled sodas, energy drinks, candy, and CBD products and powders to satisfy all cravings.
What are the Best Nerdy Local Cultural Experiences?
10. Essential Denver Museums
Denver has a wide variety of museums for culture and education seekers to choose from, these are our favorites:
This mind-bending, interdimensional playground is like stepping into a sci-fi movie where reality and imagination collide in the most spectacular ways.
From the moment you step through the portal, you'll be transported to a universe of immersive art, interactive installations, and sensory overload. The colorful and whimsical landscapes are like a psychedelic dream come to life, with secret passageways, hidden chambers, and mind-bending illusions that will keep you guessing at every turn.
Plus, with its prime location in the heart of Denver, you can easily spend hours diving into this otherworldly realm before venturing out to explore the vibrant city. So, whether you're an art enthusiast, an adventure seeker, or just looking for an out-of-this-world experience, the Denver Meow Wolf Convergence Station is a must-visit destination that will leave you with memories that are truly out of this world!
This one-of-a-kind church is not your typical place of worship, but it's sure to leave you with a spiritual "high" like no other. When you enter the chapel doors, you'll be greeted by a kaleidoscope of colors, intricate murals, and an atmosphere that feels like a cross between a psychedelic art gallery and a cosmic party.
If you're a fan of hemp-related botanical delights, you're in for a treat! The church is a sanctuary for cannabis enthusiasts, where you can partake in the sacrament of the "Elevationist" faith and enjoy the herb in a safe and welcoming environment.
Whether you're a cannabis connoisseur or simply curious about the intersection of spirituality and modern culture, a visit to the International Church of Cannabis promises to be an uplifting and mind-expanding experience that will leave you with a smile on your face and a sense of wonder in your heart. Come join the groovy congregation and let your soul soar to new heights in this funky and fun-filled sanctuary!
Imagine the fluffy aroma of popcorn and cotton candy filling the air as you wait in light for a fun ride with friends or family. Whether you're testing your skills at the games, taking a spin on the Ferris wheel, or zipping through the air on a roller coaster, there's always a sense of lighthearted joy in the air.
And when night falls, Elitch Gardens transforms into a dazzling wonderland with twinkling lights and dazzling displays. With memories of thrilling rides, tasty treats, and laughter-filled moments, your visit to Elitch Gardens will be a whirlwind of pure fun and happiness that will stay with you forever. So buckle up, hold on tight, and get ready for an adventure you won't forget at Elitch Gardens!
What are the Best Nerdy Board & Video Game Shops?
Welcome to Enchanted Grounds, where coffee and gaming magic fuse! Sip on delicious espresso drinks made with beans from Coda Coffee while playing a board game with some friends. Or indulge in a refreshing brew of loose leaf tea from The Tea Spot while pouring over a cozy new comic book.
This place has a drink or snack for every mood. From fruit smoothies and frappes to a wide selection of local pastries, breads, burritos, sandwiches, snacks, caramels, and chocolate bars, you'll be spoiled for choice.
But the fun doesn't stop there! Enchanted Grounds is a haven for board game enthusiasts, with a vast selection of games to choose from. Just ask the friendly staff for a list, and they'll pull your chosen game from out back.
Step inside Golden Game Guild and prepare to be amazed by the array of games that await you. There are plenty of seating options, private areas to play and an immense library of games ranging from classic board games to the latest tabletop adventures. Why not play a few games you've been eyeing before making a purchase? It's the perfect place to test-drive your gaming dreams. So gather your friends, roll the dice, and let the games begin at the Golden Game Guild!
And if you're not sure where to start, just check out the packed schedule of events on the back wall – from game nights to tournaments, there's always something happening!
Whether you're into Magic the Gathering, Flesh and Blood, Pokémon, or other tabletop games, this place has got you covered. Sure, the outside might not be much to look at, but what really makes MeH Gaming special is the attentive owner, Kyle, and the welcoming community that's ready to greet you with open arms. MeH is more than just a business, it's a community-driven service that's all about the love for gaming.
Need a snack to fuel your gaming session? No worries, snacks are available for purchase, so you can keep your energy levels high as you roll those dice, shuffle those cards, or make your strategic moves on the board. Plus, its open 7 days a week and has good air conditioning.
With a spacious gaming area, regular tournaments, a friendly owner, and a welcoming community, you're in for a gaming experience that's more than just a game, it's a whole adventure! Get ready to roll, draw, and play to your heart's content at MeH Games!
What are the Best Nerdy Theater, Film & Shows?
Prepare for a cinematic experience like no other at the Mayan Theater! This historic gem has been screening new releases, as well as independent, foreign, and avant-garde flicks since 1930.
Fun fact: it even survived a tumultuous patch in the 80s when it almost closed down!
Fast forward to today, and you'll find a movie theater that's a haven for movie lovers on a budget, with super reasonable ticket prices, a great beer selection, and popcorn that's truly buttery perfection. The theater itself is small and cozy, with cushy seats that are oh-so-comfortable.
And the best part? Before Showtime, you'll be treated to the nostalgic sight of a red curtain being drawn up. So settle in, relax, and get ready to be transported to a world of cinematic magic at the Mayan Independent Theater!
With five events throughout the summer, there's plenty of movie magic to enjoy Red Rocks Park. The park has been the home of "Film on the Rocks" for over 20 years, and it's easy to see why – with its stunning natural amphitheater and breathtaking views, it's the perfect backdrop for a night of outdoor cinema.
From family-friendly classics like The Sandlot to beloved favorites like Dune and The Greatest Showman, there's something for everyone to enjoy. The Box Office opens four hours before showtime, so be sure to check the calendar for door times before your visit.
Get ready to be blown away by the Denver Magic Show, where grown-up caliber magic meets Colorado audiences every Monday at 7:30pm at the Patterson Inn!
Prepare to be mesmerized as each magician brings their unique style and personality to the stage, presenting a dazzling spectrum of magic that will leave you in awe. With a 90-minute runtime, get ready for an evening of mind-bending illusions, jaw-dropping tricks, and awe-inspiring mentalism that's been perfected through thousands of performances.
Get up close and personal with the magic, as the show promises an intimate experience that will leave you scratching your head in wonder. So grab your friends, sit back, and prepare to be amazed at the Denver Magic Show! It's an evening of enchantment you won't want to miss.
20. Movie Filming Locations
Denver is home to the filming locations for a bunch of amazing movies and TV shows. If you're a movie fan, then you'll definitely want to check out these awesome sites. From iconic fighting flicks to themed adventures, there's something for every type of nerd on this list.
Pack your bags, grab your camera, and get ready to geek out in the city that works! Just don't forget to bring your sports car (you know, for extra authenticity).
What are the Best Nerdy Nature Experiences?
If you're looking for a blooming good time in Denver, look no further than the Botanic Gardens! Not only will you be mesmerized by the stunning array of flowers, plants, and trees, but you can also tantalize your taste buds with delicious food and drinks available for purchase right inside the garden. Or bring your own goodies and non-alcoholic drinks as a picnic to enjoy in the beautiful surroundings.
With so many fun features to explore, from the serene Japanese pavilion to the intricate bonsai trees, the beautiful conservatory, art galleries, science pyramid, and even a small horticulture library, there's always something interesting to see.
And don't miss out on the spook-tacular Halloween event and dazzling Holiday light shows in the fall and winter – they're simply magical!
Get ready to zip, soar, and fly through the beautiful Rocky Mountains on Colorado's longest and fastest ziplines. With lines ranging from 850 feet to over 1,900 feet, reaching speeds of up to 60 mph and heights of up to 250 feet, it's an adrenaline-pumping experience you won't forget!
With over 1.5 miles of ziplines to conquer, you'll be in for an epic adventure surrounded by breathtaking natural scenery, just 30 minutes from Denver. Feel the rush of the wind in your hair as you glide through the mountain peaks and take in the stunning views below. It's a one-of-a-kind experience that will leave you with unforgettable memories.
After your zipline adventure, take some time to unwind and celebrate at the nearby pub, Colorado's Best Beers. Treat yourself to regional microbrews, whiskeys, wines, appetizers, and more, as you relive your thrilling experience with fellow adventurers. It's the perfect way to top off an incredible day of ziplining and immerse yourself in Colorado's vibrant beer culture.
So, strap on your gear, buckle up, and get ready to soar with Denver Adventure Zipline Tours. It's an adventure of a lifetime that will leave you with an exhilarating rush and memories that will last a lifetime. Let's zip, cheers to the thrill-seekers!
What are the Best Festivals, Conventions, and Live Events in Denver?
Fan Expo Denver is a geek extravaganza that'll make your inner nerd squeal with delight. From comics and gaming to cosplay and celebrity meet-and-greets, it's a mecca for all things fandom.
With a schedule packed full of panels, workshops, and activities, there's always something exciting happening at Fan Expo Denver. Meet your favorite comic book artists, rub elbows with TV and movie stars, and dive into the latest merch and collectibles that'll make any fan's heart skip a beat. Or get your cosplay game on point and show off your creative skills among fellow fans.
You definitely don't want to miss the special energy and excitement that fills the air as fellow fans buzz with enthusiasm and the atmosphere is saturated with geeky camaraderie. May the force be with you as you embark on this geek-tastic adventure!
Get ready for a three-day celebration of all things anime and cosplay that'll leave you feeling like you're in your very own anime world.
Usually held in the Spring, each year's fest promises to be an action-packed schedule filled with exciting events, special guests, and fun contests that'll keep you on your toes. You might even get a chance to meet some notable and famous voice actors who make an appearance – how cool is that?
Registration is a breeze through the event's official website, so you can secure your spot and join the nearly 3,000 people who attend this epic convention. Once you're in, prepare to be wowed by the Vendor's Hall, where you'll find a treasure trove of manga, Japanese candies and drinks, swords, kimonos, and more. And if you're into art, the Artists Alley is a must-visit, with talented artists showcasing and selling their amazing works.
But the fun doesn't stop there! Colorado Anime Fest knows how to party, and the rave is a highlight of the weekend for many participants. Dance the night away to awesome beats and immerse yourself in the electrifying atmosphere.
And let's not forget about the festival's charitable side. Each year, Colorado Anime Fest chooses a charity to fund, making it not just a celebration of anime, but also a way to give back to the community.
So mark your calendars, pack your cosplay, and get ready for an unforgettable weekend of anime magic at Colorado Anime Fest. It's a must-attend event for any anime fan, and you won't want to miss out on the fun! See you there!
Aspen Film was established in 1979 by Ellen Kohner Hunt with the goal of using cinema to inform, enlighten, enrich, and entertain. The institute has a long history of producing exceptional and unforgettable experiences for both dedicated and casual movie fans.
Aspen Film, which has a presence throughout the Roaring Fork Valley, manages a significant film event every season, provides a robust education program, and sponsors a variety of special presentations. Every one of the more than 200 films they screen there each year is a regional premiere, many of which could not otherwise be accessible to people in the area. About 30,000 people take part yearly.
What are the Best Nerdy Tours & Classes?
The Goat Hike along Ol' Miner's Trail is a fantastic opportunity to capture beautiful panoramic photos of mountain scenery, learn about the history of the area, and interact with friendly goats. The tour starts 20 minutes west of Boulder at the Stage Stop. You will start the hike by being introduced to the "girls" (goats) and some charming Western lore then progressing through the historic living museum starting with the Cloud City mining district.
The guide will share stories from miners' journals and point out relics from their lives & mines. You'll get to see old mine portals, the school house and root cellar, stone walls, mine tunnels, and stone cabin foundations.
The adventure will culminate with the famous Downhill Goat Race, where each hiker will guide her goat down the hillside to the winner's circle. Your tour will culminate where it started, Stage Stop, at which point you can enjoy the area more or grab some lunch at a local spot.
On this spooky, small-group walking tour of the city center, learn about Denver's shadowy past and see some of its most iconic structures.
You'll meet your trained historian tour guide to depart for some of the city's creepiest places in Denver like the Crawford Hill Mansion, Poet's Row, Patternson Inn (the most haunted place in Denver), and more, enjoying a spine-tingling stroll by the mystery of twilight. Allow your tour guide to lead you around the eerie neighborhoods while pointing out haunted homes, recounting historical scandals, and stumbling across paranormal activity.
This fun, interactive workshop is perfect for anyone who wants to learn how to create unique wood and resin Pocket Pipes from scratch.
There are no kits involved, so you will select the wood blanks, cut, carve, polish, and even add an engraving yourself.
And of course, you'll have to try out your finished product! So feel free to bring tobacco or any other smoking material for the end of class.
Whether you're a beginner or have experience with woodworking, all levels are welcome. In fact, Pocket Pipes are an excellent item to learn & practice basic wood working skills. If you've never tried tried wood working before, definitely consider joining in the fun!
Discover the hip, industrial part of Denver while sampling some of the greatest food the RiNo Arts District has to offer. This three-hour walking culinary tour will give you samples from five acclaimed neighborhood eateries, share engaging tales about the history of Denver's developing culinary scene, and show you the vibrant murals adorning streets & alleyways.
Your knowledgeable local guide will meet you at Il Posto, a classy locally-owned Italian eatery on Larimer and have you sample Japanese fried chicken, fresh house-made burrata, Mexican street tacos, speciality NY-style sourdough pizza, and mochi doughnuts.
What are the Best Nerdy Places to Stay?
Welcome to The Ramble Hotel, where magic and escapism await you in Denver's vibrant RiNo Art District. Get ready for an unforgettable stay in this 50-room boutique hotel that's sure to captivate your senses.
First up, you've got to check out the Death & Co Cocktail Bar – it's the brand's first outpost outside of its iconic New York institution, and it's sure to impress with its expertly crafted libations. And if you're in the mood for some entertainment, head to the cozy ballroom/theater and event bar for a night of fun and excitement.
Hungry? No problem! The Ramble Hotel has you covered with a brand-new restaurant from Work & Class, a popular local spot that's sure to tantalize your taste buds with its delicious offerings.
And let's talk about the rooms – they are simply dreamy! With separate living rooms and claw-foot tubs, you'll feel like royalty as you relax and unwind in your cozy abode. It's all about the little touches that make your stay extra special.
At The Ramble Hotel, they have a deep respect for the magic and escapism that hotels can offer, and they're committed to making your time with them a break from the ordinary. So get ready to immerse yourself in the unique and enchanting experience that The Ramble Hotel has to offer. Your adventure awaits!
What are the Best Nerdy Places to Eat in Denver?
The Crypt bar keeps all the Denver spooky vibes alive and well. Get ready to immerse yourself in a horror-themed atmosphere that's sure to send shivers down your spine in the most thrilling way.
Step outside to the large patio and two main rooms that can easily accommodate all you fellow ghouls and gals. And speaking of events, The Crypt knows how to throw a party with their fun concerts that are sure to get your heart pounding. And with plenty of ample parking nearby, you won't have to worry about finding a spot for your hearse.
Now, this may not be an "actual" goth bar, but it definitely has all the goth vibes and a campy horror aesthetic that will make you feel right at home. From photos of dead people to horror film memorabilia, skulls and crossbones, and a steady immersion of red light, you'll be surrounded by the perfect atmosphere for mischievous fun.
When it comes to the menu, you'll find that it's mostly vegan, but fear not! You can still order a real beef cheeseburger if you want to indulge in some carnivorous delights.
So whether you're a horror aficionado, a lover of all things goth, or just looking for a unique and immersive experience with pinball machines & pool tables, The Crypt is the place to be. Get ready for a night of mischievous nerdery and thrilling escapades that will keep you coming back for more. Don't forget to bring your sense of adventure and your appetite for the eerie!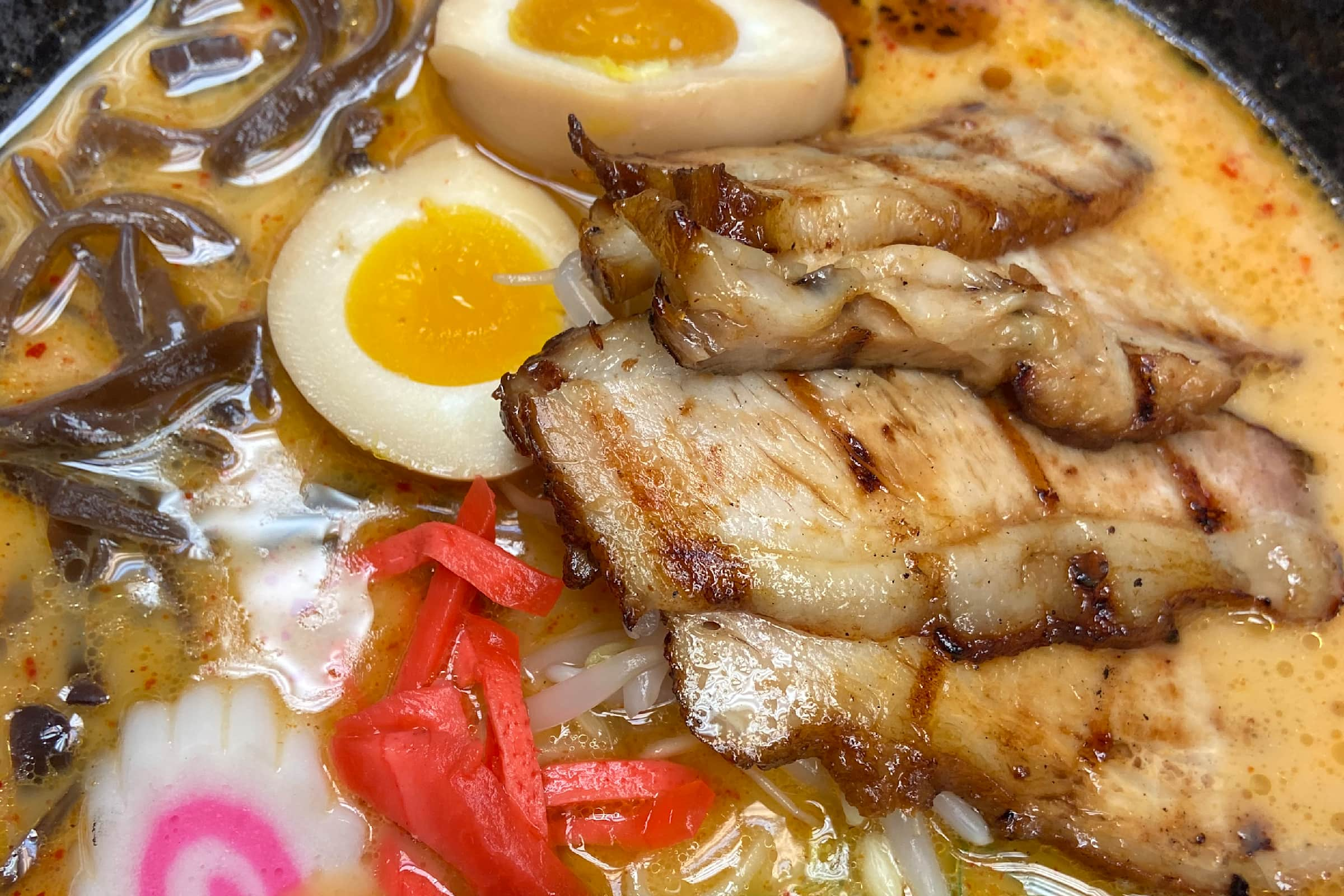 Calling all anime fans and foodies alike! Tatsu Izakaya in Denver is a must-visit spot for a unique dining experience.
As soon as you step inside, you'll be transported to a classy Japanese bistro with cute anime accents. The menu itself is a treat, with a playful reference to Naruto's "Ninja Way" and many anime series themed food options.
But it's not just the ambiance that's impressive, the food is a delight for the taste buds too! From fresh sushi and flavorful ramen to crispy katsu and smooth sake, Tatsu Izakaya has something for every palate. And don't forget to try their boba, the perfect sweet and chewy treat to complete your meal.
So, whether you're a die-hard anime fan or simply looking for a fun and delicious dining experience, Tatsu Izakaya is the place to be in Denver. Get ready to embark on a culinary adventure that will make your taste buds and inner otaku jump for joy!
In our humble opinion, there's nowhere in the entire universe that can beat the unbeatable combination of pizza, booze, vibes, and happiness that you'll find at Happy Camper Pizza.
Between the dining room decked out with trailers, and the creative abundance of lights, disco balls, firepits, and neon lights there is more than enough summer camp ambiance to pull out a guitar and sing some songs around the campfire.
And let's not forget about the menu, where you can take your pick from delicious options like meat'za, veggie'za, and a large s'mores platter. So pull up a patio chair or bathtub bench, grab your friends, and enjoy an bear-free evening of good food and brews.
What are the Best Nerdy Places to Drink in Denver?
Welcome to The Tabletop Tap, where the fun never ends and the beer is always flowing. Get ready to indulge in a gaming paradise like no other!
With 200 board games to choose from, you'll be spoilt for choice. Whether you're a fan of classics like Monopoly or Parcheesi, or prefer something more modern like Love Letter, Ticket to Ride, or Terraforming Mars, they've got something for everyone. And if video games are more your style, why not challenge your friends to a game of Pac-Man, Galaga, or the infamous Frogger?
The Tabletop Tap believes that the best way to unwind is with a pint of beer and a good game. Grab your friends, grab a brew, and settle in for a night of friendly competition and laughter. Whether you're a seasoned gamer or new to the world of tabletop games, you're sure to have a blast in the cozy and welcoming taphouse.
So gather your crew, pick your games, and let the good times roll at The Tabletop Tap. Cheers to a night of fun, laughter, and epic gaming adventures!
If its been a while since you had a batch of fresh baked cookies and a beer, then its time to a visit to Grandma's House Brewery. The best place to celebrate all things "craft".
Step into their charming taproom at the heart of Denver's historic Antique Row neighborhood, and you'll feel right at home. With a large outdoor patio, it's the perfect spot to enjoy a cold brew and soak in the Colorado sunshine. But it's not all about the beer! They love hosting events and artists to bring the community together. From regular bingo nights to partnering with other craft-related businesses for special events, there's always something happening at Grandma's House.
So come on down to Grandma's House Brewery, where good beer, good company, and good times await. Cheers to honoring the craft and making memories that would make grandma proud!
If you're all about that pinball life and old school arcade games, then you've got to check out 1 Up Arcade bar in Denver. This place is a treasure trove of retro goodness, with walls lined with games from the 1970s all the way up to the 2000s.
And the selection of pinball machines? It's out of this world! You'll be in nostalgia heaven as you flip and tilt your way through classic games. Plus, there's even skeeball for some extra fun.
And of course, you can't forget the ice-cold domestic beers to quench your thirst while you rack up high scores. This place is a must-visit if you're all about that good ol' fashioned fun and a trip down memory lane. Game on!
Visit the place where the magic of literature and the art of brewing come together in a quirky and imaginative way. The craft beer recipes are like chapters in a story, each with its own unique flavors, aromas, and textures that are inspired by classic favorite works of fiction. And with medals awarded from The Great American Beer Festival and the World Beer Cup, you know that we aren't the only ones who really like their beer.
As you step into Fiction Beer Company's taproom and brewery, you'll be greeted by a bar made of books and tables carved with quotes that are sure to tickle your literary fancy. Each beer is a real page turner!
So, whether you're a book lover, a beer aficionado, or just looking for a fun and unique experience, Fiction Beer Company is the place to be. Cheers to a brew-tiful story!
Akihabara Arcade and Bar is an epic arcade bar extravaganza, with a plethora of game options that will make your head spin. When you step inside, you'll feel like you've walked into a little slice of Japan with the vibrant anime-inspired decor. From fighters to side sliders and racing to rhythm & dance games, they've got it all!
And let's not forget about the drinks! The menu is packed with creatively themed alcoholic beverages that will transport you straight to video game nirvana. Sip on a Pacman cocktail, revive with a phoenix down shot, or channel your inner royal with a Princess Peach cocktail, and so much more!
What are the Best Nerdy Places to Shop?
Looking for a magical adventure? Look no further than The Wizard's Chest in Denver! This family-owned store has been enchanting visitors since 1983, drawing inspiration from the fantastical worlds of popular fiction books (think Middle Earth, Harry Potter, etc). With 16,000 square feet of whimsical delights, including costumes, toys, games, and more, you can easily pass a few hours in this truly magical place.
Check out the largest independent bookstore in the state! With eight locations in and around Denver, including a new one in downtown Colorado Springs, Tattered Cover is a community hub where book lovers can gather, connect, and make memories.
Host to over 500 author and community events each year, Tattered Cover offers a diverse selection of new and used books, magazines, apparel, and unique gift items. Owned by local Denverites who see it as more than just a bookstore, Tattered Cover is a place where everyone feels at home. So put down your devices and step into a world of literary wonder at Tattered Cover Bookstore!
Conclusion
Now you know – Denver isn't just for quality cannabis and beer lovers, although it isn't bad to enjoy those things either! Denver is a place for white knucklers, retro gaming lovers, and fans of all types. Bring yourself and leave with a little more.