Nerds unite! The mecca of technology, fandoms, and gadgetry is calling, and it's none other than New York City.
Pack your pocket protectors, grab your favorite nerd shirt, and let's hit the road to the Big Apple with our top 63 nerdy things list. This guide is designed for the nerdy and the nerdy at heart.
All activities are within two hours from the city proper:
Interest-Based Nerdy Travel Experiences
Standard Travel Needs – Nerdy Style
About The Author
Hi, I'm Kate.
I started planning unique travel experiences way back in 2008.
And I quickly realized that quirky, nerdy experiences were going to be a big part of my travel planning success.
So I set out to explore as much as I could.
And thanks to years of reading and experimenting, I've had a ton of success with travel planning…
…including the top 3 performing nerdy guides on this site:
Nerdy Experiences in Washington DC
Check out these ideas in NYC and you could have an awesome trip planned within the next 20 minutes.
What are the Top Nerdy Experiences Unique to NYC?
Welcome to the Secret Science Club in New York City, where the coolest minds in science come together to share new ideas and a few booze! Whether you're a science geek, a curious cat, or just looking for a fun night out, you'll be entertained and amazed by what you see and learn at this exciting club.
From social psychologists to environmental scientists, this not so secret "club" hosts some of the brightest minds on invigorating topics. Each month you'll hear tales of alien life on other planets, learn about the latest technological innovations, and even witness experiments that will make your hair stand on end (in the best possible way). The best part is that its all free!
So grab your lab coat, grab a "beaker" of your favorite beverage, and come on down to the Secret Science Club. We guarantee that you'll have a blast!
Harry Potter Store – 935 Broadway, New York, NY 10010

Nintendo NY – 10 Rockefeller Plaza, New York, NY 10020

Apple Flagship Store – 767 5th Ave, New York, NY 10153

Disney Store – 1540 Broadway, New York, NY 10036

American Girl Doll Store – 75 Rockefeller Plaza, New York, NY 10019

Petco Pet Kitchen – 860 Broadway, New York, NY 10003

Hershey's Chocolate World – 20 Times Square, 701 7th Ave, New York, NY 10036

Google Store – 76 9th Ave, New York, NY 10011

Amazon 4Star – 72 Spring St, New York, NY 10012
If you're a nerd and want to indulge in your favorite fandoms, shopping at specialty stores is like entering a magical realm where you can level up your nerd game and collect all the loot you've been dreaming of.
3. Best Place to Feel like a Spy or Superhero: SPYSCAPE
Spyscape is a secret agent themed museum that offers an immersive experience for adventure seekers and thrill-lovers that will transport you into the world of espionage. It's the perfect place to bring out your inner secret agent.
The museum features a spy gadget room, a virtual reality room, a cyber-espionage room, impressive museum gift shop, and much more! Throughout these rooms you'll have the chance to participate in challenges and activities designed to test your spy skills, such as solving puzzles, cracking codes, and completing secret missions.
Additionally, the Batman experience allows visitors to test their detective skills in immersive spaces and communicate with iconic DC characters via an interactive mobile app. Its a great dive into the action of Gotham city, but make sure you watch out for the Riddler!
4. Best Museum-Like Shopping Experience: The Evolution Store
Welcome to The Evolution Store, where science and nature come to life in unexpected ways! This quirky shop is like a mini-Natural History Museum, complete with taxidermy animals, framed butterflies, and small animal skulls. You can even find custom jewelry made from real specimens! The pricing is decent, but be warned – things can get expensive fast. But hey, where else can you find a giant beetle magnet for your fridge or a dinosaur tooth for your desk?
The Morgan Library is a hidden gem that book lovers absolutely must visit. As soon as you step inside, you'll feel like you've entered a scene from Harry Potter. Although you can't take the books home, you can definitely take your memories!
The book room is a dimly-lit space that houses a rare collection of literature and historical artifacts that will transport you to another time. As you exit, make sure to look up at the beautiful domed ceiling covered in paintings that rival those found in Italian cathedrals. Take the glass elevator to the upper levels for an aerial view of the main floor and the charming cafe.
And don't miss the section of the museum on the upper floor where you can learn about JP Morgan and the design process of the building. If the weather is nice, take a stroll in the modest yet enjoyable outdoor garden.
Recommended: Ultimate List of Harry Potter Travel Accessories
6. Best Nerdy Events Calendar: Nerd York City
Nerd York City is a comprehensive event resource for all things geek in NYC. Find like-minded individuals and connect with the local geek community at one of the many events. From comic book conventions and gaming tournaments, to book signings and fandom bar trivia, the calendar is always updated with the latest events and information!
Recommended: Where to Meet The Best Nerdy Guys Right Now
If you're in the Big Apple and looking for a place to geek out, then Forbidden Planet should be at the top of your list.
This long-time local gem is a mecca for fans of all things pop culture, from comics and anime to Star Wars and horror. It's like a treasure trove of awesomeness, with shelves upon shelves of rare collectibles and must-have merchandise. And if you're not sure what you're looking for, don't worry – the staff here are all experts in their field and can guide you to your perfect purchase.
And don't forget to check out the Terminator skeleton in the window – it's a must-see!
A ghostly wind blows corn stalks in the moonlit field. Something shuffles deliberately in the darkness. And you feel a bead of sweat drip down your forehead. Nope, it's not just your imagination. Something is stalking on your screen, primed to to kill your extra spending money: The Flying Fox Tavern in Queens, NYC.
Enjoy the chill of Halloween all year long at this frighteningly solitary bar and restaurant known for its classic horror film decor. With trendy neon bats dangling above the geometric coffin-printed wallpaper and a cocktail menu full of eery items like The Count, Vampira, and Nandor, you are bound to have a skull-crushingly good time!
Step right up, folks, and behold the wonders of the Museum of Interesting Things! This place is chock-full of quirky antiques and vintage curiosities that will take you on a journey through time.
You'll find yourself transported to eras gone by, with exhibits ranging from typewriters to gramophones to medical devices that look like they belong in a mad scientist's laboratory. The museum's founder and curator, Denny Daniel, is like a real-life Willy Wonka, eager to share his knowledge and passion for these fascinating relics with anyone who's willing to listen.
Whether you're a history buff or just love weird and wacky things, the Museum of Interesting Things is a must-see destination in the Big Apple. Just remember, you'll need to make an appointment to visit, but trust us, it's well worth the effort.
What are the Best Nerdy Local Cultural Experiences?
10. Essential New York Museums
What does an inquisitive traveler do when the husky NYC storms blow? Take a step indoors to explore one (or many) of the incredible cultural museums – of course!
Metropolitan Museum of Art – This world-renowned art museum houses over 2 million works of art. From ancient civilizations to contemporary art, the museum offers a diverse collection of works from all over the world. The stunning architecture and grand halls provide the perfect backdrop for an awe-inspiring collection of paintings, sculptures, photographs, and more. With a constantly evolving collection, there is always something new to discover.
MOMA – The Museum of Modern Art, also known as MoMA, has a vast collection of modern and contemporary art that is a "must-see" for art lovers and enthusiasts alike. The MoMA's collection includes works from famous artists such as Pablo Picasso, Vincent van Gogh, and Salvador Dalí, as well as a large collection of modernist architecture, photography, and design.
The Intrepid – This former aircraft carrier has been transformed into a museum, showcasing the history of military aviation, naval and maritime history, and the space program. Visitors can explore the ship's many exhibits, including aircraft and spacecraft, as well as interactive displays and historical artifacts. The Intrepid also features a state-of-the-art planetarium and a submarine, which visitors can tour. With its impressive collection and educational value, the Intrepid is a great place for families, students, and anyone interested in history, technology, and military history.
Solomon R. Guggenheim Museum – With its iconic spiral architecture designed by Frank Lloyd Wright, the Guggenheim Museum is a masterpiece in and of itself. The museum's collection features works by some of the most influential artists of the 20th and 21st centuries, including Pablo Picasso, Marc Chagall, and Jackson Pollock.
American Museum of Natural History – This iconic museum houses one of the largest collections of specimens and artifacts in the world, including over 33 million specimens of plants, animals, fossils, minerals, rocks, meteorites, and more. With its world-class exhibitions and cutting-edge research, the museum provides visitors with a unique and educational experience. From the Hall of Biodiversity, which showcases the diversity of life on Earth, to the Rose Center for Earth and Space, which explores the mysteries of the universe, the American Museum of Natural History offers something for everyone. Whether you're a student, a scientist, or just a curious traveler, this museum is a true gem in the heart of New York City.
The National September 11 Memorial & Museum is an essential stop for those who want to honor the memory of the brave individuals who lost their lives on that tragic day in 2001. The location is gorgeous, quiet, and clean, making it a great spot to reflect & meditate.
Take the guided tour and be ready to immerse yourself in the history of what happened, with visuals, presentations, and survivor interviews that will leave a lasting impact. You'll also see personal effects and other items that deserve respect, and voice recordings of people saying their last goodbyes. The whole experience is emotional and informative.
It truly feels like you're reliving the event.
On this extensive, one-of-a-kind tour, take in all the attractions of New York City. By walking, taking the subway, and using the Staten Island ferry.
You will experience the Big Apple like a native New Yorker!
The tour will include essential famous New York sites like Times Square, the Broadway theater district, Grand Central Terminal, the Brooklyn Bridge, One World Observatory, the Statue of Liberty, and many more!
Address: 14 N. Moore St, New York, NY 10013
The old Tribeca firehouse known as Hook and Ladder 8 served as "Ghostbusters" headquarters in the 1984 film and its several animated series and video game sequels.
Today the fire station is fully operational and firefighters distinguish themselves with an x-ed-out ghost logo on their badge. If you visit at a less busy time the firefighters will be happy to give you a little tour of the interior and some artifacts within the building.
Fun Fact: Ghostbusters isn't the only place fans have seen Hook & Ladder 8. In 1995 a Seinfeld episode titled "The Secret Code" also featured the exterior of the station.
Chinatown Fair in New York City is the best place for a fun and funky gaming experience!
With its bright lights and loud sounds, Chinatown Fair is sure to transport you back to your childhood. From skeeball to Pac-Man and tons of old-school video games, there's something for everyone. So whether you're a seasoned gamer or just looking for a fun activity, head on over to Chinatown Fair for a good time you won't soon forget!
The Society of Illustrators is a legendary institution that celebrates the world of illustration and its impact on culture and society. It has a rich history of showcasing some of the most talented artists in the field and providing a platform for creative expression.
The Cartoon Exhibit is a must-visit for all fans of the genre, featuring a diverse collection of cartoons and comic art that will have you laughing and 'marvel'-ing at the imagination displayed on each colorful strip. The entire basement floor showcases classic favorites to modern masterpieces. Plus visitors learn about the involved process of publishing a strip for large audiences.
Whether you're a die-hard fan or just looking to be entertained and inspired, the Cartoon Exhibit is sure to be a fun and lighthearted experience that you won't soon forget.
What are the Best Nerdy Theater, Film & Shows?
The Angelika Film Center is a movie-lover's paradise. Whether you're in the mood for a thought-provoking documentary or a quirky indie comedy, you will enjoy the revolving line-up of independent, arthouse, and foreign films shown in state-of-the-art screening rooms.
Additionally, the center boasts a cozy cafe area, serving a menu full of locally sourced gourmet foods, pastries, craft beer and wine. Enjoy the taste of NYC from the comfort of your plush seat as you escape from the hustle and bustle of the city to immerse yourself in some truly unforgettable cinema.
Broadway is the long-held favorite for musicals and theater in New York City. And Broadway Up Close makes the magic of the theater truly come to life!
The company offers a variety of tours guided by a talented group of working actors and stage managers who are passionate storytellers.
Discover the distinction between a Broadway theater and an Off-Broadway theater, learn how a show is produced from early auditions to opening night, catch a few ghost stories, and much more! Each guide will bring a unique and authentic perspective to the tour by sharing personal anecdotes and stories from their careers to give visitors an up-close look at behind-the-scenes Broadway.
Whether you're fellow thesbian or an audience enthusiast, Broadway Up Close will take you on an engaging and informative journey that is sure to "break the fourth wall".
The Museum of the Moving Image is a movie-lover & pop culture enthusiast dream come true!
The museum is known for giving guests an impressively in-depth view of the film industry's inner workings. With its vast collection of movie props, costumes, memorabilia, and immersive experiences, you'll feel like you've stepped right into the silver screen.
Whether you're a fan of classic Hollywood or the latest blockbuster, the Museum of the Moving Image will have something for you! Exhibits rotate through various themes such as Jim Hansen's Muppets, Star Wars, and The Walking Dead, so you should check the calendar & event schedule before you go.
Additionally, the museum regularly hosts screenings of classic, independent, and international film exhibited in a sleek, modern theater.
Caveat is a science nerd's paradise! Whether you're into science comedy, biology story-telling nights, or philosophical happy hours, this stylish cabaret underground venue has got you covered.
The shows here are top-notch and will have you laughing and learning at the same time. Even if you're not a science geek, the programming is so diverse that there's bound to be something for everyone.
And did we mention the popcorn flavoring bar? It's pretty cool and definitely worth checking out. So grab some friends, family, or a first date and head to Caveat for a night of intellectual fun!
The Fireside Mystery Theater is a unique and entertainment experience that combines elements of old-time radio with a modern and macabre twist.
The theater stages live events once a month at The Slipper Room in NYC, for a fully immersive audience experience. Become part of the storytelling at the live performance featuring a full cast, an improvised score, sound effects, and musical acts to complement the twisted original audio drama variety show.
Before visiting – check out the podcast here!
What are the Best Nerdy Books, Board Games & Comics?
Strand Books is the ultimate destination for book lovers and nerd aficionados alike. With its massive multi-floor collection of books on every subject under the sun, it's the perfect place to lose yourself in a world of knowledge and discovery.
If you're looking for nerdy subject matter such as science fiction, fantasy, graphic novels, or classic literature, you'll be sure to find something that ignites your passion!
If you're looking to unleash your inner board game geek, head on over to the Compleat Strategist – one of the highest rated board game shops in the NYC. With hundreds of games in stock, whether you're looking to discover new games, or just geek out with fellow enthusiasts, you're sure to have a blast.
Get ready to roll some dice, buy some nerdy goodies, and have some serious fun!
If you love books and spending time in book-ish places, stop by the Grolier Club. Not only is it a quiet, lovely place to turn a few pages, but also its a mini literature museum with rotating exhibits about noteworthy publications. Over the years exhibits have ranged from Walt Whitman and Sherlock Holmes to "animated" advertising.
Its free to the public, but daytime hours are limited so check operating hours in advance!
Beers, bites, and board games galore! For as little as $10 you will have access to a massive board game selection (as the shop boasts the largest board game collection in NYC) for as long as you want to play.
There is plenty of space to sit and play with your friends or even make some new ones!
For those who appreciate more serious table top games, stop by for Dungeons and Dragons and Magic the Gathering groups that meet weekly. See the website for specific times.
As "Manhatten's First Board Game Cafe", The Uncommons knows a thing or two about quality board gaming experiences. If the seasonal rotating snack menu doesn't entice you to stay, the massive collection of games and friendly staff definitely will. Hunker down with some friends and a few new games or snuggle in with a familiar one… no matter what game you choose you're in for a lot of fun!
What are the Best Nerdy Nature Experiences?
It's time to break away from your usual geeky hideouts and embark on an adventure to a hidden gem of New York City – the Ford Foundation's Hidden Tropical Rainforest!
In the bustling city of skyscrapers and concrete jungles, there lies a secret oasis, where the atrium is thick with clean air and the ambiance serene. Give yourself a little "botany break" to relax in this little slice of heaven.
27. Movie Filming Locations
New York is home to the filming locations for a ton of amazing movies and TV shows. If you're a movie fan, then you'll definitely want to check out these awesome sites. From superhero blockbusters to heartwarming romantic comedies, there's something for every type of nerd on this list.
Pack your bags, grab your camera, and get ready to geek out in the city that works! Just don't forget to bring your superhero cape (you know, for extra authenticity).
What did the fish say before he hit the wall? — "Oh, dam."
Get ready to be awed by the sheer power of the great outdoors and man's ability to harness nature's might! Pack a picnic, bring your camera, and make a day trip to the New Croton Dam… a must-visit destination for anyone who loves adventure and outdoor fun.
What are the Best Nerdy Rides, Escape Rooms & Virtual Experiences?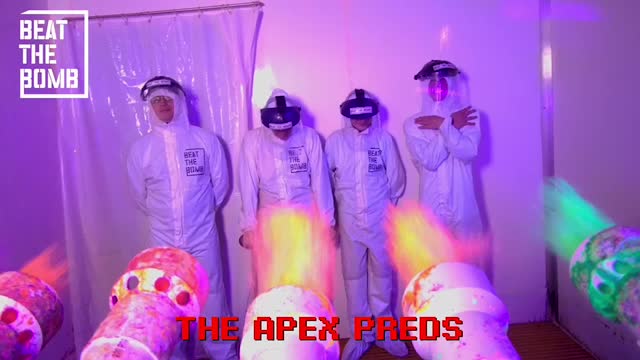 Attention all thrill-seekers and adventure enthusiasts! Are you looking for a pulse-pounding experience in the heart of New York City? Look no further than "Beat the Bomb," one of the hottest escape rooms in town!
The most popular "missions" require groups of four to six people to use their strength and mental ability to disarm either a paint or foam "bomb" within a given period of time. You will wear protective hazmat gear and move through five high-tech gaming rooms including a lazer maze, echo chamber, sequencer, and more.
The paint bomb mission has had over 200,000 players to date…are you next?
Escape the winter blues by splashing and sliding down the wildest water slides, floating down a lazy river, or lounging in the hot tub with your pack.
Great Wolf Lodge indoor water park resort is a giant playground for grown-ups and kids alike, with a wide range of activities that will make you howl with joy.
When you're not making a splash, you can join in on the fun at the arcade, swing on the ropes course, or have a blast at the mini-golf course. And at the end of the day, curl up in one of their cozy rooms to let the wolf in you have a little rest.
Whether you're a seasoned pro or a first-timer, there's nothing quite like the thrill of battling against gravity, using only your skill and a little bit of luck to rack up those high pinball scores.
Modern Pinball is long-time local haunt is the perfect blend of old-school arcade fun with a touch of modern technology eduction. Throughout the game house there are informational cards to educate players about the history of pinball and an "Interactive Pinball Exhibit" that shows the inner workings of a real machine.
Escape the Room – it's not just a game, it's an adventure! And in NYC, the adventures are bigger and better.
You have 60 minutes to escape one of seven uniquely themed rooms (Jurassic Escape, Meltdown, The Dig, The Clock Tower, The Submarine, The Office, and The Home). Every room has a unique theme, plot, set of riddles, and escape route.
Sorry we can't say more, but the staff is very tight lipped about their rooms and even tighter lipped about how to get out of them!
If you're looking for a new adventure that's guaranteed to satisfy your inner childhood nerd-tastic tendencies, then get ready to jump into Bikini Bottom with SpongeBob and his friends, and fight against Shredder and the Foot Clan with the Teenage Mutant Ninja Turtles.
At American Dream: Nickelodeon Universe Theme park you'll be able to relive your favorite TV moments and enjoy your favorite characters, all while getting your heart racing on some of the most epic rides and attractions. Here are a few you will dig:
Aang's Air Gliders (Avatar The Last Air Bender)
Kraang Prime Panedmonium! (TMNT)
Sandy's Blasting Bronco (Spongebob)
The Shellraiser (TMNT)
The Shredder (TMNT)
Timmy's Half Pipe Havoc (Fairly Odd Parents)
From thrilling rides to immersive experiences, the Nickelodeon Universe is a smorgasbord of fun for the whole family.
Are you ready to put your gaming and problem-solving skills to the test? This VR Escape room is the ultimate nerd adventure. Immerse yourself in a virtual world filled with puzzles and riddles while you become the hero in your own story by escaping a Pharoh's tomb or a creepy dissection ward.
With VR technology, the possibilities are endless and the experience is unlike anything you've ever encountered before. And let's not forget the added bonus of being able to team up with your friends, fellow nerdy cohorts, or even strangers to take on these escape room challenges together.
So, gather your nerdy people and prepare to have your minds blown at a VR escape room. Trust us, you won't be disappointed.
Exit Escape Room is a cutting-edge, high-tech escape room with intense 60 minute scenarios. Designed by hi-tech & interior design professionals, this escape room zone provides three thrilling, engaging, and interactive escape room games. The most popular, High Speed NYC, requires players to escape from a speeding subway train to save their group and has been highly rated by many escape room reviewers. It's urgent, challenging, and remarkably similar to the real trains you'll ride throughout NYC.
What are the Best Festivals, Conventions, and Live Events in NYC?
If you're ready to venture out into the city to make some fellow geeky friends or broaden your knowledge on a particular topic, then the Genre Events Geek Database is for you!
This calendar is jam-packed with geeky goodness and is perfect for those who love all things nerdy. From comic book conventions and film festivals to gaming tournaments and expos, this calendar has got you covered. So what are you waiting for? It's time to trade in your calculators for cosplay gear and join the nerd herd in exploring the city's coolest events.
"Welcome home, hero. This is your event. Where you can feel unafraid to geek out. Where you're accepted and embraced for being yourself, regardless of your cultural background, physical ability, personal identity, or self-expression. Where you can experience the best in pop culture because no matter what fandom you're passionate about, we have it waiting here for you. Be inspired by award-winning comic artists and Japanese anime creators. Get star struck over your favorite TV and film idols. Treat yourself to exclusive fandom gear and unique artwork. But most importantly, create all of those memories with the people you care about the most. Because this event is for you. To embrace your inner hero or root for the villain. To geek out as a family. To celebrate a weekend together you'll never forget."

– NYCC Website
If you're tired of the same old bar scene and looking for something a little more nerdy… Look no further, my friend, because the Bell House is the place to be!
From comedy history nights and slam poetry to live podcasts and retro dances, there's always something nerdy happening at the Bell House. Trust us, this is one nerd hangout you won't want to miss!
What are the Best Nerdy Tours & Classes?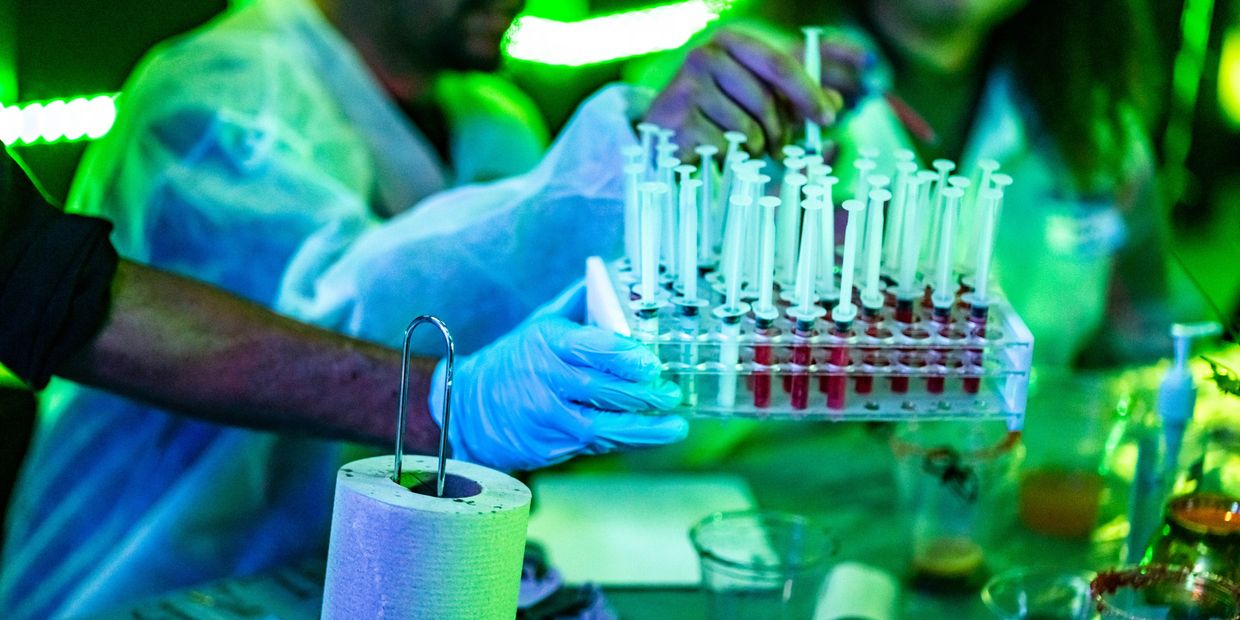 Are you ready to put your creative science skills to the test while saving the city? Then the Drunken Laboratory in NYC is the adventure for you.
This intimate, immersive experience lets you take on the identity of a scientist and get your hands dirty with some exciting experiments. The goal is to work with your team to execute each experiment with accuracy and creativity, all while sampling some delicious amalgamated drinks.
So grab your lab coat, round up your smartest friends, and head to the Drunken Laboratory for a night of nerdy fun. You won't want to miss out on this one-of-a-kind science and sip experience!
Grab your cape and wind up your lasso because you're about to embark on a journey of epic proportions!
This tour takes you on a wild ride through the city, visiting all the iconic locations from your favorite superhero movies and TV shows. From the Daily Planet building to intergalactic battle sites, this tour is a nerd's dream come true.
And with a "sidekick" local guide full of superhero knowledge, you're sure to leave the tour with a new appreciation for all the things our trusty heroes do. Don't wait for the next inter-dimensional catastrophe to save the day – book your super hero bus tour today!
Since 2010, the Brooklyn Brainery has been offering an eclectic selection of classes for on a wide range of topics including Opera 101, Australian desserts, HTML, food garnishing, and pretty much everything in between.
The teachers come up with their own course topics and Brooklyn Brainery coordinates the scheduling, sign-ups, promotion, and materials. Classes can be in-person or online and typically last one to four weeks. They include all materials and teaching fees so you just need to show up with curiosity in your heart and a smile on your face.
If you're into all things sci-fi, tech and virtual reality, then Holographic Studios is a must-see place for you! You'll be able to see holograms come to life right before your very eyes and walk through a virtual world that'll make you feel like you're playing holochess with Chewbacca.
Your tour guide, "Doctor Laser", will enthrall you with the amazing holographic feats, debunk the myths surrounding holography, and teach you the science behind the art. ​Additionally, you will tour the green photographic safely lit, subterranean laser laboratory where holograms are created. Here are a few things you will see:
Images that jump right out of the hologram and the world's largest collection of motion image holograms
Celebrity portraits including Andy Warhol, Phyllis Diller, Isaac Asimov among others.
Holographic sculptures from Russian museums that look so real you will swear they are not holograms.
Cylindrical holograms with fully moving images that are visible from all sides.
Multi-channel holograms that change from one image to another as you walk past them.
Hologram stickers and novelties.
It is highly recommended that you reserve a spot at least two days in advance for a tour.
Whether you have an interest in electronics or gardening, textiles or 3D printing, Hack Manhattan is the place to come, work, and be a part of the community. There are many interesting tools and machines available for makers, and if you need something that they don't have there is a good chance they will make it for you!
3D printers
3-axis mill
Router table
Soldering stations
Sewing machines + Sergers, plus free fabrics and threads
Homebrewing equipment for making beer
Bench grinder
Hand tools for wood and metalworking
Infrared soldering station
Bandsaw
Mitre saw
Track saw
Although, this collective requires membership fees for regular use, they host a range of courses, classes, and events in addition to free, monthly Open House nights. Shakespeare readings and Fixer's Collective repair sessions are the two primary recurring events.
44. Food Tours!
If you're the type to fantasize about eating at places like Monk's Cafe and Good Burger, we recommend exploring New York's delicious, vibrant, and innovative culinary scene on one (or both!) of two highly popular food tours:
Experience bagels like never before as you eat your way through three of the city's top bagel shops. Learn the origins of this traditional NYC dish as you sample authentic, kettle-boiled bagels, the finest cream cheese, and a creative Montreal-New York hybrid bagel.
All food is included in the tour price and be prepared to sample many unique bagel toppings.
Get a behind-the-scenes look at notorious historic Mafia crime families as you tour the gangland district of New York's East Village and Little Italy. Your guide, a retired NYPD police officer, will enthrall you with tales of ruthless behavior, secretive dealings, and astounding real-life occurrences. All while enjoying two delicious sit-down tasting meals.
On this guided food tour, chow into the flavors and traditions of two of New York City's best gastronomic areas: Chinatown and Little Italy. Discover "locals only" places to sample homemade mozzarella and fresh fried dim sum. Come hungry, skip the lines, and leave happy!
What are the Best Nerdy Places to Stay?
Just like the roughly 6,000 books in the Library Hotel's collection, the floors and rooms are arranged using the Dewey Decimal Classification® system. Each of the 10 levels pays homage to one of the Dewey Decimal categories, and each of the 60 rooms is individually decorated according to the theme of the level. With between 50 and 150 books and pieces of art in each room that explore the subject of the room, you will want to carve out some time to stay in and cuddle up with a few good reads.
Floor themes include the following (with a few of the room themes listed for fun!):
Social Sciences (Law, Money, World Culture)
Literature (Mystery, Fairy Tales)
Languages (Ancient Language, Asian Language)
History (Biography, Ancient History)
Math & Science (Astronomy, Dinosaurs, Botany)
General Knowledge (Journalism, Museum, New Media)
Technology (Computers Medicine, Manufacturing)
Philosophy (Love, Paranormal, Psychology)
The Arts (Fashion Design, Music, Photography)
Religion (Mythology, Native American Religion)
Additionally, the hotel has a 24 hour library reading room stalked with an Italian espresso machine, fruit, health bars, snacks, soft drinks, and of course many books.
Recommended: How to Decorate a Hotel Room for a Birthday
Discover this tranquil, boutique haven with a stunning private garden right in the middle of Chelsea, New York City. This walk-up hotel, which was first constructed as a private residence, has managed to retain a quaintness and intimacy that is difficult to find in Manhattan.
Posters of Hollywood's Golden Age luminaries adorn each distinctive guest room – Do you like Singing in the Rain or Breakfast at Tiffany's? Or maybe you're more into obscure oldies such as The Mating Game or Rally Round the Flag Boys? Either way, the perfect room exists for you at Chelsea Pines Inn.
In addition to free local calls and Wi-Fi, amenities include luxury Gilchrist & Soames toiletries and free breakfast each morning. Don't forget, the guest lounge is open whenever you want a cup of coffee and something sweet!
The Roxy Hotel New York and the area around it has long been a center of creativity in New York City. This central hub for music, cinema, dance, and art was formerly known as the historic Tribeca Grand Hotel and rebranded in 2015 to be The Roxy Hotel.
Today, visitors can enjoy the magnificent 1920s movie theater, iconic '90s dance club, and luxury modern, art deco fusion themed rooms. The hotel continues to be the trailblazer it was intended to be with in-house establishments including Paul's Cocktail Lounge, Roxy Bar, The Django jazz club, Jack's Stir Brew Coffee, and Roxy Cinema New York.
If you choose to stay the night, you will enjoy luxury amenities such as a TEAC turntable and a collection of carefully selected vinyl albums, a Marshall speaker, a Samsung smart TV with streaming capabilities, Tivoli clock radio with bluetooth, 100% Egyptian cotton linens and a fully stocked Smeg refrigerator with a gourmet minibar.
What are the Best Nerdy Places to Eat in NYC?
If you're looking for a restaurant that offers both good food and good entertainment, Ellen's Stardust Diner is the place to be. It's a '50s-themed diner that serves classic American dishes, but what really sets it apart are the singing servers.
These talented performers belt out show tunes as they take your order and deliver your food, hoping to get noticed and land a spot on Broadway. The atmosphere is lively and fun, with a line that can stretch around the block just to get a seat. The waiters don't just sing at the front of the restaurant either, they'll roam around and engage with the diners, making for a truly interactive experience.
The food is decent, but the real highlight is the entertainment, and it's definitely worth a visit if you're in NYC.
– THE NEW YORK TIMES
Ahoy there! If you're looking for a place to set anchor and enjoy some delicious comfort food and drinks, then the Sea Witch bar and restaurant is the perfect spot for you! With a façade that resembles a boat's stern, you'll feel like you're already at sea as soon as you approach.
Inside, you can order a variety of scrumptious dishes, like oysters and fried clams, at the window and then wait for your food at the bar, which is adorned with welded anchor chain barstools and a lively atmosphere. And don't forget to check out the décor – from a mermaid mural to a skeleton of a shark's jaw, there's plenty to keep your eyes entertained.
If you're lucky enough to snag a seat outside, you'll be surrounded by fishponds, flagstones, and a peaceful ambience. And with music from classic bands like Van Halen & the New York Dolls and drinks like their famous Old-Fashioned cocktail, it's no wonder the Sea Witch is always packed with people having a great time!
Indulge in your love for cookies surrounded by like-minded, superhero-loving fans. Whether you want to pick up or delivery to your doorstep, Captain Cookie will save the day with freshly baked cookies prepared from scratch, dairy products from regional creameries, and made-to-order ice cream sandwiches.
If you're not in the mood for a cookie, try out their edible cookie dough, ice cream, milkshakes, or floats.
What are the Best Nerdy Places to Drink in NYC?
51. The Cauldron Co. & Wizard Exploratorium
The Cauldron Co. & Wizard Exploratorium is the most magical place in NYC!
Located in the heart of the city, this cozy wizarding potions bar is the perfect spot to cast a spell or two over a cold pint and design the love elixir of your dreams. Be transported into a magical world where you can choose to take a potions making class, explore a townhouse full of magic, enjoy an enchanted afternoon tea, grab a spellbinding snack, or attend a fun event.
The atmosphere is enchanting, with flickering candles and bubbling cauldrons scattered throughout the space and the staff is incredible.
Gather your friends, grab your wands, and head on over to The Cauldron for a night of magic and merriment!
Recommended: Ultimate List of Harry Potter Travel Accessories
If you're in the mood for a taste of the Soviet era without having to jump on a time machine, look no further than KGB Bar. This cozy little spot boasts a variety of fine spirits and beers, along with some seriously cool artifacts from the good ol' USSR.
But it's not just the decor that's a blast from the past – the bar regularly hosts readings and publication parties, transporting you to a world of literature that could only come from the likes of Dostoevsky or Solzhenitsyn. But if you're lucky, you might even catch some excellent live music to round out the experience.
Who needs a DeLorean when you've got KGB Bar?
Welcome to Alice's Tea Cup, the most whimsical and fantastical teahouse in all of NYC! This charming little spot promises an unforgettable experience for all who enter.
The tea selection is positively massive, and every order comes with a cute matching cup, saucer, and kettle. But that's not even the best part – the scones are out of this world! Complete with delicious jam and clotted cream.
And if you're celebrating a special occasion or have little ones in tow, the fairy dust treatment is a must-try. So come on down to Alice's Tea Cup, where the tea is hot and the vibes are magical. Have a Tea-riffic day!
Looking for a bar that's equal parts sultry, quirky, and just plain fun? Look no further than Barcelona Bar in NYC! With over 100 themed shots on offer, each with funky names, this narrow dive bar is a unique experience you won't soon forget.
When you order a themed shot, the real fun begins! The bartender will dress you up in a costume, play the appropriate music, and launch into a full-on skit inspired by the movie or TV show the shot is named after. Aviator sunglasses for Top Gun, Indiana Jones hats, ancient goblets for Return of the King – the accessories are just as much a part of the experience as the shots themselves. And with surprises in store for most of the shots, you never know what kind of antics the bartender will get up to while you're knocking back your drink.
Whether you're on a fun date or out with a rowdy group, Barcelona Bar is the perfect spot for a night of themed, boozy hilarity.
If you're looking for a bar that's equal parts chic, cozy, and mysterious, Apotheke in NYC is the spot for you. This speakeasy-style bar is so well hidden, you might think it's tough to find, but trust us – it's worth the search.
The decor is straight out of a French boudoir, complete with blush banquettes, leather armchairs, and beautiful tile work. And unlike some bars, which can feel a bit too grungy, Apotheke strikes the perfect balance of elegance and whimsy.
And when it comes to the drinks, forget your run-of-the-mill cocktails – Apotheke's beverages are more like alcoholic elixirs, categorized as "aphrodisiacs," "health & beauty," and "painkillers." Whether you're in the mood for something sultry or refreshing, Apotheke has got you covered.
So don a classy outfit and join the fun crowd at Apotheke, where the jazz is smooth, the drinks are potent, and the vibes are oh-so-mysterious.
Step into the world of Oscar Wilde and experience the Victorian era with a twist. The Oscar Wilde bar and restaurant boasts a long marble bar that stretches on for days, the perfect spot to sip on a cocktail and indulge in some classic American bites.
This bar is inspired by the witty and vibrant spirit of Irish playwright, Oscar Wilde, and you'll see that in every detail. The ambiance is a perfect balance of refined elegance and bold charisma, just like Wilde himself.
It's not just a bar, it's a whole vibe.
You'll be surrounded by quotes and historical decor that will transport you to another era. Even the bathrooms are stunning! With impressive seasonal holiday decoration changes, there's always something new to see and experience at this one-of-a-kind spot. Come and live life to the fullest with Wilde abandon!
Looking for a nerdy-cool spot to satisfy your caffeine cravings and sweet tooth? Look no further than Nerd Be Cool Coffee Shop! This small little shop packs a big punch with its quirky interior, featuring a large mural of Albert Einstein cruising on a motorcycle and a neon pink sign of e=mc2.
As you peruse the walls filled with unique snacks, don't miss out on the chance to try their one-of-a-kind lattes. We highly recommend the golden latte, which reminded us of a spicy chai, and the matcha mango latte – a refreshing twist on the classic matcha latte. And did we mention their other interesting drink options? Try the matcha, espresso tonics, and drip coffee (if you're a drip coffee fan you will love it!).
So whether you're a nerd, a cool kid, or somewhere in between, Nerd Be Cool Coffee Shop is the perfect spot to chill and caffeinate.
Jupiter Disco is a bar that is truly out of this world! The sci-fi themed decor is neon-lit and retro, like something straight out of a classic sci-fi movie.
The sound system is top-notch, and the music is a mix of dark electronic sounds and 80s synth beats. The drink menu is displayed on monitors using cool pixel fonts that look like they're straight out of an old-school video game.
It's cozy, yet futuristic, and the perfect spot to dance the night away while sipping on creative cocktails. If you're looking for a unique and fun night out, Jupiter Disco is definitely worth a visit.
What are the Best Nerdy Places to Shop?
Step back in time and immerse yourself in a world of pixels and nostalgia at VideoGames New York. This place is like a treasure trove for any video game enthusiast, and stepping inside is like taking a trip down memory lane.
They have games from your childhood that you probably thought were lost to the sands of time, and at prices that won't make you go bankrupt. The staff is always ready to lend a hand, offering up advice and recommendations to help you on your gaming journey.
So whether you're looking to relive those classic moments or add to your collection, VideoGames NYC has got you covered. It's definitely nerd heaven, and we wouldn't want it any other way!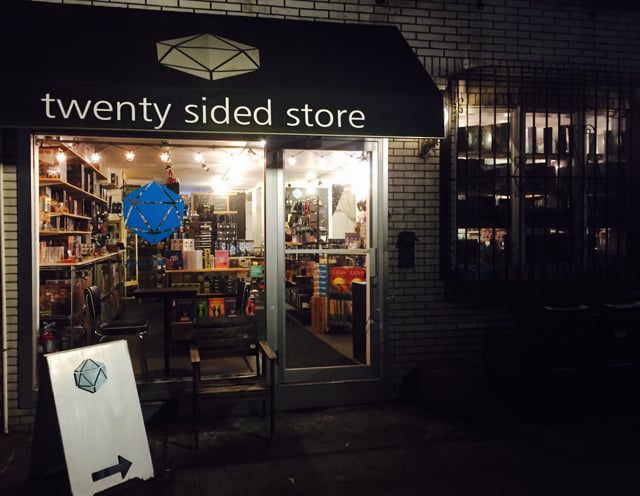 If you're looking for a place to level up your game collection, you've got to check out Twenty Sided! This place is packed with everything you need to take your tabletop gaming to the next level.
They've got a wide selection of DnD and MTG gear, including all the latest sets and sealed products. Whether you're a seasoned player or just getting started, they've got all the minis, dice, and other cool games you need to make your gaming adventures unforgettable.
And, if you're looking to get involved with the gaming community, Twenty Sided hosts some fantastic community events that you won't want to miss. So, grab your fellow gamers and head to Twenty Sided Shop for a gaming experience that's sure to be a critical hit!
If you're a DIY enthusiast or a tech geek, then Tinkersphere is the perfect place for you! This high-end retail store is a techie's paradise, with all the electronic parts and gadgets you could ever need to create your own robot or craft your own electronic masterpiece.
With a wide range of kits and products, Tinkersphere has something for everyone, whether you're a seasoned tinkerer or a newbie just getting started. The knowledgeable and friendly staff is always on hand to offer advice and help you find the perfect parts for your project. Plus, forget waiting weeks for mail-order parts – Tinkersphere has everything you need right here in NYC, ready to take home today!
With a selection that would make RadioShack jealous, Tinkersphere is the go-to spot for all your electronic needs.
If you're a comic book fanatic, look no further than Fortress of Solitude! They've got everything you need, from the latest releases to rare back issues, and even some modern toys, shirts, & posters to add to your collection. Plus, they have periodic free comic book days with a treasure trove of goodies!
On the surface, Tannen's Magic Shop is a magician's paradise, supplying pros and beginners alike with everything they need to put on a good show – from essential props, books, videos, to even classes. And let's not forget about the bathtub once owned by the great Harry Houdini – this place is full of surprises and magic around every corner.
But what sets Tannen's apart is the after-hours magic show that's unlike anything else! The atmosphere is just fantastic: an intimate and cozy setting that makes you feel like you're part of something truly special. With only a few people in the audience, you'll get to see some truly incredible feats of magic that will leave you spellbound.
Finding Tannen's may be a bit of a trick, but it's definitely worth the effort for an experience you won't forget!
When you step into Kinokuniya, it's like stepping into an authentic Japanese bookstore right in the heart of NYC!
With a vast collection of books, magazines, keychains, collectibles, Funko Pop figures, and stationery from Japan, you can find anything from manga and graphic novels to art and design books, cookbooks, travel books, children's books, and more. In addition to its extensive selection of Japanese-language materials, Kinokuniya NYC also carries a selection of English-language books, including a variety of manga and anime titles.
The store also frequently hosts events and workshops related to Japanese culture, such as book clubs, language exchange meetings, and art exhibits. Check out the events page before you visit!
Conclusion
Now you know – NYC isn't just for beer-swilling sports fans and fresh bagel lovers, although it isn't bad to enjoy those things either! New York is a place for Brainiacs, toy lovers, and fans of all types. Bring yourself and leave with a little more.