Are you in need of a break from your usual routine of coding, gaming, and binge-watching sci-fi movies? Well, it's time to ditch the computer and put your problem-solving skills to the test as you explore the exciting city of Philadelphia.
From exploring the vast collections of world-class museums to indulging in specialty shops and immersive science fiction experiences, this city has it all. So put on your favorite geeky t-shirt and get ready to nerd out with our top 36 nerdy things to do in Philadelphia.
All activities are within two hours from the city proper:
Interest-Based Nerdy Travel Experiences
Standard Travel Needs – Nerdy Style
About The Author
Hi, I'm Kate.
I started planning unique travel experiences way back in 2008.
And I quickly realized that quirky, nerdy experiences were going to be a big part of my travel planning success.
So I set out to explore as much as I could.
And thanks to years of reading and experimenting, I've had a ton of success with travel planning…
…including the top 3 performing nerdy guides on this site:
Nerdy Experiences in Washington DC
Unique Experiences in San Diego
Check out these ideas in Philadelphia and you could have an awesome trip planned within the next 20 minutes.
What do you like?
We want to know more about the types of nerdy activities you are most interested in. Please fill out the one question form below to help us improve our content. No personal information required – thanks in advance!
What are the Top Nerdy Experiences Unique to Philadelphia?
If you're looking for a wild night out in Philadelphia, the Mask and Wig Club is the place to be! This quirky musical comedy group from the University of Pennsylvania has been entertaining audiences with their outrageous productions for over 100 years in their classy 1800's clubhouse which historically served as a church, a stable and carriage house, and dissecting rooms for Jefferson Medical College.
Whether you're in the mood for a classic musical or a zany sketch comedy show, the Mask and Wig Club has something for everyone. Join the fun! You'll leave with a smile on your face and a song in your heart.
Ladies, don't think this tour is just for you! Fellas, come on down too!
Learn the history of Philadelphia's forgotten female heroes in some of the most popular parts of the city. From the "forgotten founder" Hannah Callowhill Penn, to the prominent "conductor" of the underground railroad, Harriet Tubman, these ladies were ahead of their time and paved the way for future generations of women.
This tour will give you the opportunity to enjoy historic Philadelphia with a small group (no more than 10 people) while learning about local women who made significant contributions to politics, medicine, and other fields. Participants say its one of the best tours in Philly
This giant, globe theater produced by Steven Spielberg is a must-see for any film-loving visitor to the city. Whether you're a fan of technology, cinema, or just love gazing up at the stars, the Universal Sphere has something for you.
The best part about the Universal Sphere is that it's not just a static exhibit – it's a fully immersive experience. You will be transported through time and space to explore new ideas while watching the presentation, "The Power of I". The sphere and surrounding exhibit are free to visit, but you typically need to make a reservation in advance.
So if you're a nerd who loves all things technology and creative, be sure to add the Universal Sphere to your Philadelphia itinerary. You won't be disappointed!
The Cauldron Co. & Wizard Exploratorium is the most magical place in Philly!
Located in the heart of the city, this cozy wizarding potions bar is the perfect spot to cast a spell or two over a cold pint and design the love elixir of your dreams. Be transported into a magical world where you can choose to take a potions making class, explore a townhouse full of magic, enjoy an enchanted afternoon tea, grab a spellbinding snack, or attend a local event.
The atmosphere is enchanting, with flickering candles and bubbling cauldrons scattered throughout the space and the staff is incredible.
Gather your friends, grab your wands, and head on over to The Cauldron for a night of magic and merriment!
Recommended: Ultimate List of Harry Potter Travel Accessories
Sounds crazy, but Philadelphia locals swear that they have the best bread in the world. Definitely the type of claim that needs to be tasted tested in person. Right?
There are tons of delicious bread joints to try, however these are the best spots according to Google reviews and to be honest they are all fantastic!
Step into a world of charm and wonder at Genie's Secret Bazaar Philadelphia: An Exploratory Magical Adventure!
This unique and immersive experience will transport you to a mysterious realm where anything is possible. As you explore the bazaar, you'll encounter all sorts of enchanting sights and experiences, from carnival games and illusions, to fortune tellers and mystical creatures. The delicious food vendors, beer from a local brewery, and grand finale will have you dancing into the streets!
Whether you're a fan of magic or just looking for a fun and unforgettable adventure, you'll definitely want to check out Genie's Secret Bazaar. Its fun for all ages, so come and let your imagination run wild at this magical bazaar in Philadelphia!
Welcome to The Random Tea Room & Curiosity Shop, a peaceful hangout where positive energy and novelty come to life! Nestled in the heart of downtown, this quirky little shop is the perfect spot for anyone with an appreciation for the weird and wonderful.
With its cozy atmosphere and charming decor, you'll feel right at home as you browse through the collection of curiosities while sipping on steamy, fresh brewed tea. From rare antiques and one-of-a-kind gifts to an international selection of teas and an Herbal Apothecary & Bump Bar, there's something for every heart & soul at The Random Tea Room & Curiosity Shop.
Recommended: Where to Meet The Best Nerdy Guys… Right Now
Are you ready for an adrenaline-filled hour of high intensity critical thinking and puzzle solving? If so, it's time to break out of your comfort zone and break into your escape room!
Or, maybe just the hidden vault behind a bookcase in your escape room.
If you're new to escape rooms, you will appreciate the solid mix of challenging and fun puzzles. The staff is notoriously friendly, helpful, and willing to give you a tip if you need it.
If you're a more seasoned escapee, you will be impressed by the expansive & spacious rooms, clever themed puzzles, exciting audio affects, and attention to minute details. No "pre-packaged" rooms here – every room is a labor of love!
Be aware that if you attempt a more horror themed room, they can feel pretty realistically scary. Don't book one of those rooms unless you are ready for an unnerving experience!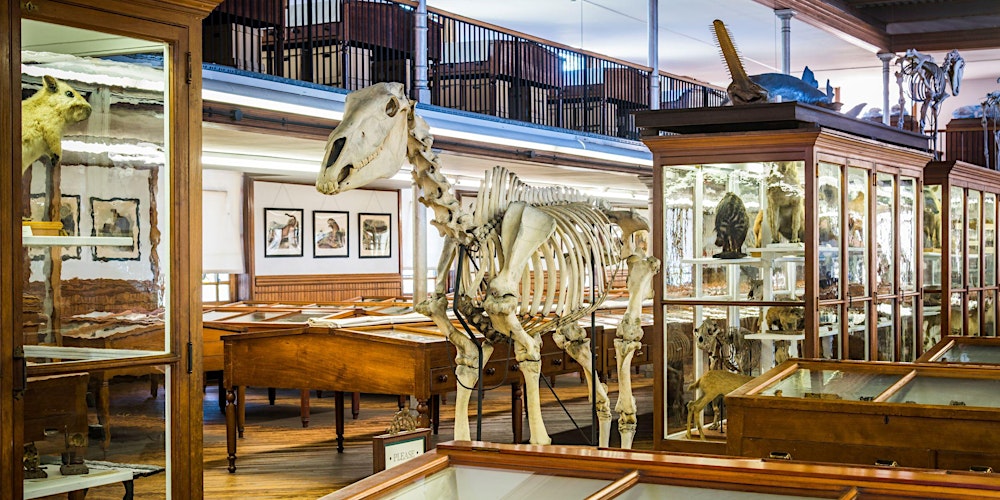 The Wagner Free Institute of Science in Philadelphia is a singular time machine to archaic earth!
This charming museum is filled to the brim with fascinating scientific artifacts and specimens. From ancient fossils and minerals to exotic taxidermy and interactive exhibits, there's something for every science enthusiast at The Wagner Free Institute.
And the best part? Admission is completely free!
Take a trip down humanity's collective pre-historic memory lane and discover the wonders of science at The Wagner Free Institute. Although its full of them, this museum is hardly bare bones!
10. World's Largest DIY Skatepark: FDR Skatepark
Nerds, get ready to break out your skateboards and impress the cool kids at FDR Skatepark! It's time to show off your mad skate skills and prove that brains and athleticism can coexist.
If that isn't quite the case for you, don't worry about falling, just remember the age-old nerd motto: "failure is just an opportunity to learn and improve."
Located below the I-95 flyover, FDR Skatepark boasts over 30,000 square feet of ramps, pipes, and half pipes. The park is divided into many areas, including the central park, which is located beneath the noted overpass, the adjacent and linked pool area, a small ramp, and a vert ramp.
It is decorated with a dynamic assortment of tags and artwork that creates a captivating visual experience. Professionals and writers for publications like Thrasher and Skateboarder have called the park a concrete skateboard heaven.
So grab your helmets and knee pads, and let's hit the ramps! Just try not to get too distracted by all the flashy graffiti and rad music blasting from the speakers.
Skate on, nerds!
What are the Best Nerdy Local Cultural Experiences?
11. Essential Philadelphia Museums
Philly has a wide variety of museums for culture and education seekers to choose from, these are our favorites:
The Reading Terminal, located in the bustling city of Philadelphia, is a food lover's paradise!
With over 80 unique vendors offering everything from delicious Amish cooking to mouthwatering dim sum, there's something for every craving.
But the Terminal isn't just a place to fill your stomach – it's also a hub of activity, with live music, cooking demonstrations, and even a mini-market selling locally grown produce.
So if you're looking for a fun and tasty adventure, be sure to come hungry – trust us, you won't be able to resist all the amazing eats.
If you're looking to add a little mystery and intrigue in your time in Philly, the Masonic Temple is the best kept secret!
This grand, historical building has been around since 1873, and it's filled with hidden network of rafters, ornate grand halls, and all sorts of Masonic symbols and artifacts.
But don't worry, this isn't some creepy, shadowy place. The Masons are actually a fraternity of men who value education, charity, and brotherhood. They've been around for centuries, and their temple in Philly is a testament to their enduring legacy.
So if you're in the City of Brotherly Love and want to explore a little bit of brotherhood history and mystery, make sure to check out the Masonic Temple.
Elfreth's Alley is a historic gem nestled in the heart of Philadelphia. With its cobblestone streets and charming row houses, it's like stepping back in time. The Alley is home to some of the city's oldest houses, with some dating back to the early 18th century. But don't let the age fool you, these houses are still standing strong and are filled with character and charm.
Visitors can take a stroll down the Alley and imagine what life was like in colonial America. It's easy to get lost in the quaint atmosphere, with charming gardens and colorful storefronts. And if you're lucky, you might even spot a resident dressed in colonial garb, adding to the historical atmosphere.
But Elfreth's Alley isn't just a museum piece. It's a thriving community, filled with artists, craftspeople, and small businesses. The Alley is home to a number of unique shops and galleries, offering everything from handmade pottery to vintage clothing. It's the perfect place to find one-of-a-kind gifts or to treat yourself to something special.
Overall, Elfreth's Alley is a must-see for anyone visiting Philadelphia. It's a little slice of history that brings the past to life in a fun and charming way.
If you're a fan of creepy, abandoned prisons, the Eastern State Penitentiary in Philadelphia is definitely the spot for you! This abandoned prison is known for its ominous architecture and notorious inmates such as Al Capone & ,"Slick Willie" Sutton.
While you're there, you can explore the cellblocks and check out the prison's famous solitary confinement cells. And if that's not sinister enough for you, there are also several ghost stories associated with the penitentiary, making it a must-see for any paranormal enthusiast.
But don't worry, the Eastern State Penitentiary isn't all spooks and scares. The prison also has a rich history of being one of the most famous and expensive prisons in the world.
So if you're looking for a mix of history and scares, the Eastern State Penitentiary is the perfect place to visit.
Independence Hall is where America's founding fathers gathered to sign the Declaration of Independence, paving the way for the birth of the United States as a nation.
The Liberty Bell is an iconic symbol of freedom because it was rung on July 8, 1776 as a beacon for Americans to come hear the Declaration of Independence rung for the first time. It also has a giant crack running through it, but that just adds to its charm.
Together they are a dynamic duo of American heritage and patriotism.
What are the Best Nerdy Theater, Film & Shows?
The Secret Cinema is a pop-up film experience that has presented hundreds of original programs in places all over Philadelphia: nightclubs, bars, coffee shops, museums, open fields, colleges, art galleries, bookstores, and occasionally even theaters and film festivals.
Since it began in 1992, the Cinema has focused on programs devoted to educational and industrial films, cult and exploitation features, cartoons, rare television, local history, home movies, erotic films, politically incorrect material, and the occasional Hollywood classic.
The goal is to explore uncharted film territory and genres that fall between the cracks. Secret Cinema never uses video/digital projection during screenings—as long as it is available on actual film, that is.
18. Movie Filming Locations
Philadelphia is home to the filming locations for a bunch of amazing movies and TV shows. If you're a movie fan, then you'll definitely want to check out these awesome sites. From iconic fighting flicks to historical themed adventures, there's something for every type of nerd on this list.
Pack your bags, grab your camera, and get ready to geek out in the city that works! Just don't forget to bring your boxing gloves (you know, for extra authenticity).
What are the Best Nerdy Nature Experiences?
Feeling a little artsy? Philadelphia's Magic Gardens are a true, hidden one-of-a-kind mosaic art installation.
Created by artist Isaiah Zagar, the Magic Gardens are a stunning display of color, texture, and whimsy. With everything from murals and mosaics to found objects and folk art, the Magic Gardens are a feast for the senses.
Guided tours are available for you to learn all about the history and inspiration behind this unique creation. So if you're looking to tap into your inner artist and explore something truly magical, make sure to visit Philadelphia's Magic Gardens on your next trip to the city!
Philadelphia's Fairmount Park houses the oldest permanent disc golf course in the world. Sedgley Woods is a 27-hole course that is FREE to the public, year round from sunrise to sunset.
The Friends of Sedgley Woods, a group that cares deeply about the course, frequently has a member on hand to answer inquiries and take visitors around. If you visit, make sure to take good care of the course!
For nearly a century, the Viaduct was an elevated rail track that brought trains into the industrial Center City. It traversed a variety of neighborhoods in the northern area of the city.
Philadelphia City is renovating the Viaduct to serve as a magnet for residential and commercial growth in the nearby areas which have historically been considered to be an "eyesore". Fans of history, technology, and modernization will love visiting the modernized rail park.
What are the Best Festivals, Conventions, and Live Events in Philadelphia?
The Philadelphia Science Festival is a nine-day, community-wide celebration of science that takes place annually in April. Featuring lectures, debates, hands-on activities, special exhibitions and a variety of other informal science education experiences for all ages, the Festival aims to provide opportunities for all Philadelphians to positively engage with and build a community around science, engineering, and technology.
What are the Best Nerdy Tours & Classes?
This comedy walking tour is a real knee-slapper – if you fall for every joke you'll constantly be stumbling!
Take this one-of-a-kind tour that combines the best of two worlds: hilarious comedy performances and jaw-dropping magic tricks. As you explore the city's historic streets and landmarks, you'll be treated to a series of hilarious and mind-boggling performances from some of the best comedians and magicians around.
Whether you're a fan of stand-up, magic, or both, you're sure to have a blast on this tour. It's definitely one of the most fun and unique ways to experience Philly!
On this spooky, small-group walking tour of Center City, learn about Philadelphia's shadowy past and see some of its most iconic structures.
You'll meet your trained historian tour guide to depart for places like the Betsy Ross House, Elfreth's Alley, Christ Church, and more. As you see the sights you will hear ghost stories, tales of serial slayings, and psychopathic killers such as the Corpse Collector, the Frankfort Slasher, and H.H. Holmes.
After 2.5 hours of morose tales, sign-off your sorted adventure with a free beverage or moonshine sample. Your choice!
This fun, interactive workshop is perfect for anyone who wants to learn more about milk-based drink recipes and sharpen their latte art abilities.
Learn new skills from a barista with years of expertise in the speciality coffee sector at a roastery training lab. You will be fully equipped with tools, brewing equipment, and professional coffee machines to unleash your creative genius.
The studio is conveniently located in the heart of Philadelphia, close to several well-known landmarks and dining options.
26. Food Tours!
If you're the type to fantasize about eating at places like Paunch Burger and Los Pollos Hermanos, we recommend exploring Philadelphia's delicious, vibrant, and innovative culinary scene on one (or both!) of two highly popular food tours:
Learn more about the city of Philadelphia through the medium of donuts!
You'll try some of the best doughnut shops the city has to offer: Federal Donuts, Beiler's Donuts, and other off-the-beaten path shops. Along the way, you'll learn about the history of Philadelphia, each donut location, and how they fit into the larger food scene.
If you like donuts and happiness then this tour is for you.
On this 2-hour guided, small-group Segway tour, discover the Philadelphia cheesesteak like no other before.
This 5-mile tour visits five of the city's most authentic cheesesteak businesses, where you will learn about the origins of this famous sandwich and sample the best cheesesteaks in the city. From Chinatown to Society Hill and South Philadelphia – we'll cover it all!
All the required equipment, a guided Segway training session, and tour photos are provided. Bring an empty stomach, and dress according to the weather in flat, closed-toed shoes.
What are the Best Nerdy Places to Stay?
This stylish boutique hotel between Fishtown and Olde Kensington is housed in a beautifully restored whiskey factory that dates back to 1890. It has just 4 modern apartment-style rooms that are each individually decorated in an industrial-chic style, complete with concrete floors, wooden ceilings, and exposed brick walls.
Luxurious king size beds, custom-made furniture with hand picked artwork, fixtures, vintage rugs, living plants and cacti are all lovely amenities. A great, quaint Italian restaurant and pub with wood paneling and a fireplace can be found on the ground level.
If you take a deep breath, perhaps you can smell the odor of ancient whiskey barrels seeping from the building's pores, or is that just your imagination?
Come stay in a funky, three-story Airbnb in the fancy neighborhood of Rittenhouse Square (free paring included... which might be enough of a reason to book immediately)! This place has a cool courtyard and lots of unique touches like hand-laid flooring, a claw-foot tub, and a chalkboard door. Plus, it's located in one of the oldest and most prestigious areas of the city, which is home to lots of fun events all year round.
Recommended: How to Decorate a Hotel Room for a Birthday
What are the Best Nerdy Places to Eat in Chicago?
If you're looking for a unique nerdy hangout spot in Philadelphia, you'll definitely want to check out Queen and Rook Game Cafe!
This cozy little cafe is more than just a place to grab a drink and a bite to eat – it's also a haven for gamers of all kinds. Whether you're a fan of tabletop games, video games, or just about anything in between, you'll find plenty to do at Queen and Rook. With a huge selection of games to choose from, and a friendly and welcoming atmosphere, it's no wonder this place is a favorite among Philly gamers.
So if you're looking to get your game on and meet some like-minded people, make sure to pay a visit!
"Go for the World's First Pizza Museum, stay for the incredible (and strange) pies" – Philadelphia Magazine
This pizzeria is known for its impressive collection of pizza-themed memorabilia, which has earned it a spot in the Guinness Book of World Records for having the largest collection of pizza-related items. From vintage pizza boxes and signs, to pizza-themed board games and action figures, there's plenty to see and marvel at while you enjoy your meal.
Overall, the atmosphere is laid back and energetic, with stickers and doodles adding to the hipster vibe. Enjoy high quality vegetarian and meat-filled options from the ever changing, funky menu.
If you're looking for something unique and original, head upstairs to find the fortune teller machine and fun interactive art. The entire area is covered in artistic murals and decorations, creating a wacky and edgy atmosphere.
This is definitely a place worth checking out.
Dirty Little Secret Menu – Maybe its manipulation, maybe its love but the secret menu at Tattooed Mom always keeps me coming back for more! There are always new and exciting items to try making each visit a surprising adventure that you'll just want to gobble up.
Street Art Culture – From the very first tag to the most recent wheat paste, local and international street art has a long history upstairs at TMom's. An unplanned and spontaneous display of creativity by local and visiting artists as well as the innumerable people who stop by every evening is what makes this gallery constantly change.
No Longer Blank Canvas – The birth of the upstairs as a vibrant art space is in part tied to a 1999 exhibition by brothers Noah & Nathan Rice. That year the Brothers Rice brought their 5,000 umbrella wheat pastes and they've been hanging there ever since.
What are the Best Nerdy Places to Drink in Chicago?
Ready to drink, eat, and game all at the same time? Look no further than the Barcade!
This retro-themed bar and arcade is the perfect spot for anyone who loves a good craft beer and a good old-fashioned arcade game. With a constantly rotating selection of brews on tap and a wide variety of classic and modern arcade games, there's always something new to discover at Barcade. And if all that gaming makes you hungry, you're in luck – the menu is packed with delicious pub grub that's sure to hit the spot.
So whether you're looking to relive your childhood at the arcade or just want to try out some new beers, Barcade is the place to be.
Function Coffee Labs is known for its knowledgeable baristas who bring coffee brewing science to a whole new level. These people are serious about their beans!
The shop also offers a scientific presentation for pourovers (served in beakers) and unique private classes in espresso, pourover & tasting.
Function Coffee Labs is a great destination for coffee enthusiasts who want to learn more about coffee culture and try new brews.
If you're a nerdy cafe-goer in search of your perfect hangout spot, look no further than Chibi Cafe Co in Greenville!
This cozy little cafe is the ultimate destination for all types of nerds, with a wide variety of nerdy goodies and activities to enjoy. Whether you're a fan of anime, video games, or just about anything else nerdy, you'll find something to love at Chibi Cafe Co. Plus, with a menu full of delicious and unique drinks and snacks, you'll be able to fuel up while you geek out.
What are the Best Nerdy Places to Shop?
Nerd Mall is a dream come true for those looking for nerdy goodies. From vintage action figures and rare comics, to the latest and greatest video games and pop culture collectibles, The Nerd Mall has something for every type of nerd & hobbiest.
In addition to buying board games, customers also have the option to rent board games.
If you're in search of your next nerdy fix, then you need to check out Brave New Worlds Comics! This place is a true paradise for all kinds of geeks and nerds, with an impressive selection of comics, graphic novels, and other nerdy goodies.
But it's not just about the merchandise – the staff at Brave New Worlds are true experts in all things nerdy, and they're always happy to help you find the perfect comic or recommend a new series.
So whether you're a hardcore comic fan or just looking to geek out with like-minded people, Brave New Worlds Comics has you covered.
Conclusion
Now you know – Philadelphia isn't just for beer-swilling sports fans and cheesesteak lovers, although it isn't bad to enjoy those things either! Philadelphia is a place for techies, retro gaming lovers, and fans of all types. Bring yourself and leave with a little more.