Are you a self-proclaimed nerd looking for a thrilling adventure in the Windy City?
You're in luck! Chicago is packed with exciting and unique activities for the nerdy and the nerdy at heart.
From exploring the vast collections of world-class museums to indulging in specialty shops and immersive science fiction experiences, this city has it all. So put on your favorite geeky t-shirt and get ready to nerd out with our top 49 nerdy things to do in Chicago.
All activities are within two hours from the city proper:
Interest-Based Nerdy Travel Experiences
Standard Travel Needs – Nerdy Style
About The Author
Hi, I'm Kate.
I started planning unique travel experiences way back in 2008.
And I quickly realized that quirky, nerdy experiences were going to be a big part of my travel planning success.
So I set out to explore as much as I could.
And thanks to years of reading and experimenting, I've had a ton of success with travel planning…
…including the top 3 performing nerdy guides on this site:
Nerdy Experiences in Washington DC
Check out these ideas in Chicago and you could have an awesome trip planned within the next 20 minutes.
What are the Top Nerdy Experiences Unique to Chicago?
While the idea of an interactive torture museum might sound a little painful & gruesome, the Medieval Torture Museum errors on the side of friendly photo ops, "playing" with torture devices, and informative middle-age incarceration education.
For about 40 – 60 minutes you will be transported into the minds of fanatics, madmen, and murderers to discover one of the darkest parts of human history. The museum houses the world's most comprehensive collection of confinement and torture devices, many that are displayed as interactive exhibits for guests to sit or stand on.
With the motto "those who forget the past are doomed to repeat it" — Fair warning! Many visitors say that it's a bit "creepier than expected" and advise against bringing children under 13. However with an overall 4.9 star rating on Google, we definitely recommend stopping by on your trip!
If your childhood was filled with talking toys, beautiful princesses, swashbuckling pirates, and flying carpets, you can likely thank the creative genius of legendary founder, Walt Disney.
Tour one of "the happiest places on earth" for the man who brought the magic to millions of children.
Due to the restoration efforts from a team of dedicated fans, Chicago is fortunate to have one of the few remaining locations where Walt spent significant time in childhood. Unfortunately, many of the other important places in his life have been substantially altered or lost which makes this location a true "diamond in the rough".
Recommended: Where to Meet The Best Nerdy Guys… Right Now
If you're a Harry Potter fan, then you don't want to miss the Magic at Play experience at Water Tower Place! This interactive exhibit takes you on a journey through the wizarding world, with plenty of exciting activities and displays to keep you entertained.
Start your journey as a First Year student at Private Drive making your way to Hogwarts via Platform 9 3/4, the Hogwarts Express, and boats across the lake.
Once you arrive at Hogwarts, you'll have the chance to visit the Great Hall, where you can be sorted into your House and have your photo taken with the iconic floating candles. You can also share a glass of Butterbeer with some other wizards at the bar, and and try your hand at Quidditch in the Quidditch Pitch.
The whole experience is sprinkled with hands-on activities and iconic photo opportunities.
But be warned – the Magic at Play experience isn't just for Muggles! You may just run into a few characters from the Harry Potter series along the way. So grab your wand and join the fun at the Magic at Play exhibit in Chicago's Water Tower Place!
Recommended: Ultimate List of Harry Potter Travel Accessories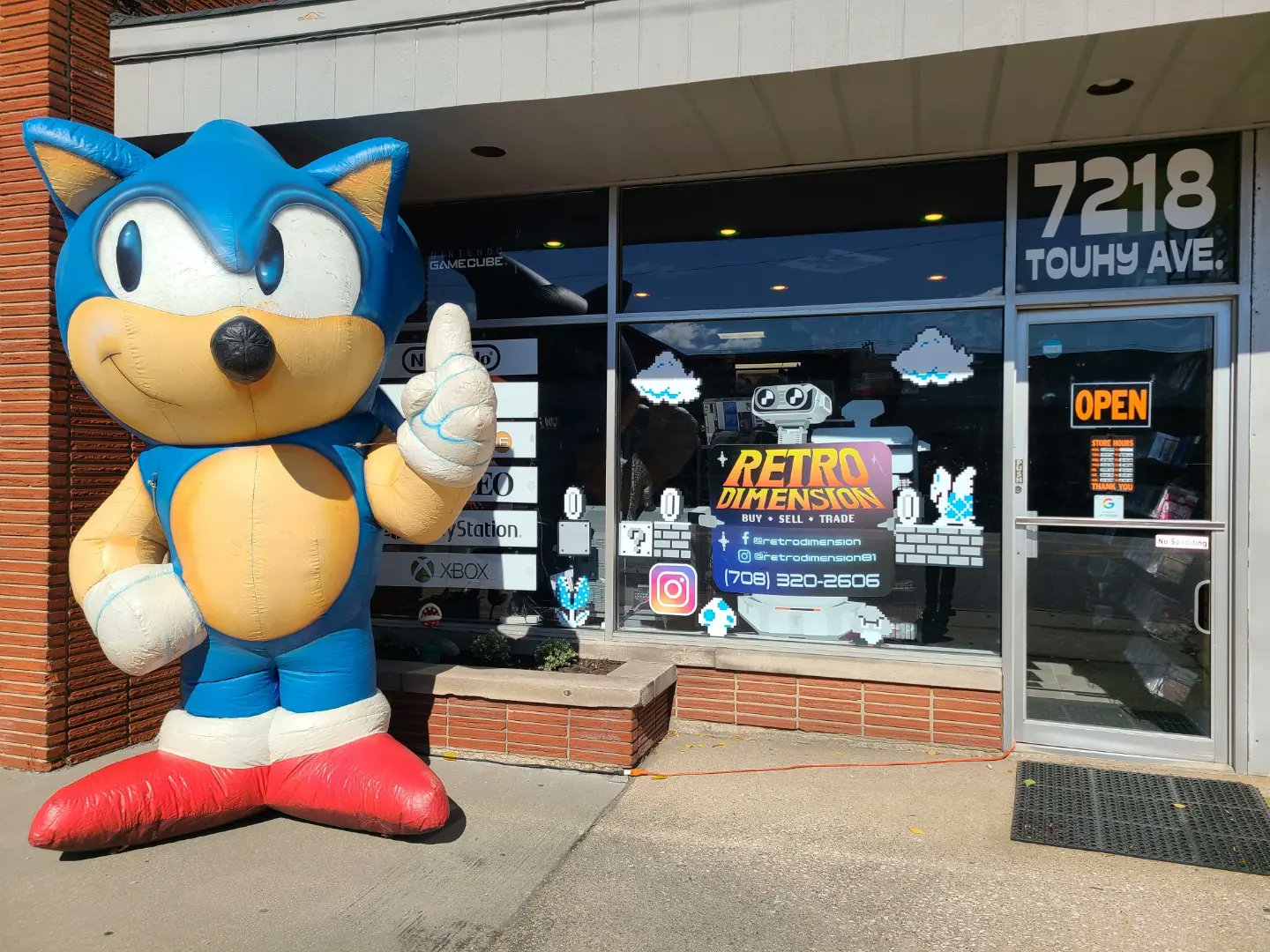 Dust off your Nintendo 64, plug in your controller, and prepare for "Sudden Death"… Are You Ready?
Serious and casual retro gamers alike will appreciate the rare selection, quality tested games, fun displays, and fair prices at Retro Dimension. If you have questions about console set-up or obtaining rare games, the passionate staff will be your Navi.
As one of the most sincere customers put it, this shop is "Hands down the best retro gaming store in Chicagoland."
If participating in the research for scientific geniuses like Dr. Octavius, Dr. Evil, Dr. Frankenstein, or Dr. Horrible, sounds like a dream cone true, then you need to visit Mindworks at the University of Chicago's Booth School of Business. You will have the unique opportunity to participate in active behavioral science research under the direction of Dr. Rebecca White who is decidedly less henious than any of the aforementioned doctors.
During your visit, you will explore 8 interactive exhibits designed to educate visitors about behavioral science. If the exhibits inspire you to contribute to the field of behavioral science, you may participate in researcher lead active studies on-site. You will be guided through lab work in the science of judgment and decision making and will even earn a prize such as clothing, discounts to museums, and gift cards for supporting research.
The best computer part, repair, and custom-build store in all the land!
If you need a part, they will have it.
If you have a question, they will answer it.
If something happens to your hard drive and all of your pictures are gone, they can retrieve them.
If you just feel like having a nice nerdy chat about computers, these are your guys.
Plus they specialize in all brands & operating systems, and prices are very reasonable!
7. Best Nerdy Childhood Throwback: The Lego Store
No Chicago architecture tour is complete without a trip to the LEGO store at Water Tower Place. See the famous skyline articulated in colorful bricks next to iconic Star Wars & Harry Potter LEGO creations.
8. Best Nerdy Toy Store: Geek Toy Hut
This no frills shop has a killer selection and very fair prices. Find every classic toy, video game, and comic you can remember from the last 50 years in 1 uber fun place.
Pokemon
Funko Pop
Star Wars
Teenage Mutant Ninja Turtles
GI Joe
Dragon Ball-Z
Batman
WWE action figures
Digimon
Magic the Gathering
Since the inventory is constantly changing, make sure to go soon!
9. Best Horror Experience Shop: Horror House
A ghostly wind blows corn stalks in the moonlit field. Something shuffles deliberately in the darkness. And you feel a bead of sweat drip down your forehead. Nope, it's not just your imagination. Something is stalking on your screen, primed to to kill your extra spending money: The Horror House in north Chicago.
This chilling shop and local event hub is a must-see spot for horror fans. In addition to top hair-raising brands such as Terror Threads, The October Academy, Western Evil and Atomic Cotton, The Horror House offers an ominous selection of collectibles, original artwork, paintings, comics, movies and more.
What are the Best Nerdy Local Cultural Experiences?
10. Essential Chicago Museums
What does a curious traveler do when the husky Chicago wind blows? Take a step indoors to explore one (or many) of the incredible cultural museums – of course!
Who runs the world? Girls! No where in the world are Beyoncé's power-girl song lyrics more relevant than the American Girl Place.
Not only does the store celebrate girls of various backgrounds and immigrant origins, but also inspires young women to pursue competitive careers in astronomy, medicine, and engineering. All with cute outfits, stylish hairstyles, and lively accessories.
The store is truly a modern American Girl experience.
The whole store is designed to enjoy with a doll. There is a hospital to patch up any damage, a hair & nail salon, ear piercing shop, and cafe bistro with doll-sized snacks! Even the bathrooms have doll holders in each stall.
Tease your senses and tickle your mind at this immersive world of illusions! This one-of-a-kind "edu-tainment" destination offers guests more than 80 visual and educational exhibits that encourage them to both learn and have fun. As you explore rooms of holograms, stereograms, and optical illusions, learn from the knowledgeable staff and snap some social media-worthy shots.
This 33 ft high 110 ton stainless-steel sculpture has been an iconic part of the Chicago landscape since 2006. Cloud Gate was created by cutting 168 stainless-steel plates into curved shapes using computer technology.
Besides being fun to look at and take pictures with, Cloud Gate has been a central location for all sorts of nerdy events like a Naruto Run, "Windex the Bean" cleaning party, and "Replace the Bean with Mr. Bean". Check out local social media to see what is going on!
The architecture river cruise in downtown Chicago is a must-do activity for those who are interested in architecture, design, and history. During the cruise, visitors will have the opportunity to see 40 of Chicago's most famous buildings and landmarks from a gorgeous boat, and learn about the history, architectural styles, and artistic movements.
What are the Best Nerdy Theater, Film & Shows?
Comedy and nerdiness might seem like an unlikely pairing, but in reality, the two have always had a close friendship. From the early days of stand-up comedy, when comedians like Steven Wright and Emo Phillips used their love of science and technology as material for their acts, to the modern era of nerdy sitcoms and podcasts (hello Big Bang Theory!), there's no denying that comedy and nerdiness go hand in hand.
If you're looking for a night of nerdy laughter and entertainment, there's no better place to visit than Second City Comedy Club. Located in the heart of the city, this iconic comedy club has been a fixture on the Chicago cultural scene for decades, and has played host to some of the biggest names in comedy, including Tina Fey, Steve Carell, and Stephen Colbert.
Since the club is known as a pipeline for discovering top comedians, spectators are able to see some of the best up-and-coming comedic talent in the business. The training program consists of various comedic formats including improv workshops & stand up nights so shows are always fresh, funny, and full of surprises.
The nerdiest variety show in Chicago! Raks Geek shows feature everything from a belly dancing Wookie to fire spinning super heroes. The performers focus on blending artistic and technical mastery with fun, creativity, and the nerdiest fandoms out there. And the people love it! Featured both domestically and internationally on MSN, WGN-TV, The Daily Mail, and more, Raks Geek was listed as a Timeout Chicago Critics' Pick.
Shows are one-night only and happen on a periodic basis so make sure to check the site and book tickets in advance!
Step through the secret laundry door and transport away from your common, banal life into a world of magic and mystery. As you're seated in the speakeasy lounge, peruse your art deco designed menu to find sparkling cocktails such as How Houdini Died, The Great Bellini, or Gone Without a Tres and some tempting sweet and savory bites.
Open 7-nights-a-week, the Chicago Magic Lounge features performances from some of the most talented magicians in the world in shows such as:
Music and Magic – Music on the stage ad magic at your table
The Signature Show – A tribute to Chicago's high magic history
The Showcase – Magic from a variety of top local magicians
The Family Show – "Magic for the young and young at heart"
Check out the schedule for tickets to upcoming events!
What are the Best Nerdy Nature Experiences?
Celebrate the 1939 "The Wizard of Oz" film in a whimsically designed park that is sure to delight and engage any fan of pop culture and geeky pursuits. Throughout the park there are friendly statues of the main characters: Dorothy & Toto, Tin Man, Scarecrow, and Cowardly Lion. From Dorothy's Playlot to the Emerald Garden, this park is a wonderful place to enjoy beautiful wildlife, relax, and bask in the magic of the fantastical Land of Oz.
19. Movie Filming Locations
Chicago is home to the filming locations for a ton of amazing movies and TV shows. If you're a movie fan, then you'll definitely want to check out these awesome sites. From superhero blockbusters to heartwarming romantic comedies, there's something for every type of nerd on this list.
Pack your bags, grab your camera, and get ready to geek out in the city that works! Just don't forget to bring your superhero cape (you know, for extra authenticity).
Are you a fan of all things cow-related? Do you have an insatiable appetite for beef jerky and beef jerky-related paraphernalia? If so, then the Union Stock Yards Gate in Chicago is the place for you!
This historic landmark is a must-see destination for any self-respecting meat-lover, who wants to experience the history of what was once the largest meatpacking district in the world.
You can take a selfie with a giant cow head. Yes, you read that right – there's a giant cow head at the Union Stock Yard Gate, and it's just begging for a selfie. Trust us, your Instagram followers will be jelly.
What are the Best Nerdy Rides, Escape Rooms & Virtual Experiences?
21. Six Flags Great America
Are you ready for an adventure that will leave you feeling like you've stepped into the pages of your favorite comic book? Look no further than Six Flags Great America!
If you're a fan of adrenaline-pumping rides, you'll find plenty to love in the DC Universe themed area. From the Dark Knight coaster to Superman: Ultimate Flight, there are plenty of high-speed, heart-pounding rides to choose from.
Additionally, Six Flags Great America hosts a variety of special events and shows, including holiday celebrations and live performances. If you're a fan of live entertainment, you'll want to check out the park's schedule to see what's coming up.
Mastermind Escape games immerses you in an exciting & slightly creepy adventure where you will physically interact with your surroundings to solve puzzles and find clues.
Make a reservation and find yourself in the middle of one of these exciting games:
The Shed – You've heard disconcerting things about your neighbor. When he goes out you decide to investigate.
Sorcerer's Secret – You discover an evil sorcerer's plot against your uncle! Solve the curse and get out of his lair before its too late.
Outbreak: Find the Cure – Oh no! A deadly experimental virus has been released in the ventilation system of the CDC. Find your way out before time runs out.
Bank Heist – You've joined an organized crime syndicate and your first mission is to rob a bank! See how much money you can get before the police come for you.
Visit the #1 voted escape room in America! With two scavenger hunt rooms, one portable escape experience, and four immersive rooms, The Great Escape Room is definitely a must visit spot.
Infirmary: Surgical Crisis
Poker Night at the President's Bunker
Escape Artist: The Final Séance
Escape The Coliseum: The Underworld Maze
Spots are limited, so book your game ASAP!
This premiere immersive entertainment destination has it all: multiple virtual reality experiences, a fully-stocked bar, karaoke, billiards, and a massive theater (frequently featuring music, art, comedy and community events).
Individual VR bays can be rented for 30, 45, 60, 90, or 120-minutes at a time and have over 50 games to choose from. With a large projector screen that will show your friends whats going on in your headset, you will be able to win your game and share the glory with your spectators.
What are the Best Festivals, Conventions, and Live Events in Chicago?
25. St. Patrick's Day Festivities
Grab some corned beef and cabbage and head down to the Chicago River – you're in for a jolly green surprise!
Due to harsh political and economic conditions in mid-19th century Ireland and abundant jobs in the construction & transportation industries in the Chicago area, the city became a popular new home for many immigrant families.
According to historical records, the first St. Patrick's Day parade in Chicago was held in 1843, just a few years after the city was founded. The parade was organized by a group of Irish immigrants who wanted to celebrate their heritage and traditions.
Today, you can enjoy their legacy at one of many St. Patrick's Day events around the city.
One of the most popular attractions is the "greenification" of the Chicago river. You can watch boats with dye cruise the river, distribute the dye via large hoses, and leave the water a bright, Irish green. Furthermore you can enjoy the St. Patrick's Day parade, one of the largest in the country, featuring a wide variety of floats, bands, and other entertainment. It's a great opportunity for people who enjoy attending public events and seeing unique and creative performances.
Since St. Patrick's Day is so widely celebrated throughout the city, holiday festivities are a great opportunity to meet new people and socialize. Whether you're attending a bar, pub crawl, or private party, you'll have plenty of opportunities to meet and connect with fellow shamrock lovers.
26. Windycon
If you're interested in cutting-edge science fiction topics from astrophysics to alien costuming then "Chicago's longest running science fiction and fantasy convention" is for you! Initially started as a Sci-Fi literary convention, prominent events are either writing (Short Story contest and Writer's Workshop for aspiring authors) or pop culture related.
Gear-heads will be happy to find an Art Show and Dealer's Room where local artisans showcase unique, one-of-a-kind merchandise.
27. Lollapalooza
Nerds frequently fall into certain stereotypes and hobbies that typically do not include attending mainstream music festivals.
Lollapalooza is different.
I think every nerd should experience it at least once in their lifetime. Heres why:
The music. Lollapalooza is known for its diverse lineup of artists, ranging from mainstream to indie and everything in between. As a nerd, I appreciate being exposed to new music and genres that I may not have discovered otherwise. Plus, seeing live performances of my favorite bands is always a thrilling experience.
The atmosphere. Lollapalooza is not just about the music – it's also about the culture and community. There are so many people from all walks of life in attendance, and it's a great opportunity to meet new people and make connections.
The technology. Lollapalooza has a focus on technology and innovation, with stages dedicated to electronic music and interactive experiences as well as cool tech to help attendees find lost items. As a nerd, I love being able to see how tech is creatively being used to support the music industry.
The Chicago Comic & Entertainment Expo, or C2E2, is an annual gathering of lovers of comic books, movies, television, video games, and other aspects of pop culture.
C2E2, which takes place at the McCormick Place convention center, offers seminars and workshops with industry experts, celebrity signing sessions, and a sizable exhibition floor packed with merchants offering anything from memorabilia to original artwork.
Additionally, C2E2 hosts a variety of unique occasions, such as cosplay competitions and live concerts.
Chicago TARDIS is an annual convention that celebrates the long-running British science fiction television show, Doctor Who.
The convention features a variety of events and activities for true fans of the show, including: costume contests, an Alley of Delek's, dance party, merchandise, karaoke, fan created games (including a Doctor Who RPG), on-site childcare, and more.
At its heart, Chicago TARDIS is a great opportunity for fans of Doctor Who to come together, share their love of the show with others, and learn more about the series. It is a fun and exciting event that is sure to be a hit with fans of all ages.
What are the Best Nerdy Tours & Classes?
The art of glassblowing involves a thorough understanding of the properties and behavior of glass, including its melting point, viscosity, and thermal expansion.
Remind anyone of high school chemistry?
Luckily, this Airbnb Experience skips the beakers and periodic table in favor of instructing students how to create their own piece of chemistry.
Lamp-working, or torch-working, is a form of miniature glassblowing where students use a torch to create their own unique small glass piece. The instructor will explain the safety rules and demonstrate the process before helping each student make their own pendant, zipper pull, sun catcher, or light switch pull.
Some consider graffiti to be a form of urban data visualization, as it allows artists to represent and convey information to many through visual means. This connection to data analysis and visualization aligns with the interests of many nerdy individuals, including myself.
At Studio W.I.P., guests can immerse themselves in the world of spray paint and urban art. During the interactive workshop, lead by local artists, guests will become the artist and experiment with lettering, stencils, aerosol, and cap techniques as they create part of a 50ft mural. The main goal of the workshop is to break down stereotypes surrounding spray paint and leave guests with curiosity and basic skills in using aerosol.
Guests are welcome to bring their own beverages and will go home with their own piece of art as a memento of the night.
Enjoy Chicago Art with all the flair of Ferris Bueller and his friends.
On this tour, you'll start by learning a short history of the Art Institute of Chicago. Then, you'll spend the rest of your time exploring the galleries and looking at the artwork featured in the classic 1986 American teen comedy Ferris Bueller's Day Off.
You'll visit three floors of the museum, see 16 pieces of art, and learn about the works, their relationship to the characters, and their placement in the film. By the end of the tour, you'll have a greater appreciation for these works of art and how they were used in the movie.
*This tour does not include admission to the Art Institute of Chicago.
33. Food Tours!
If you're the type to fantasize about eating at places like The Three Broomsticks and The Krusty Krab, we recommend exploring Chicago's delicious, vibrant, and innovative culinary scene on one (or both!) of two highly popular food tours:
Learn more about the city of Chicago through the medium of donuts!
You'll try some of the best doughnut shops the city has to offer: Doughnut Vault, Firecakes Donuts, Stans Donuts, and Do-Rite Donuts. Along the way, you'll learn about the history of Chicago, each donut location, and how they fit into the larger food scene.
If you like donuts and happiness then this tour is for you.
Experience an intimate and artistic dining experience enjoying Spanish tapas while listening to Spanish music.
As you finish your tapas, you will be treated to a performance of flamenco, a style of music that mixes stories and anecdotes of life through dance, sounds, melodies, feelings, and emotions. Afterwards, you'll have a chance to ask questions and even participate in a small lesson.
Your instructor, Ronaldo, is a professional dancer, percussionist, and teacher who has flamenco deeply ingrained in his life, and his wife, Carla, is a chef who studied culinary in Mexico City and has worked at a Michelin Star restaurant in Barcelona. Don't miss this special opportunity just a short distance from downtown Chicago.
What are the Best Nerdy Places to Stay?
The Publishing House Bed and Breakfast is a boutique hotel in Chicago that was once the home of the Free Methodist Publishing House. It has been renovated and was reopened in 2017 as a bed and breakfast.
The 11 rooms in the inn are dedicated to authors who have written books about Chicago and feature vintage decor, heated floors, and clawfoot tubs. The inn is located near the historic Printer's Row neighborhood, which is home to many independent bookstores and literary events.
The owners of the inn are literature lovers and excellent cooks who serve guests a lavish breakfast each morning and freshly baked cookies and muffins throughout the day. This inn is a unique destination for book lovers looking to immerse themselves in the world of literature and publishing.
"A little slice of tropical paradise surprisingly nestled in the middle of Wicker Park and not the ocean. We've kept things dreamy enough, you won't even notice the sand is missing. Chicago tropical? We just made that a thing."
– Liz, your host
Need an escape? Just add water, a flamingo, and a palm or two to this palatial escape in the middle of all the action that Wicker Park has to offer. Relax with +14 friends or family members as you soak in the natural light and fresh ambiance.
The overall tropical vibes of this laid back stay will have you checked into vacation mode as quicker than you can say Marvelous Mojito!
Recommended: How to Decorate a Hotel Room for a Birthday
ACME Hotel is a boutique hotel located in the center of Chicago and close to many attractions. It is designed with an eye for style and offers a creative atmosphere with a focus on art, music, and design.
The hotel has a top-notch cocktail lounge called The Berkshire Room, a hot tub bar called Bunny Slope Bar (yes, you drink in the hot tub), and a bakery called WestTown. ACME Hotel offers free delivery of Morning Joe® coffee every morning and free, fast WiFi throughout the hotel.
Each room is equipped with a state-of-the-art Hi Fi system and an Amazon Alexa for added convenience. Enjoy your hotel experience without breaking the budget!
What are the Best Nerdy Places to Eat in Chicago?
This spy-themed restaurant and bar is a must-visit destination for any nerd looking to unleash their inner James Bond or Natasha Romanoff.
The SafeHouse is a playground for the curious mind, with secret passages, hidden rooms, and challenging puzzles that will test your intelligence and cunning. Trying to uncover all of the hidden secrets… I dare you.
The restaurant is filled with spy-themed decor and gadgets, from secret doors and hidden compartments, to fake books and hidden cameras. You'll have a great time pretending to be a secret agent and trying out all the cool gadgets.
If you're one of those people who love tacky Christmas decorations, can enjoy listening to Christmas music at any time of the year, and refuses to take down your Christmas tree until February, Elfed Up is the perfect place to unleash your inner Buddy the Elf and embrace your love for all things Christmas.
You'll have a great time singing along to holiday classics, drinking holiday-themed cocktails, meeting Buddy the Elf, participating in Christmas trivia, and getting into the festive spirit at any time of the year!
Enjoy menu items like:
Buddy's Breakfast Pasta
Arctic Puffin's Fish Tacos
Angry Elf Shrimp
Swirly Twirly Wings
Worlds Best Cup of Naughty Coffee
Snakes & Lattes is one of the top board game cafes in Chicago. With ambiance that makes you feel like you're in a game and over 400 board games and tabletop games to choose from. This shop is top notch!
For less than $10 per person, customers can enter the "game vault" and choose the game of their choice.
The café serves coffee, tea, and alcoholic beverages, as well as appetizers, sandwiches, salads, and snacks. Snakes & Lattes also offers events and private parties, and it is possible to reserve tables in advance.
Additionally they host monthly trivia nights that are always a good time!
The Whale is a restaurant in Chicago with a mid-century gambling theme and a 1920s vibe.
The restaurant's name and theme are inspired by the gambling term "whale," which refers to a high-stakes gambler who wagers large amounts of money and receives lavish perks from casinos to entice them to gamble.
It serves elevated American fare and cocktails in large portion sizes – you won't leave hungry or rich!
What are the Best Nerdy Places to Drink in Chicago?
The Geek Easy is a comic book-themed bar in Chicago with video games, karaoke, live events, and a full bar with craft beer. It has a fun and eclectic decor with good lighting and a friendly atmosphere.
The bartenders are quick and polite and the bar has a good selection of ales, meads, and mixed drinks
The space can get crowded and is not well-suited for larger groups, and parking can be challenging on event nights.
The Galloping Ghost Arcade is a popular bar and arcade, known for its extensive collection of vintage arcade games and consoles.
With over 500 games to choose from, including classic titles like Pac-Man, Donkey Kong, and Street Fighter, its the perfect spot for both casual gamers and serious retro-gaming enthusiasts.
In addition to its gaming offerings, the Galloping Ghost also features a full bar with a wide selection of craft beers, cocktails, and non-alcoholic beverages.
Replay arcade bar offers a range of vintage arcade games, pinball, and craft beer and cocktails in a warm industrial setting. Most of the games are free to play.
They have fun periodic pop up themes (think Jurassic Park, The Krusty Krab, Blockbuster, Game of Thrones, The Office & Y2K) with decorations, drinks, and activities to match. Super fun!
Known for its unique and eclectic atmosphere, Wormhole Coffee attracts a diverse crowd of coffee lovers and hipsters. The shop features a wide selection of hand-crafted coffee drinks, including espresso-based beverages, pour-overs, and cold brews… with the best latte art! In addition to its coffee offerings, Wormhole Coffee also serves a variety of pastries, sandwiches, and other light meals.
If you like Star Wars, Back to the Future, and Buffy the Vampire Slayer, then you will love the retro sci-fi decor and quirky, one-of-a-kind vibe.
What are the Best Nerdy Places to Shop?
45. Graham Cracker Comics
Graham Cracker Comics is a comic book and gaming store with a wide selection of classic and modern products at reasonable prices. It is known for having a particularly large selection of older, classic games & comics, although the selection of newer games may be more limited.
Nestled in the heart of Chicago, this little shop is jam-packed with all sorts of graphic novels, indie comics, and of course, all your favorite superhero titles. And don't worry, if you don't know what you're looking for, the friendly and knowledgeable staff will be more than happy to point you in the right direction. Or maybe they'll just recommend something totally random and unexpected – it's always a surprise at First Aid Comics!
So if you're in the mood for some top-notch comics and a good time, swing by when you have some time to kill. Just try not to drool on the merchandise too much.
If you have a love for all things weird and unique, Woolly Mammoth Chicago is the place for you!
This shop is filled with all sorts of interesting and eclectic items, including vintage and antique taxidermy, anatomy items, medical stuff, books, toys, skulls, and much more. The shop owner is extremely knowledgeable and can answer any questions you might have about the items on display.
Are you a fan of all things undead and magical? Look no further than Zombie Unicorn Comics, the one-stop shop for all zombie unicorn-themed comic books and everything in between!
Step inside and you'll be greeted by rows upon rows of comics featuring your favorite graphic novels, collectables, and other geeky merchandise – there's something for every fan of the unconventional.
But that's not all! Zombie Unicorn Comics offers additional services such as comic book pressing and cleaning and artist signature acquisition.
Bucket 'o Blood Books & Records is a unique store located in the heart of Chicago. Known for its eclectic mix of used books and records, the store attracts a diverse crowd of bibliophiles and music lovers.
As you enter the store, you'll immediately be struck by the cozy and welcoming atmosphere. The shelves are packed with an impressive selection of used books and records, covering a wide range of genres and subjects. You can easily spend hours browsing the shelves, discovering hidden treasures and forgotten classics.
The store's friendly and knowledgeable staff are always happy to help you find what you're looking for or recommend something new. Whether you're a seasoned collector or just looking for something to read or listen to, Bucket 'o Blood Books & Records is the perfect place to discover new favorites.
Kinokuniya is a Japanese bookstore chain that specializes in offering a wide selection of Japanese books, magazines, and other printed materials, as well as a range of Japanese stationery and gifts. In addition to its extensive selection of Japanese-language materials, Kinokuniya Chicago also carries a selection of English-language books, including a variety of manga and anime titles.
The store also frequently hosts events and workshops related to Japanese culture, such as book clubs, language exchange meetings, and art exhibits. Check out the events page before you visit!
Conclusion
Now you know – Chicago isn't just for beer-swilling sports fans and deep-dish pizza lovers, although it isn't bad to enjoy those things either! Chicago is a place for Brainiacs, toy lovers, and fans of all types. Bring yourself and leave with a little more.