Attention all Potterheads, Oompa Loompas, Narnians, Whos (down in Whoville) and just about anyone else you can think of in the nerd-dom who is planning to spend time in San Diego!
Are you looking for something entertaining, fun, and just a tad bit nerdy to do in San Diego?
This guide will show you exactly how to make your next trip to "America's Finest City" a truly memorable travel experience. All activities are within two hours from the city proper. You don't have to be a nerd to enjoy this list but if you are a nerd, then these activities are definitely for you:
Interest-Based Nerdy Travel Experiences
Standard Travel Needs – Nerdy Style
About The Author
Hi, I'm Kate.
I started planning unique travel experiences way back in 2008.
And I quickly realized that quirky, nerdy experiences were going to be a big part of my travel planning success.
So I set out to explore as much as I could.
And thanks to years of reading and experimenting, I've had a ton of success with travel planning…
…including the top 3 performing nerdy guides on this site:
Nerdy Experiences in Washington DC
Nerdy Experiences in Boston
Nerdy Experiences in Los Angeles
Check out these ideas in San Diego and you could have an awesome trip planned within the next 20 minutes.
What are the Top Nerdy Experiences Unique to San Diego?
1. Best Nerd Convention: Comic-Con
Most self-respecting nerds have fantasized about attending the original San Diego comic-con. Nothing can compare joining 130,000 of the most committed fans in the world, wearing full designer cosplay for, four days of unique, immersive pop culture experiences.
If cosplay and rare comic books aren't your thing, even the most casual nerds will appreciate the breadth of pop culture activities to enjoy:
Blockbuster film actors, directors, and crew panels
Future potential TV & movie project screenings
Unique vendor shops
Funky photo ops
Activities appeal to virtually all genre interests including: horror, Western animation, anime, manga, toys, collectible card games, video games, webcomics, books, sci-fi, and fantasy.
Connect with the magic of Comic-Con all year round!
The Comic-Con Museum in Balboa Park was designed to give nerds and non-nerds alike an opportunity to learn about new art and pop culture. The museum's mission is to express the unique aggregation of passion, creativity, science, technology, art and imagination found at the convention each year.
Visitors have the opportunity to see memorabilia from comics, Sci-Fi, TV shows, books, video games, anime, and more in classic museum format in addition to participating in classes, activities, movie screenings, trivia contests and programs available online anytime.
3. Best Retro Gaming Bar: Coin Haus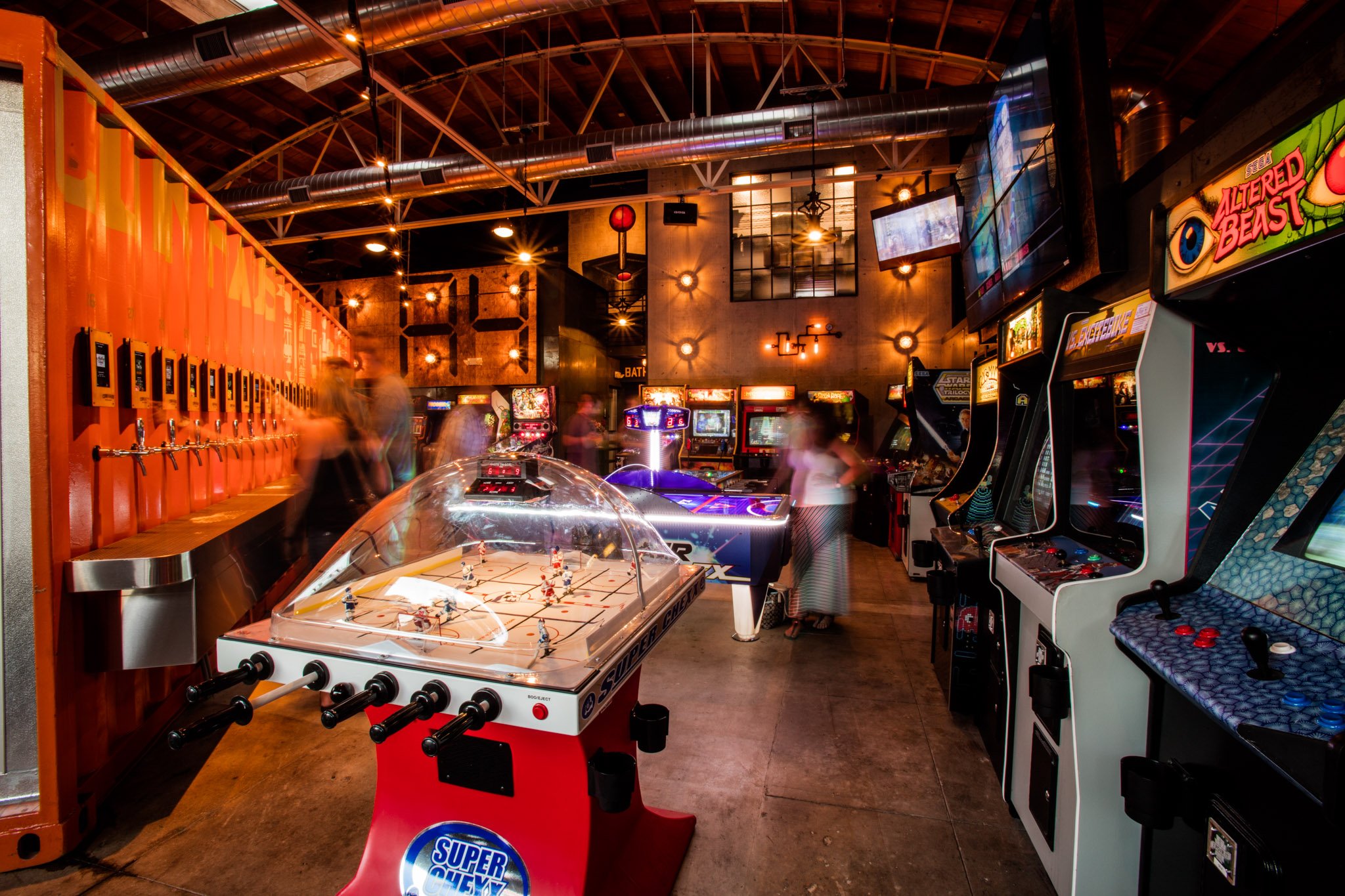 Pour yourself a beer (or a few!) at the self-service beer bar and lose yourself in a warehouse full of classic arcade games. Before you go, make sure to check the website for nightly specials and remember that video games are free during happy hour!
Recommended: Where to Meet The Best Nerdy Guys Right Now
4. Best Childhood Throwback: Dr Seuss Legacy
From early childhood, many of us grew up with the whimsical rhymes, funny illustrations, and imaginative messages of Theodore Geisel, also known as Dr. Seuss. A legacy tribute to the author of the nerdy catchphrase "you have to be odd to be number one" is definitely worthy of this nerdy list.
Theodore Geisel spent many of his working years living and creating in La Jolla, CA. After his death much of his estate was left to UC San Diego.
Today, visitors can immerse themselves in his life and creative inspirations at a few places in La Jolla:
Geisel Library at UC San Diego: The Dr Suess Collection (including nearly 20,000 items ranging from original drawings, sketches, proofs, notebooks, and other memorabilia) is typically not available for public viewing, however it is displayed temporarily during March (Dr. Seuss' birthday) and in the summer.
Former Personal Residence: Gifted to UCSD upon his death. 7301 Encelia Drive, La Jolla, CA 92037
This downtown art installation is a reverse of the original Space Invaders game: instead of being charged by aliens, you charge the aliens.
Beginning as an exhibit for the San Diego Museum of Contemporary Art called "Viva la Revolution: A Dialogue with the Urban Environment", this Space Invaders themed installation has become a modern-day scavenger hunt for gamers and treasure hunters alike.
The exhibit featured a French muralist known for creating mosaic murals of the classic space "invader" icon in urban environments. His contribution to the exhibit featured 21 icons around the city. Following the map in the link above, invader-seekers can still find most of the original mosaics as they explore San Diego's downtown urban landscape.
If Willy Wonka made IT equipment instead of Chocolate, his factory would look something like Geeks Candy Shop. Although the sweetness only comes from the amazing deals on all things techy (laptops to servers to monitors and even power cables), the knowledgeable staff is very helpful and merchandise well-organized like a candy factory.
Feel like a kid in a candy shop Its like eBay but without the shipping hassles!
7. Best Nerdy Toy Store: ComicKazi
If you like your nerd toys in the way Harry Potter likes his godfather, Serious, then this shop is for you! This high-quality, low-frills shop has everything you need for the best shopping experience imaginable: massive inventory selection, knowledgeable & helpful staff, and fair pricing (even on limited edition release items!).
What are the Best Nerdy Local Cultural Experiences?
8. Essential San Diego Museums
San Diego has a wide variety of museums due to the city hosting the 1915 Panama Exposition. After the exposition, many of the buildings were turned into museums. When selecting museums for your trip, these are our favorites:
**It's important to note that February is San Diego Museum month where most museums have discounted or free admission.
Twilight is one of the most magical times to enjoy the ocean. The slightly brisk salty breeze will make you want to curl up in a cozy chair with a glass of wine, next to a warm fire and enjoy the company of locals and fellow travelers.
In this affordable Airbnb experience, you show up to the bay and let your host take care of the rest – It even includes s'mores!
Although nerds aren't stereotypically the most athletic bunch, they are typically comfortable being the newbie, or in this case maybe the "hodad", and trying a new way of life that is different from their own.
San Diego surf culture is definitely a way of life.
In this Airbnb experience you will grab a board, learn basic surfing techniques, and feel the freedom of California's favorite ocean sport. Within two hours you will be able to stand on your surfboard and maybe even "shoot the curl"!
What are the Best Nerdy Theater, Film & Shows?
Sunsets, skylines, elevated food & drink and cutting-edge sound is THE NEW way to immerse yourself in the magic of urban cinema.
Enter Rooftop Cinema Club.
This downtown outdoor theater screens cults, classics, and new releases in a picturesque metropolitan environment. Although there are opportunities to interact with other audience members before the film via games, prizes, talent Q&As, and sing-a-longs, the cinematic experience is paramount. Each guest is given a state-of-the-art audio headset to ensure they catch every last word in the feature film.
Don't forget to grab some of the unique snacks and a craft cocktail or beer!
12. The Prestige – Magic Lounge & Showroom
Mix magic, mystery and humor in this interactive dinner show experience in the Gaslamp District of Downtown. You'll start in an elegant lounge with amateur magician bartenders who perform coin & card tricks. As you wait for the show to begin, explore the décor and learn the history of magic.
When the reservation begins, you will be guided into the showroom dinner parlor through a secret entrance. Enjoy the three course meal of a salad, entree, and dessert with menu options for all taste preferences & dietary restrictions. Finally, you'll experience a puzzling & mystifying magic show from an awarded magician. You are guaranteed to leave interested and amazed – The Prestige offers a unique experience to be remembered!
13. The Sugar Factory & Theatre Box Movie Theater
Make your next cinematic flick even sweeter with the ultimate menu of saccharine-loaded treat options! This is the recipe for a syrupy, delicious evening:
Order dinner – we recommend selecting one of the rainbow options (burgers, pancakes, or tie dye milkshakes)
Visit the sweet shop (literally every candy imaginable)
Grab a beverage at the bar (um… 36-ounce alcohol infused smoking candy goblet?? Yes please!)
Head to the chic theater complex attached for your feature entertainment
If you like your movies to have fast planes, g-force, and cheesy beach football games, then a visit to the filming locations from Top Gun is a must-do San Diego attraction.
Click on the links below to see specific locations (Google Maps geo links).
From Top Gun: Maverick, you can visit the following filming sites: Naval Air Station North Island, I-Bar (Hard Deck Bar), Fort Rosecrans National Cemetery, and Highway 1.
If your interested in sites from the original Top Gun, we recommend The Top Gun House (now a bakery!), Liberty Station, and Kansas City Barbecue.
What are the Best Nerdy Nature Experiences?
Whether its Arod (Legolas' horse in Lord of the Rings), Roach (Geralt's horse in the Witcher), or Stayer (Perrin's horse in the Wheel of Time) having a sturdy steed is an essential element of fantasy literature.
Known for their appealing physical appearance, endurance, gentleness, and speed Arabian horses are the oldest breed known to man (dating back to 3000 BC). The Arabian breed is featured in the heartfelt family classic The Black Stallion.
In this Airbnb experience a true enthusiast will give you the full lowdown on this exceptional animal. You will start with the biology, history, pedigree, and maintenance of Arabian horses and end with a full feeding and riding session. Plus, your host will give you Arabian coffee with customary fruit and nuts.
All skill levels are welcome and don't forget to see the fish, chickens, pheasants, quails, ducks, turkeys and parrots on the property.
Step into the closet of a magical world where instead of being turned into stone, animals are turned into lush, green bushes. And instead of an evil witch seeking for power, a kindly set of gardeners makes creations to beautify the world.
Thanks to over 15 years of work from the Harper family, visiting their Topiary Garden may make you feel like your in the magical land of Narnia.
For those who don't have a natural green thumb, Topiary is…
When you visit this home in Mission Hills, San Diego you'll see 50 different creations in the garden art gallery including: a whale, bunnies, a dog, a dinosaur, and an entire herd of elephants.
Anyone is welcome to enjoy this outdoor art exhibit, but if you visit please respect the privacy of the owners & their creations.
What are the Best Nerdy Rides, Escape Rooms & Virtual Experiences?
17. Legoland
Did you know that the best nerd toy ever has its own theme park?
If you have kids under the age of 12 – definitely go! Your kids will love it.
If you don't have kids but love LEGOs, fantastic ambiance, light roller coasters, Botanical Gardens, and getting access to exclusive LEGO sets you should probably consider making a stop.
One of the most impressive highlights of the park is seeing the many awesome LEGO structures, buildings, and characters in MiniLand & around the park.
Star Wars: Continually expanding and diversifying the mini-Empire—like the scale model of the Death Star, a 1,900-pound masterpiece made with half a million plastic bricks. Check out LEGO-constructed landscapes like the Jawa sandcrawler on Tatooine, an underwater Opee sea killer on Naboo, and displays of the planet Jakku from The Force Awakens.
Mini-city: Visit New York City, Las Vegas, San Francisco, New Orleans, and Washington DC all in one place.
Famous Figures: See busts of famous personalities, including William Shakespeare, Queen Elizabeth II, Abraham Lincoln, and George Washington made out of Lego blocks.
18. Belmont Park
Belmont Park is a historic amusement park located on the ocean's front of Mission Beach. The park was developed by sugar magnate John D. Spreckels and opened on July 4, 1925 as the Mission Beach Amusement Center.
Located on the surf and sand of Mission Beach, Belmont Park is San Diego's only beachfront amusement and entertainment center! From the historic Giant Dipper Roller Coaster to the dynamic oceanfront restaurants, Belmont Park is the quintessential Southern California beach experience.
Take a stroll through the park and grab a Monster Waffle Cone then check out all the action on the Boardwalk. Sit down for a delicious bite to eat or one of 69 beers on tap at Draft South Mission after a fun-filled day of mini golf, rock climbing, and rides. No matter your age, the park has something everyone in the family can enjoy. However you choose to spend your day, Belmont Park is the best way to play!
Visit some of the best, fully immersive escape game experiences in San Diego! Over the years Lockdown has become an enthusiast favorite due to quality design, unique puzzles, interesting storylines, and attention to detail.
You and your group can test your logical reasoning, mental finesse, and intelligence in one of four great themes at the Hillcrest location: Medieval, Western, Voodoo and Science.
Spots are limited, so book your game ASAP!
What are the Best Festivals, Conventions, and Live Events in San Diego?
If you like artsy reality TV shows (think baking, fashion design, glass blowing, etc), then you will love the in-person Sand Castle Building Competition in Imperial Beach, CA. Every June the finest Sand Castle artists in San Diego and the USA gather for a two day tournament of sandy grit and skill.
Competition events consist of a breakfast with the Mayor, exhibition of sand castle construction, the Sand Castle Ball, and a Winners Award ceremony. Spectators are welcome to view the sand castles throughout the event.
San Diego is a unique place to celebrate Christmas. Since its only snowed 5 times over the past 125 years, Christmas is marked by holiday decoration instead of frozen precipitation.
Although, travelers have the opportunity to ice skate on the beach (Hotel del Coronado), make sand angels instead of snow angels, and view a holiday pet parade, one of the most festive ways to celebrate with locals is to attend the San Diego Bay Parade of Lights presented by the local boating community.
For over 50 years, 80 owners extravagantly decorate their boats for over 100,000 spectators. There is no cost to view the parade, however it gets a little brisk by the sea in the evening so make sure to bring a sweater!
What are the Best Nerdy Tours & Classes?
Although this falconry experience doesn't involve fighting with the Avengers and donning Captain America's vibranium shield, it will definitely show you the power Falcons and how they influenced Marvel character Sam Wilson to become The Falcon.
Wilson's adventure started when he took his adopted pet Falcon, Redwing, to the tropics for a hunting expedition only to discover that the the other hunters were former Nazis with nefarious plans (w/supervillain Red Skull).
Your adventure will start when you visit the majestic cliffs of La Jolla to free fly falcons over the sea. After that, who knows where your adventure will lead?
In this experience you will learn how to call and release trained birds using a falconry glove, get an up-close view of simulated hunting behaviors, and admire the aerial skills of swooping, ground-skimming, & high speed diving. Additionally there will be plenty of time for questions and pictures with the birds!
The Chula Vista Elite Athlete Training Center opened in 1995 as an Olympic Training Center. In the mid-80s, the USOC put out a request for a city to bid to raise funds to design and build a warm-weather, sea-level training facility with access to a lake. The San Diego National Sports Training Foundation won the bid and raised funds for the initial phase of development while the Eastlake Company donated 150 acres in eastern Chula Vista. The facility was then gifted to the U.S. Olympic Committee to own and operate. The Chula Vista Olympic Training Center was the first center to be master-planned from the ground up as an Olympic Training Center and is dedicated to the development and performance of America's future Olympic and Paralympic athletes. Ground was broken on the facility in 1990 and it officially opened in June 1995. Since then, the training center has benefited thousands of Olympians, Paralympians, Olympic & Paralympic hopefuls, numerous community groups, and countless visitors from around the world.
Lights, camera, MURDER! Explore Hollywood and uncover the secrets of this world famous neighborhood.
Explore the dark underbelly of Hollywood with the ultimate Haunted Hollywood walking tour. As the sun sets over Hollywood, you will be led on a fright filled walk down the Boulevard of Broken Dreams to visit haunted hotels, theaters, and landmarks.
If you love Hollywood, the paranormal, or true crime – this is the tour for y…Crea
Join me in the land of miniatures. You will learn how and get to create tiny pottery on a mini pottery wheel. No previous pottery experience necessary! 
Overlooking a beautiful canyon with vistas of mountains east of San Diego, you will experience the green of fruit trees and birdsong, in this relaxing indoor outdoor art studio.
This experience includes clay, glazing and firing of the clay. You will get to choose one color of glaze per pot. The clay cannot be taken home at the time of the class because it must be kiln fired. The turn around is about a week for drying, glazing, and firing. If you are visiting from out of town, I will be able to ship it to you for a minimum of $10/box. If you are local, I will contact you to know when they are ready to pick up. Depending on your location, we can also set up a time to meet up so I can get you back your miniature creations.
Step aside Winnie-the-Poo, we're leaving the hundred acre wood and entering the world of suburban beekeeping!
In this Bee-ginning level Beekeeping Class you will have the opportunity to peek inside a hive, see how bees live, learn about creating honey & beeswax, harvest popular products, and, of course, eat some honey. Just remember to have fun and bee yourself!
27. Food Tours!
If you're the type to fantasize about eating at places like Pizza Planet and The Restaurant at the End of the Universe, we recommend exploring San Diego's delicious, vibrant, and innovative culinary scene on one (or both!) of two highly popular food tours:
Discover the neighborhood of Barrio Logan, the hidden gem of San Diego, while eating and drinking your way through one of San Diego's best kept secrets. In between tastings your local tour guide will give you a chance to explore a neighborhood that is loaded with incredible street art, one of a kind boutique shops and some of the best food and drinks in San Diego. It's time to eat some killer food and understand the culture of San Diego.
Eat Like a Local with Carlsbad Historic Walking Food Tours 6 delicious food & wine tastings. Receive an insider's view into the culture, history and architecture that defines the Carlsbad. Included in the guided walking tour is also our popular Tasting Guide via a QR code, which features valuable maps, exclusive guest coupons and discounts. You will learn about the origins of Carlsbad while you sample unique local favorites.
Join us on our stroll through one of the most beautiful seaside villages while creating memories you cannot forget. We will highlight the historical sites and mural art along the way.
What are the Best Nerdy Places to Stay?
Sleep among the tree branches in this luxury, urban oasis inspired treehouse. You will feel relaxed and rejuvenated as you enjoy the calming interior design, fantastic views of the Coronado islands & Mexico, a window niche with streams of natural light for quality reading, and a deep soaker bathtub with double shower heads.
Additionally, you can easily walk to some delicious restaurants or take a quick Uber to some of the best of San Diego, including downtown, the beach and the zoo!
With nearly perfect weather year round, San Diego is the ideal location to enjoy outdoor living with an emphasis on minimalism. This tiny home, happily situated near the center of the city, is not only artfully designed on the interior, but also situated in an inviting paradisiacal garden. After a long day of adventuring around the nerdiest parts of San Diego, take some time to relax in the hammock, get cozy in the hot tub or by the fire pit, and enjoy wildlife in the fish pond.
Centrally located to the east of Downtown San Diego this Airbnb is close to both the trolly and bus lines leading to nearby cities: South Park, North Park, and Hillcrest.
What are the Best Nerdy Places to Eat in San Diego?
"Friendship makes us fresh" – William Shakespeare
British comfort food made from scratch that's so good Brits in America claim that the flavors are "just like home." Don't just take our word for it, the Fish & Chips have won many awards over the years, including 2017 Best Fish & Chips in the US.
The interior is a traditional English Tudor style pub with a beverage list of the most popular brands in Britain, Ireland, mainland Europe, and the US. One distinguishing characteristic of the pub is its beer engine. One of the only establishments in San Diego to have one, the engine allows the pub to sell cask-conditioned beer, often referred to as 'real ale'.
Downtown bar located in the Gaslamp Quarter of San Diego highlighting the grit and glitter of trailer park life. They offer nightly specials, entertainment, comfort food, specialty cocktails and an ambience that will make you want to cut those jeans into shorts and bust out the Oakleys! You can reserve one of three trailers (themed by decade – 60's, 70's and 80's) or just show up to grab a bite.
Attention Japanese culture lovers! We have a hot spot for you.
This Animae shop is hardly cartoonish, in fact it's a world-class steakhouse restaurant owned and operated by celebrity chef and restaurateur Brian Malarkey. This sophisticated West Coast Steakhouse has strong Asian culinary influences and is one of the few restaurants in San Diego that serves Japan's finest A5 wagyu beef.
If you occasionally find yourself missing quaint childhood scout campouts or spirited renaissance fair encampments, One Door North will warm your heart and fill your stomach.
This natural themed restaurant prides itself on locally sourcing ingredients and serving a rotating menu featuring foods in season. Not only is the menu sustainably minded, but also homespun flavor focused with options like: mini corn bread muffins, a giant Bavarian pretzel​, and flat iron stake.
Also, if you bring kids or want to feel like a kid yourself, make sure to order the S'mores platter for dessert!
What are the Best Nerdy Places to Drink in San Diego?
If you tend to choose a bar based on the quality of the fictional lore written about its historic & distinguished origin, then BattleMage Brewing is the perfect place for you! You can find said lore on their website, or just click here.
If you need further points to prove the heroic aspirations of this bar, consider the following:
Beer samplers are served on wooden battle axes
Beverage glasses have an epic wizard engraving
Bar seating includes a replica Game of Thrones sward chair (and enjoy a variety of other swords)
Walls are covered with Magic the Gathering cards
Drink menus have highly creative theming
Toilet paper roll holders are dragons
Dungeons & Dragons tournaments are held regularly
Choose your drink by rolling a D20 – oh wow you've leveled up!!
If your idea of having a good time includes of playing classic arcade games, pinball, pool and air hockey while drinking craft beverages & cocktails, then Brewski's Bar & Arcade is the place for you! Enjoy weekly beer pong tournaments. trivia nights and all UFC events (on PPV) from the retro-industrial bar room or spacious outdoor patio.
The former Coliseum Athletic Club in Makers Quarter, this famous boxing marquee turned Punch Bowl Social San Diego now has the spotlight on people vs. food; people vs. shots and people vs. games in true Cali style.
Here, you'll find scratch dishes, an infamous 360 bar with craft cocktails and games like bowling, shuffleboard, karaoke and bocce ball.
Everyone is a winner. Corn hole, bowling, ping pong, darts arcade games. It's time for some spontaneous, real-world funning.
The physical & cultural landscape of the 9-5 'daily grind' or 'rat race' has changed in just the last decade. With smart phones, laptop computers & WiFi- we've adopted ways to be productive anywhere, anytime. The typical office as portrayed in movies & television is not-so-typical anymore…thinking outside the cubicle is to be expected (The Office has free WiFi & places to power up).
We can all agree that we've imagined this scene: kicking our feet up in the boss's office, sitting in a leather throne behind a walnut desk, cocktail in hand (cue AMC's hit show Mad Men). The concept behind The Office Bar combines the comfort and personality of a classic cocktail lounge with the a twist: you're the boss!
Celebrities in shock instagram account , musician performances, karaoke
What are the Best Nerdy Places to Shop?
This place has pretty much all your gaming needs at a reasonably to very good price! Very few selections for newer games but the selection for older classic games are HUGE! Cashier was also very friendly and helpful, I HIGHLY recommend this place if you're looking for that one hidden gem or if you're just gonna browse around.
This place is great, a huge selection of games from semi-modern all the way back to Atari generation. Prices are reasonable and every game I've bought from them has worked. You can even find things like old Nintendo Power magazines from the '80s. Wish I'd found out about these guys sooner! A nostalgia trip back to memory lane. They had all my childhood games and systems. I had to buy my first Christmas morning videogame that I opened up when I was a kid in 1989. They are friendly and very helpful and always have great stock of games.
If Verbatim Books was a person, she would be that really close friend with a ton of personality and who doesn't care a &$*# what anyone else thinks of her.
The bookstore primarily serves the used or second hand market however they DO NOT do business over Instagram or Amazon. You can feel really good about supporting small business, and with a selection of over 35,000 books and zines, you definitely won't feel limited by the options.
Verbatim is responsible for many of local literary events such as the North Park Book Fair and the San Diego Book Crawl (check out their events page to see the latest!). Although they won't host individual authors for signings (to avoid favoritism), they host large readings or performances for groups of authors, local authors, musicians, performers, artists, and poets.
If you loved the childhood feeling of running down massive toy aisles, digging through comic book stacks, and peering into action figured collectable filled glass cases, then you have something in common with TC's Rockets owner Steve Lirley.
He created the comic book shop to recreate the joys of childhood for an adult customer. Inside you can find anything and everything geek, nerd, or pop culture related. The shop hosts events for gamers almost every hour of the day – if you're looking for a strong, welcoming nerd community in San Diego, this is the place to find it.
Additionally, there is a pizza & sub shop next door
Conclusion
Ok townies! We hope you're ready to get out and try some of these nerdy things in San Diego. Whether you're a fan of games, film, magical witchcraft, or all of the above, there's something for everyone in Sunny San Diego.