Attention all Poké Fans, Marvelites, Dumbledore's Army, and just about anyone else you can think of in the nerd kingdom who is planning to visit Los Angeles, this guide is for you!
All activities are within two hours from the city proper. You don't have to be a nerd to enjoy this list but if you are a nerd, then these activities are definitely for you:
Interest-Based Nerdy Travel Experiences
Standard Travel Needs – Nerdy Style
Recommended: 3 Best Family Road Trips from Los Angeles to San Francisco
About The Author
Hi, I'm Kate.
I started planning unique travel experiences way back in 2008.
And I quickly realized that quirky, nerdy experiences were going to be a big part of my travel planning success.
So I set out to explore as much as I could.
And thanks to years of reading and experimenting, I've had a ton of success with travel planning…
…including the top 3 performing guides on this site:
Nerdy Experiences in Washington DC
Check out these ideas in Los Angeles and you could have an awesome trip planned within the next 20 minutes.
What are the Top Nerdy Experiences Unique to Los Angeles?
1. Best Nerdy Arcade Bar: One Up
If you're looking for free 80's video games, a fully stocked bar, Captain Crunch Fried Chicken, and a continual stream of classic movies, One Up Arcade Bar is for you!
Among the various Arcade bars in LA, this one is unique for its quality entertainment (free gaming?!), funky fusion menu, and classy gastrolounge vibe. Definitely a must visit bar if you're in the area.
Contrary to the pure automotive focused vibe of a typical car museum, the Peterson Automotive Museum is a snapshot of Hollywood history with some seriously cool rides.
The museum features an extensive collection of restored antique autos, multimillion dollar hyper cars, futuristic car show concept cars, vehicles from famous movies (including the original Bat Mobile and Back to the Future's DeLorean) and many other fascinating vehicles.
Entrance tickets are very reasonably priced and the museum store is fantastic!
3. Best Retro Gaming Nerdy Experience: Playland Arcade
Feel like a kid again as you enter the large doorway dotted with hundreds of bright flashing lights to try some of the +200 games in what many consider to be one of the most iconic arcades in America.
Playland Arcade on the Santa Monica Pier was originally opened in the 1950's and has remained a popular spot for beachy gamers ever since. Its been featured several popular films and television shows, including Forrest Gump, Iron Man, Hancock, The Sting, and Three's Company.
Recommended: 4 Best Pool Floats to Pack in a Suitcase
4. Best Nerdy Interactive Hall of Fame: Icons of Darkness
Visit the world's largest private collection of science-fiction, fantasy, and horror movie memorabilia at the Icons of Darkness Hall of Fame. You will find tons of items featured in popular film like Terminator and Game of Thrones, along with classic films like Frankenstein and The Wizard of Oz.
If you're looking for a nostalgic trip down memory lane, Blast From the Past is the place for you! Find TV & movie collectibles, action figures and comic books at this super neat shopping spot.
Additionally, the store hosts nerdy events like comedy nights, evening block parties (live music, food trucks, and shopping), celebrity meetings, and more. Make sure to check the calendar before stopping by!
What are the Best Nerdy Local Cultural Experiences?
6. Essential Los Angeles Museums
LA has a wide variety of museums for culture and education seekers to choose from, these are our favorites:
Few places in the world are quite like the Magic Castle. Today, this former Victorian-era brothel is an invite-only club for high caliber magicians. Visitors have the special privilege of enjoying acts from multiple card-slingers, masters of illusion, mentalists, and magicians through out the mansion. Entry to the Magic Castle is fairly exclusive and guests must be invited by a member magician. Most member magicians are happy to help visitors attend, if you reach out to them in in advance.
One of the most unique ancestral cultural centers in Los Angeles, Hollywood Forever cemetery is a true city icon. The cemetery not only honors famous actors such as Judy Garland, Cecil B. DeMille, Rudolph Valentino, Mickey Rooney, and Toto (Dorothy's loyal dog), but also hosts evening cultural events such as a Saturday film series projected on the side of the mausoleum, an annual dia De Los Muertos celebration, and night club DJ events. Don't forget to look for the live peacocks that wander the grounds!
Don't miss the opportunity to visit the only paleontological research site in the middle of a major US city! Over the last 50,000 years, animals, plants, and insects trapped in the tar pits were preserved as fossils.
Today, visitors can see the original tar pits and hundreds of fossils found in the pits in over 100 excavations since the early 1900's. The museum has a small entrance fee and the tar pit is free.
Feel the joy and freedom of California's favorite ocean sport – surfing. Grab a board and learn the basic techniques of the sport with seasoned surfers. Within two hours you will be able to stand on your surfboard and maybe even "shoot the curl"!
What are the Best Nerdy Theater, Film & Shows?
11. Famous Theaters
There's no business like show business and there's no place to better enjoy show business than in classic Los Angeles theatres! Over years of movie premiers and special showings, many theatres have come and gone, however some true Hollywood gems have remained:
Attending a live TV taping can be experienced in only a few US cities. There's nowhere easier to have this unforgettable experience than being an audience member in one of the many hit shows filmed in Los Angeles!
Experiencing the inner workings of televised productions while getting familiar with popular celebrity hosts will change the way you watch TV forever. Tickets for talk, game, or talent shows are usually free, but occasionally offer a small payment for your time.
Make sure to plan ahead! Many shows have a waiting list and fill up fast.
If Hollywood blockbusters are a little too mainstream for your taste, the Roy and Edna Disney/CalArts Theater or REDCAT is the place for you! Designed as a multidisciplinary contemporary arts centre, REDCAT is considered by many to be the paramount avant-garde theatre in LA.
Visitors can enjoy a variety of exhibitions, performances, film screenings and literary events showcasing the work of international and local artists.
What are the Best Nerdy Nature Experiences?
North of the city is a highly recognisable alien-looking landscape of rocks. Vasquez Rocks park is has been featured in many classically nerdy films and shows including Planet of the Apes, the 2009 Star Trek, Bill & Ted's Bogus Journey, and the notably hilariously slow and epic battle between Captain Kirk and the Gorn in Star Trek: The Original Series.
Today, visitors can see the famous landscape while enjoying other outdoorsy activities such as hiking, camping, equestrian rides, and picnicking. Additionally the park offers bird walks, animal presentations, and seasonal classes & activities.
15. Old Zoo Picnic Area
The first Los Angeles Zoo opened in Griffith Park, 1912, and only had 15 animals. It grew slowly over the years but never became popular in the community so it was abandoned in 1966 in favor of the current LA Zoo.
Today, visitors have the opportunity to experience what it's like to be on the animal's side of the bars. After many years of overgrowth & decay, the abandoned zoo has been converted to a park: picnic tables have been added to cave enclosures, grills dot the perimeter, and thick metal bars outline former monkey, lion, and bear cages.
Helpful Hint: The abandoned zoo picnic area is well preserved because it's a little hard to find. From Crystal Springs Drive/Griffith Park Drive, turn west at Griffith Park Drive (this is not a typo, heading north, the name Griffith Park Drive makes a hard left as the pavement continues straight and changes name to Crystal Springs Drive. If going south, watch for the Griffith Park Drive sign and turn right). Watch closely for the sign a few hundred feet after the turn. The parking area is on the left.
Dropped Pin near 5400 Griffith Park Dr, Los Angeles, CA 90027. https://goo.gl/maps/6NiaakNZeit (This is the exact location of the parking lot to the old zoo if you have trouble finding it).
Do you love comedy and hiking? Why not do them both at the same time?
Operated by an LA local comedian friend trio, who have done some work on NBC, ABC, and even Jimmy Kimmel Live! The tour proudly boasts approximately 3000 jokes (including those of the dad-joke variety), stories of local celebrities (specifically Justin Bieber) and graciously offers FREE bottles of water.
You are guaranteed to leave happy, healthy, and hydrated!
Angeles National Forest is a highly popular day trip from the "city of angels". Adventure seekers can hike, bike, run, boat, or even ski within the 1,000 square miles of wilderness, and 53 trails.
We recommend that you catch the views from nearly 10,000 feet at the top of Mt. Baldy, explore an extraordinary San Andres Fault line geographic phenomenon at the Devil's Punchbowl, hike to and cross the Bridge to Nowhere (a long hike to a strange bridge that seemingly serves no purpose) and enjoy the curious rock formation made by engineers in the 1970s at Pyramid Lake.
What are the Best Nerdy Rides & Virtual Experiences?
18. Classic Theme Parks
The greater Los Angeles area has tons of very famous theme parks. All have tons of fantastic nerdy attractions to offer based on your preferences:
If you're looking for bright lights, thrilling rides, carnival food, and engaging fun with gorgeous Pacific Ocean views, Pacific Park is for you! Everything about this retro hang out, screams "classic California boardwalk."
The park has millions of visitors each year for good reason: 12 thrilling rides, the first ever solar-powered Ferris wheel, ocean-front specially food, and arcade games.
Visit the largest free-roam full-body VR arena in North America!
Experience the thrill of multi-player VR gaming with fantastic 4D-effects in a truly mind-blowing experience and take you to another dimension that you will never forget.
What are the Best Festivals, Conventions, and Live Events in Los Angeles?
D23 Expo is the arm of Disney's Official D23 Fan Club that gives guests an insider look into all things Disney: parks, animation, television, film, and legendary treasures from the Walt Disney Archives.
The D23 Fan Club, named after "D" for Disney and the 1923 year that Walt Disney moved to California, specializes in once in a lifetime experiences, distinctive merchandise, and unique events to bring members closer to the magic. If you are a Disney fan, this "ultimate Disney experience" convention is for you!
Get ready to dive into a century-old tradition that'll leave you grinning from ear to ear! The Rose Parade, born in 1890, is a floral fiesta that brings the cheer like no other.
Imagine celebrating the new year basking in the glorious California sunshine and enjoying beautiful fresh flowers. The air is filled with contagious joy as marching bands and dancers take to the streets, grooving to the beat of their own enthusiasm.
And let's not forget about the star of the show: the extravagant floats. These masterpieces are crafted with love and adorned with nothing but nature's finest, like flowers that burst with color and perfume. Talk about a feast for the senses! So, mark your calendars, because the Rose Parade is a must-see event that will have you twirling with delight and marveling at the creative genius on display!
23. Attend an Award Show
Have you ever wanted to attend a Hollywood award show in person? No need to wear Gucci and be an award nominee, you simply need to know where to look. These are our recommendations:
Remember, award shoes happen around the same time each year and tickets book out quickly so be on the look out a few months in advance.
What are the Best Nerdy Tours & Classes?
Tour an operational major film studio back-lot! Explore the sets, sound stages, and green-screen spots of a nearly 100 year old Hollywood icon.
See the Friends Fountain, Sheldon's spot in Apt 4A, and recreated Harry Potter set while immersing yourself in the history, technology, and stories of the Warner Brothers universe. Plus you will have the opportunity to shop in the only Official Warner Brothers Studio Store which is stocked with exclusive merchandise & memorabilia.
Recommended: Ultimate List of Harry Potter Travel Accessories
The ancient Persian art of fire eating & breathing is exciting, magical, and a little bit dangerous (if conducted without the proper training). In this Airbnb experience located in the historic Zephyr Theatre, you will learn the theory of the art and appropriate safety measures. Your instructor, an award-winning performer with 15 years experience, will teach you hand transfers, tongue transfers and extinguishing flame with your mouth.
Uncover the secrets of Hollywood as you explore the haunted underbelly of this iconic neighborhood. Take an fright-filled evening stroll to haunted hotels, theaters, and landmarks while listening to chilling stories of famous stars.
As the tour guides promise, "If you love Hollywood, the paranormal, or true crime – this is the tour for you."
As you step onto this academic wonderland, prepare to be enchanted by the lively atmosphere. It's like a magical realm where students hustle and bustle, armed with textbooks and frappuccinos, on a quest for knowledge and caffeine. You might even spot a few aspiring actors rehearsing lines or dancers pirouetting their way to stardom. It's a real-life theater production with a cast of thousands of students!
28. Food Tours!
Los Angeles has tons of delicious, vibrant, and innovative culinary experiences. We recommend discovering and enjoying the gastro-culture on one (or both!) of two highly popular food tours:
Enjoy an afternoon of some of the finest LA has to offer: tacos and cinema history. You'll start with a brief history of California's Mexican origins while enjoying several types of tacos. Then, you will see the locations and buildings from many movies, TV shows, and music videos.
Learn more about the Venice of America! Your guide will share trivia, stories, food, wine, and humorous stories to convey the history of this fascinating beach town. Be prepared to sample poke, tacos, crostini, and local wine at popular joints and local hidden gems.
What are the Best Nerdy Places to Stay?
Transport yourself to a tropical Caribbean pirate den right outside of metropolitan Las Angeles. With lush tropical vegetation, gorgeous waterfalls, colorful lighting, and tons of pirate affects, this impressively themed Airbnb has all the adventure and amenities of a Caribbean resort, without the humidity & long distance travel. You will have access to a hot tub & sauna, teepee, hammock & hanging swings, and luxury Queen bed.
Enjoy an picturesque evening in the Santa Monica mountains staying in a vintage luxury caboose. Completely retrofitted with modern conveniences, the rustic charm of the classic train provides a truly relaxing, private, and creativity stimulating experience.
Be sure to enjoy the artistic touches and variety of wild birds including peacocks, hummingbirds, and parrots. And what better way to get a restful California night's sleep than in a California King bed?
Opened in 1926 as a female-only hostel, this historic hotel offered women the rare freedom to live more unrestrained than the customs of the time permitted. Today, the hotel is still a Los Angeles hub for creative souls and artists with classy dining, sophisticated rooms, genuine service, unique event space, and outstanding arts & music programming
"The Fig" as patrons affectionately call it, is across the street from LA Live, the Staples Center and the Los Angeles Convention Center. It's also in close proximity to the Los Angeles Performing Arts Center, the Museum of Contemporary Art (MOCA), the Broad museum, the DTLA Arts District, and Broadway corridor.
Recommended: How to Decorate a Hotel Room for a Birthday
Experience Hollywood's 'golden era' in one of its most iconic hotels: The Hotel Roosevelt. Built in 1927, the hotel's central location on the Hollywood Walk of Fame made it the perfect stay for stars like Marilyn Monroe, Charlie Chaplin, and Clark Gable. Today, guests have the opportunity to feel the original glitz & glamour of classic Hollywood in its famous Tower and glamorous Cabanas.
If you're not able to stay as a guest, we highly recommend you give the hotel a visit at the very least!
What are the Best Nerdy Places to Eat in Los Angeles?
Step into a classic piece of the Star Wars universe at this Mos Eisley Cantina look alike bar in the heart of Hollywood! Enjoy a Millennium Falcon themed burger with a glass of blue milk and bask in the ambience of #yourfriendlyneighborhoodgeekbar. You might even make some new nerdy BFF's.
Halloween is a daily holiday at this immersive gothic restaurant! Enjoy the only place in LA that pays tribute to all things dark and delightful: Live freak shows, sword swallowing, magic, macabre entertainment, and a menu based on weird film & horror culture.
Fork n Film is a unique dining and movie-watching experience that combines the worlds of cinema and food. They offer a multi-course meal that reflects the food scenes in the movies they screen, serving each dish at the exact moment it appears on the screen.
This immersive approach enhances the cinematic experience by engaging all the senses and blurring the line between spectator and participant.
Fork n Film collaborates with restaurants, chefs, and unique spaces to create a multi-sensory gastronomic adventure. The goal is to go beyond watching movies and allow guests to taste, smell, and savor the world of their favorite films.
Tacos, craft beer, and tons of awesome arcade games. What more could you want?
What are the Best Nerdy Places to Drink in Los Angeles?
Grab a custom "Notorious Black" or "Dragons Breath" at this Harry Potter themed artisan coffee shop. With a spell-book full of locally sourced ingredient drink recipes, Nimbus Coffee offers an environment that is not only worthy of your selfie, but also your taste buds! You will love everything about this mysterious fantasy destination coffee shop. Just remember… "Coffee first mischif later!"
Recommended: 55 Best Unique Harry Potter Luggage Tags
If you've always dreamed of nursing a Moscow Mule or Gin & Tonic in a sophisticated library setting, make sure to stop by the Library Bar in the heart of downtown LA. The book lined walls, dim lighting, library pun name drink menu, and soft leather couches make this bar hop a truly classy experience.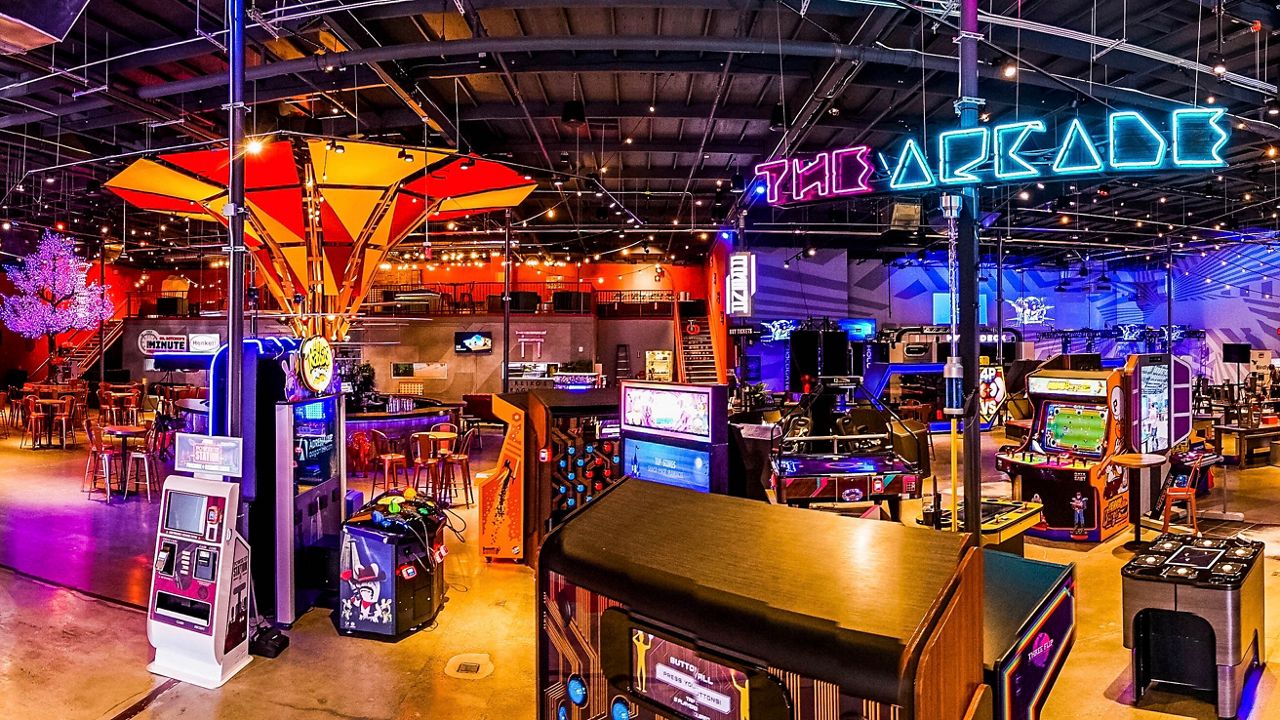 If a high-tech micro-amusement park with a steam punk, circus themed twist sounds like fun to you – visit Two Bit Circus. You've never experienced something like this before!
The grouping of arcade and midway games, escape rooms, virtual reality experiences and an immersive theater equipped for trivia, wine tasting and puzzle games will give everyone in your group something to enjoy. With "big top" decor, a robot bar tender, elevated carnival food menu (including corn dogs, sliders, flatbreads and tots) and fantastic drink menu, this bar will blow your mind!
If you're looking for a bar that's equal parts chic, cozy, and mysterious, Apotheke in LA is the spot for you.
The decor is straight out of a French boudoir, complete with blush banquettes, leather armchairs, and beautiful tile work. And unlike some bars, which can feel a bit too grungy, Apotheke strikes the perfect balance of elegance and whimsy.
And when it comes to the drinks, forget your run-of-the-mill cocktails – Apotheke's beverages are more like alcoholic elixirs, categorized as "aphrodisiacs," "health & beauty," and "painkillers." Whether you're in the mood for something sultry or refreshing, Apotheke has got you covered.
So don a classy outfit and join the fun crowd at Apotheke, where the jazz is smooth, the drinks are potent, and the vibes are oh-so-mysterious.
What are the Best Nerdy Places to Shop?
Need a 1:2 scale size Apollo capsule or a new engine for your X-15 rocketplane? Say no more, this cinematic equipment supplier has got you covered!
Known as a "sci-fi" props distributor, Norton gives shoppers the opportunity to purchase authentic, unique, and typically inaccessible specialty space items. As one shopper put it, "if you like to make things, this place will make your brain feel good."
If every book store in the world was somehow destroyed but you needed to buy a book, you could definitely count on The Last Bookstore. Housed in the grand atrium of a former fortified bank, this book lovers paradise allows shoppers to browse for their next literary bite in the stacks of a highly secure combination vault.
With the marble pillars, comfy leather armchairs, and a high vaulted ceiling, the shop is a dream for anyone who appreciates a vast publication selection, literary themed artwork (including a tunnel made of novels!) and the musty smell of vintage books.
Blast into the sugary past of America's favorite beverage. Galco's Soda Pop Shop gives customers the opportunity to experience soda the way it was originally intended: in micro-brewed batches with tons of unique flavor combinations. You know its authentic when you look at the menu to see that standard Pepsi and Coca-Cola are one of the less popular options (but the Kosher Coke is really delicious!).
When you stop by for your domestic or internationally produced soda, make sure to talk pop "shop" with the owner. He may just be the world's preeminent expert on all things soda pop.
Stock up on all of your time travel needs – especially the 'needs' that you didn't know you needed! Dinosaur breakfast eggs, Michael Jordan pogs, robot toupees, and time travel sickness pills are just a few of the quirky supplies for your travels.
The best part about shopping at Echo Park Time Travel Mart is that it not only functions as a retail space, but also a literacy tutoring center. All proceeds from the store fund 826LA, a non-profit organization dedicated to supporting school age students "with their creative and expository writing skills, and to helping teachers inspire their students to write."
Visitors can browse and purchase the students' publications with their time travel essentials keeping in mind the motto, "Whenever you are, we're already then!"
The Sanrio store is a must-visit destination for fans of the iconic Hello Kitty and her friends.
This colorful store is filled with all kinds of merchandise featuring the lovable characters, including clothing, accessories, and collectibles. The store is also a great place to find unique and memorable gifts, and the visually stunning decor makes it a perfect spot for taking some amazing Instagram photos.
So if you're in Los Angeles and looking for a fun and cute shopping experience, be sure to check out the Sanrio store.
Welcome to Barbies Boutique in Los Angeles, where all your plastic princess dreams come true!
Apparel in the shop channels the iconic doll's more seductive side. Whether you're looking for the perfect gown for a fancy ball or just want to rock some trendy threads, they've got you covered.
Just remember to leave your Ken dolls at home – they're not allowed in the dressing room.
Worlds largest independently owned music store. Founded in California, this iconic music store houses hundreds of thousands of CDs, records, DVDs, cassettes, and indie music memorabilia. You could literally spend hours flipping through collections of music from every genre, and if you're a true music fan, you probably should!
Famous for creator signings and events, Golden Apple Comics has hosted legends like Stan Lee, Jack Kirby, Jim Lee, Todd McFarlane, and many more. Every Wednesday you can get the latest books from Marvel, DC, Image, IDW, Dynamite, Boom, Aftershock, Black Mask, and independent publishers. Other than the wide selection of new & back issued comics, Golden Apple also offers a large selection of toys, action figures, statues, trading cards and more.
Conclusion
Ok globetrotters! It's time to get out and try a few of the many nerdy options Los Angeles has to offer. Whether you're a fan of games, cinema, time travel, or all of the above, there's something for everyone in "The City of Flowers & Sunshine".